In-depth Analysis: Jets-Falcons Preseason Week 2 - Offense
The Jets struggled in the first half but got things rolling after half-time again on offense. Let's review how everyone performed:
Quarterbacks - Flat White
Mike White - White's numbers don't look too bad - 12-for-17 for 90 yards, which is about what you'd expect from a game manager. It wasn't a good performance from White though, as he missed three throws, almost had one intercepted and only completed one pass for a first down all day - to Denzel Mims late in the first half. He was robbed by a bad spot on another first down throw in the third quarter though.
Chris Streveler - Once again, Streveler replaced White and injected some energy into the offense. It's not just his running (36 yards on four scrambles, including two first downs). He also seemed more decisive and more willing to push the ball down the field. He did miss a couple of throws and threw one into double coverage that was intercepted but he's really making a case to be considered for that number three role.
Did not play:
Zach Wilson
Joe Flacco
Running Backs - A hard day's Knight
Breece Hall - Gained just one yard on four carries with no real running room to speak of. Perhaps more interesting were his efforts to pick up the blitz. He did this successfully once, allowed a pressure once and had one where he cut the rusher down, leading to him diving into the quarterback's legs for a roughing penalty.
Ty Johnson - Only gained eight yards on three carries in his first 2022 preseason appearance but did show good burst on a 14-yard run that was called back due to a hold nowhere near the action. Also gave up a pressure in pass protection and caught a three-yard pass on the only target to a back all day.
La'Mical Perine - Bounced outside for the go-ahead touchdown in the fourth quarter, showing good vision, but otherwise only carried the ball once for a short gain.
Zonovan Knight - Picked up 11 on a nice cutback run but otherwise lost two yards on his other four carries. Picked up the blitz on one play.
Tevin Coleman - Bounced outside for a first down on 2nd-and-short but his only other carry was stuffed for no gain in a short yardage situation.
Did not play:
Ace Carter
Nick Bawden
Tight Ends - Cager against the machine
Trevon Wesco - Was in the starting line-up but didn't help his chances with two penalties for a false start and holding on a running play. Had a good downhill block on one run and picked up seven on a dump-off as he slipped a tackle.
Kenny Yeboah - Had two catches, including a first down on a bootleg dump-off. However, he also dropped a pass and struggled as a blocker. He missed a cut block, let his man get off his block to get in on a stop and seemed to block the wrong guy on a play that was blown up for a loss. He had a decent block on Perine's touchdown run though.
Lawrence Cager - Stood out again, leading the Jets in receiving yards for the second game in a row. These included a 23-yard gain and 34-yard touchdown as he was open underneath and took it upfield. Cager still needs some work on his blocking to improve his chances of getting on the field in regular season action. His missed block led to a run being blown up for a loss.
Jeremy Ruckert - Caught one short pass and had a good block on the edge on Perine's touchdown, where he did well to resist holding his man as he started to lose leverage. On another running play he whiffed badly on a cut block attempt.
Did not play:
Tyler Conklin
CJ Uzomah
Wide Receivers - Black Magic
Garrett Wilson - Started and made three catches although none went for a first down. It was disappointing to see him brought down in the open field on a third and short crosser, but he showed strong hands to come up with a contested catch on a ball thrown behind him. He got blown up on one running play though, perhaps a sign he needs more work on his physicality to succeed at this level.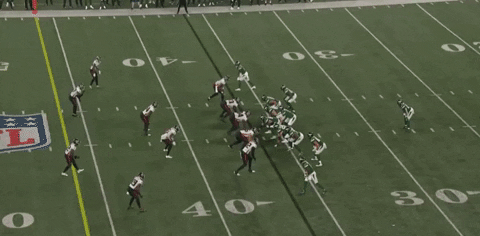 Jeff Smith - Smith didn't have a reception, although he did catch a short pass that was negated by a penalty. Two other targets were high and off his fingertips and short-hopped to him under pressure.
Denzel Mims - Had three catches, including a 27-yarder down the middle with the Falcons in a prevent defense. His other two catches didn't go for a first down but one did set up a field goal. It was disappointing to see him outmuscled at the catch-point for an interception.
Calvin Jackson - Was in for 24 snaps but didn't register a catch despite being thrown to twice.
Irvin Charles - Had catches of six and three yards with two other targets incomplete, including one that was broken up. He also had a first down catch but was (correctly) called for a push-off to negate it. As a blocker, he had missed blocks that led to a run being stopped for a loss and a short yardage run getting stuffed.
Tarik Black - Led the team with four catches but came down on his head when he was upended on a downfield throw, drawing a pass interference flag. He was being evaluated for a concussion. He had two first downs and another that was easily a first down but incorrectly marked short. He also had two good run blocks.
Braxton Berrios - Didn't actually play on offense, although he did suit up for one special teams play.
Did not play:
Corey Davis
Elijah Moore
Offensive Line - Hermanns Monster
Dan Feeney - Has now moved back to center after playing guard last week. Was the only starter not to give up a pressure, although his man got close a couple of times. In the running game, he had a play where he was beaten at the point of attack and the run went for a loss. He did have a pancake though.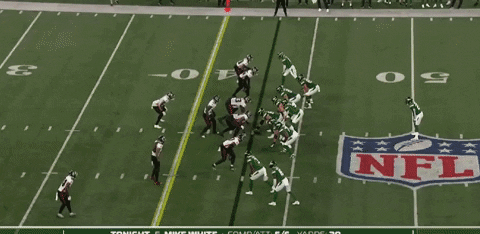 Chuma Edoga - Started at left tackle and did well in the running game with one good driving block, one good block on the edge and a good combo block. On one other play, he was beaten by an inside move but reacted well to seal his man off. He did give up one pressure, though.
Max Mitchell - Started at right tackle and got beaten twice in pass protection. One saw him beaten around the edge, forcing White to step up. The other saw the quarterback get rid of the ball early so no pressure was registered but he was cleanly beaten at the snap.
Nate Herbig - Started at right guard and gave up a pressure as he failed to pick up a delayed rush. He missed a block on a screen pass and had mixed results in the running game.
Ross Pierschbacher - Played the whole game at guard - the first half on the left and the second half on the right - and didn't give up a pressure until the fourth quarter. Had mixed results in the running game but peeled off to the second level a few times and had a good interior kickout block and an impressive second level reach block, although that one was on a play that got held back on someone else's holding penalty.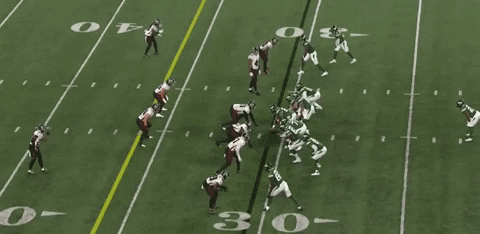 Grant Hermanns - Played left tackle with the second unit and almost gave up a sack after getting beaten clean on an inside move. As a run blocker, he gave up penetration on one play but had a good kick out block, a seal block, one at the second level and a good driving block.
Isaiah Williams - Had a rough time with three penalties - two for holding and one for a facemask penatly on an interception return. He also whiffed on a block at the point of attack to lead to a play being blown up for a loss. He did have a good second level block and another one at the point of attack.
Caleb Benenoch - Played right tackle in the second half. Had a good kickout block in the running game but also was half-beaten twice in pass protection, forcing the quarterback to scramble.
Chris Glaser - Played center in the second half but got stood up on one running play and allowed penetration on another.
Did not play:
Conor McDermott
George Fant
Connor McGovern
Duane Brown
Laken Tomlinson
Alijah Vera-Tucker
Don't go away because we'll have our special teams review in a few hours.