In-depth Analysis: Jets-Giants (Part 1 - Defense)
Over the course of today, we'll be breaking down the performance of every player that took the field in the Jets' preseason game against the Giants. We'll start now with the defense and look at offense and special teams later on.
Defensive Tackles
The Jets' defensive line was predictably too much to handle for the Giants backups as they were constantly in the backfield. Each of the main rotation guys just saw brief action before being replaced.
Quinnen Williams saw his first action of preseason and had three pressures in six snaps, although he missed the tackle when he had a chance to record a sack. One of his pressures forced the quarterback to step up and led to another sack.
Solomon Thomas was only in for two snaps but they were impressive as he shot a gap to stuff a run in the backfield and almost got to the quarterback on an outside stunt.
Quinton Jefferson saw action on four snaps and he also flashed, as he span free from a double-team to record a hit on Tyrod Taylor that helped disrupt his deep ball to Jalin Hyatt.
Finally, Al Woods also saw brief action but was in on a run stuff.
Tanzel Smart, Marquiss Spencer and Bruce Hector all made good contributions as they shared the duties inside for the rest of the game. All three of these have brought good energy all preseason and might be an adequate short-term injury replacement during the regular season but they will clearly be a downgrade in terms of their ability to hold up at the point of attack as all three were driven off or controlled at times.
Hector made a big impact again with two right place, right time sacks as pressure forced the quarterback into his lap. He also stuffed one run and penetrated to disrupt another, but also missed a tackle and was blocked out of a few plays.
Smart had fewer negative plays than in the other games and penetrated to disrupt a few runs, but did miss a tackle. Perhaps his best play saw him take on a double team to help bottle up a run.
Spencer spectacularly blew up a run in the backfield and had a couple of pressures. He also had a pancake block on the pick-six.
Defensive Ends
John Franklin-Myers was another player seeing his first action of preseason. He got into the backfield to flush the quarterback from the pocket on one play.
Jermaine Johnson impressed as he drew a holding penalty with a quick inside move, showed power on a bull rush and recorded a sack off the edge. He did do the damage against Matt Peart, who has struggled all preseason in pass protection but if he needs to start for Carl Lawson in the opener, Johnson's preseason has been encouraging as a whole. He was called for a personal foul on a late hit but this was an awful call.
Rookie Will McDonald had another pretty quiet game as he was removed pretty early after seemingly hurting his arm. He was in on a run stop and got close to pressuring the quarterback a couple of times, but his most encouraging play was probably this one as his penetration helped bottle up a short yardage run for no gain.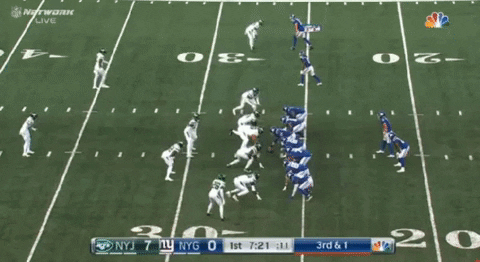 Bryce Huff was a constant handful as a pass rusher, registering another sack and constantly getting upfield on his man. He should have had a second sack on an inside stunt but missed the tackle. There was also a collector's item from Huff, who was in on a run stuff of his own.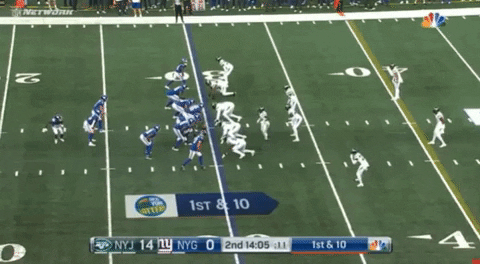 Micheal Clemons had a solid game off the bench as he stuffed one run, penetrated well on another play and registered a pressure. He was once again driven off the line on a running play when he lined up inside though, so this is still probably only something that can be an emergency option.
Pita Taumoepenu and Deslin Alexandre got the rest of the reps with both putting some good stuff on film against the third stringers from the Giants. Check out this rush by Alexandre against Peart: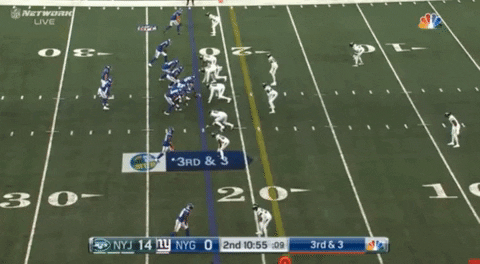 Alexandre was also in on a few run stuffs near the line and almost had a clean-up sack but the quarterback fell forwards to gain a yard so that just goes down as a standard tackle. He did miss a tackle and was driven off the line a few times including on the two-point conversion at the end.
Taumoepenu had a bad play early on when he misread an end around, but he atoned for this by generating several pressures off the edge and a sack. He missed a tackle when he could have had a second sack, though.
Linebackers
CJ Mosley and Quincy Williams saw their first action of preseason too and the defense functioned well with them in although the only thing of significance either of them did was an open field tackle underneath by Mosley on a short pass.
With them gone, Jamien Sherwood and Zaire Barnes got plenty of work and combined to rack up 14 tackles. It was a familiar pattern for Sherwood who made two nice stops in the hole but then was also probably to blame for a coverage mix-up that led to a downfield completion.
Barnes led the team in tackling and did make a few plays near the line of scrimmage but missed at least three tackles and was slightly out of position in coverage a few times. He probably needs more time to learn the system before he can be counted on, although perhaps lining up with Mosley rather than Sherwood might make his life easier.
Chazz Surratt was back in action, recording a pressure on an A-gap blitz and making a tackle near the line on a run, although it still went for a first down.
Samuel Eguavoen had an eventful day as he blew up a run in the backfield but also missed a tackle, got dragged for extra yardage and was caught up in traffic on an end around. Nick Vigil was also caught up in traffic on that play.
Undrafted rookies Claud Cherelus and Caleb Johnson saw action near the end of the game. Cherelus had a pressure off the edge and Johnson was in on a run stop.
Cornerbacks
There was an early warning sign for Sauce Gardner when Hyatt dusted him on a deep route early on, although the pass was off the mark. That alone may justify Robert Saleh's decision to play the starters because if he had some rust to shake off, or needed some live reps to get fully focused, it's much better to get that out of the way in preseason rather than potentially spot the Bills a big play in the opener.
Naturally, after that, Gardner was lights out as he was in good position on a third down pass to the outside and then ran stride for stride with Hyatt to bat away another deep ball effortlessly.
The other starter, DJ Reed did play but wasn't tested. Slot cornerback Deuce Carter did blow up a screen pass with a big hit though.
Brandin Echols made an impact this week with a pick-six on a good read to jump the route with a diving catch. This wasn't his only good play though. He was in position on another incompletion, had a quarterback hit on a blitz and assisted on a run stuff from the slot. He did give up a third down conversion though.
Jimmy Moreland has a shot at a roster spot and helped his case with a nice pass breakup in the second quarter.
Craig James was in the game until late, signifying that he likely won't make the final roster. He had a nice pass breakup (albeit that a penalty negated it), a good open field tackle on the outside and another one downfield on a screen pass to prevent a much bigger gain.
Bryce Hall had mixed fortunes. He missed a couple of tackles and was dragged downfield on another, gave up a first down and a pass interference penalty in coverage and was blocked off the line on a goal line touchdown. He did manage to disrupt a downfield throw that was originally ruled a catch and had a good open tackle short of the marker on third down. It appeared to be Hall's blown coverage that led to the completion that set up the first Giants touchdown.
Derrick Langford has mostly been overmatched in preseason and he gave up at least three first downs in coverage and overpursued on a big run.
Newcomer Nehemiah Shelton had an even worse day, though, as he gave up a touchdown in coverage, had a defensive penalty and was blocked out on a screen play down the field.
Safeties
Starters Jordan Whitehead and Tony Adams saw their first action of preseason but neither did anything of much significance. Whitehead showed pretty good range to get across in coverage on that initial Hyatt deep ball, though.
Adrian Amos got more work as he was in on one tackle and almost got home on a blitz.
Ashtyn Davis, coming off a terrific game last week, had a worrying regression on this play, where he took an over-aggressive angle like he often used to in the past.
To his credit, he otherwise did pretty well, coming up fast for a nice run stuff and earning credit for a forced fumble on a touchdown saving tackle near the pylon. He was blocked off on the Giants' second quarter touchdown run though.
Trey Dean had his least productive game of preseason as he was in on just two tackles and got dragged along with Eguavoen on James Robinson's spectacular run.
Finally, Marquis Waters struggled again as he continues to drop too deep, leaving players open down the field. That's been a theme throughout preseason and happened at least twice more last night.
We'll be back with more on the offense and special teams later...