In-depth Analysis: Jets-Giants (Part 2 - Offense)
Over the course of today, we've been breaking down the performance of every player that took the field in the Jets' preseason game against the Giants. We'll continue now with the offense.
Wide Receivers
The Jets signified an intent to go to Garrett Wilson early and often by throwing to him immediately on the first play for a quick first down (plus extra yardage on a face mask penalty). Wilson, of course, also caught the touchdown pass to open the score and ended up with 30 yards on three catches.
Mecole Hardman caught a couple of short passes for 17 yards, including a 10-yarder but his most significant moment saw him almost catch a deep ball. He had it in his hands, but couldn't hang onto it as he went to ground. Despite not showing much in preseason, Hardman could be a big beneficiary of a Jets' quick passing approach.
Randall Cobb also saw action but his most significant contribution was a penalty for a crackback block. He later made a good block on another pass.
One the main receivers departed, the focus shifted to a battle between Jason Brownlee and Xavier Gipson to secure a roster spot. Gipson broke out this week with seven catches for 79 yards, showcasing some excellent open field abilities.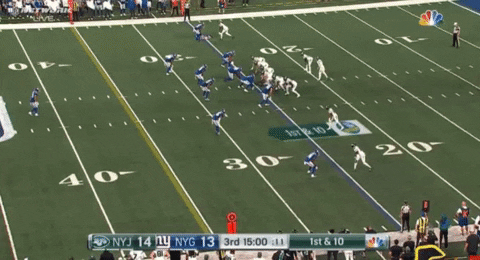 Gipson wasn't perfect, as he also had three other potential catches that he got his hands to but couldn't hang on.
Brownlee didn't have the most productive day but made three nice plays, a downfield catch over the middle, a first down where he caught a short pass and drove a defensive player past the marker and a two-point conversion on a diving catch.
With Corey Davis retiring in the week, it now seems possible, if not probable that both undrafted rookies will make the 53-man roster.
Irvin Charles had a nice 31-yard catch and run and a shorter catch. He also made some contributions as a blocker, although he didn't get to his man on one down block. Charles could still have a shot at being on the opening day roster so he can play special teams with Brandin Echols suspended. This would likely be as a practice squad elevation though.
Alex Erickson made a bid too, by catching five passes including two fourth quarter touchdowns.
Jerome Kapp and TJ Luther weren't targeted but they combined to block for Erickson to get into the end zone on his second touchdown. Luther, who had one other good screen block, ended preseason without a catch.
Tight Ends
Jeremy Ruckert was one player who impressed this week. He ran a good route outside to pick up a first down and had one other short grab. He also had this pancake block.
Tyler Conklin and CJ Uzomah saw brief action with Conklin initially getting a first down on a screen pass that was then negated by Cobb's penalty. Uzomah was unsuccessfully targeted on a deep crossing route.
Zach Kuntz wasn't targeted and again didn't impress much with his blocking as he was beaten outside for a pressure and failed to find his target on a run block on the move. Kuntz was all alone underneath on an eight-man Giants blitz though and probably would have had a walk-in touchdown but Tim Boyle failed to see him.
EJ Jenkins had a chance to make a big play when he ran uncovered down the seam but the Zach Wilson saw him late and the pass was off-line.
Offensive Line
The starting offensive line was almost intact with Billy Turner at left tackle for Duane Brown being the only change from the group that tops the current depth chart. Turner was inconsistent with his run blocking as Jets backs gained just three yards on five carries with this unit in the game.
On the right side, Mekhi Becton and Alijah Vera-Tucker were together again but Vera-Tucker showed signs of rust when he failed to get across on a pulling block and a run was blown up for a big loss. He drove his man off the line and to the ground on another play though. Becton looked comfortable on the right again although he allowed his man to slip past him on the inside for a late pressure on one throw.
Center Connor McGovern and left guard Laken Tomlinson also started and each did a solid job.
Max Mitchell seems to have been beaten out by Turner for the swing tackle role based on this week's rotation. He got beaten around the edge for a pressure on one play but did have a good pulling reach block on the play above where Ruckert had the pancake.
Rookie Joe Tippmann was supposed to be out for two weeks at the start of last week, so it's encouraging that he was able to practice and get some more valuable reps. He's obviously not going to start but he had some good run blocks at the point of attack and second level. He did allow a run to get blown up for a loss by not getting to his man at the second level on one play though.
At guard, Trystan Colon was bull rushed into the quarterback's lap on one play but otherwise held up well. He had a good second level block on one run.
Also at guard, Chris Glaser had a good combo block on one running play but failed to sustain his block on another.
Greg Senat and Grant Hermanns held up much better than last week in pass protection, although Hermanns gave up a pressure when a safety rushed off the edge. Hermanns had a couple of good run blocks, but whiffed badly pulling to the right. Senat gave up one pressure around the edge but had a nice driving combo block.
Adam Pankey gave up clean pressure on a jerk move but peeled off a combo to the second level on a running play.
Finally, undrafted rookie Brent Laing held up quite well for the most part but failed to sustain his block and then allowed his man to beat him into the backfield to blow up a running play on consecutive fourth quarter snaps in the red zone.
Running Backs
Ace Carter opened the game with a nice run over the right side but the rest of the day was forgettable. His other three carries netted minus-five yards and he got beaten in pass protection for a near sack.
All the Jets' young backs need to prove they can pass protect and Carter is clearly still struggling with this. Interestingly, though, Bam Knight was called upon to do it several times and looked pretty good. He didn't do much as a runner though, as he had 30 yards on eight touches.
Travis Dye had one tough run where he drove the pile but ended up with an underwhelming 16 yards on five carries.
Finally, Nick Bawden was in briefly at the fullback position and had one good lead block.
Quarterbacks
It was surreal to see Aaron Rodgers in a Jets' uniform but he soon looked like the old Rodgers as he made a series of quick and short passes look routine.
While the first drive stalled due to the Cobb penalty and some pressure, he drove the Jets downfield on his second possession and threw a touchdown to Wilson with perfect touch and ball placement.
His lone significant misfire was down the field to Uzomah who was slowed up by contact from a defensive back who was beyond five yards and therefore could have been flagged for illegal contact. It's possible the officials deemed Uzomah to have initiated the contact though. Either way, it seemed to throw off the timing as the pass was way out in front.
Zach Wilson once again had a solid but unspectacular statline but remained composed and competent. He was unlucky on the bomb to Hardman, which was beautifully thrown.
Wilson's main negative was the misfired to Jenkins down the seam which he simply saw too late. There was also a man open beyond the marker on the outside and he seemed to see that first and probably should just have made that throw but got greedy.
Tim Boyle had impressive numbers as he completed 9-of-11 passes and had the two touchdowns to Erickson. As noted he didn't see Kuntz wide open underneath but at least got the ball out to Erickson for a completion. His best throw, to Charles, went for the longest play of the day.
Since he knows the system, Boyle could be a useful emergency option that the team could potentially just carry on the practice squad.
We'll have the special teams review for you later.