In-depth analysis: Jets-Giants - Preseason Week 3 (Offense)
After a third straight last-gasp thriller, the Jets ended up the preseason with a 3-0 record. We're reviewing yesterday's game in detail, starting today with the offense for a change:
Quarterbacks - Strevelling in all the attention
Joe Flacco - Probably game one starter Flacco's day was ruined by his pick-six as he tried to check down to Ace Carter on a broken play and Austin Calitro dropped off to step in front. Maybe that was a sign of rust or an example of a risk he wouldn't actually take in a real game, but it has alarm bells ringing among the Jets fanbase.
Flacco would obviously like to have that one back and, if he could, what should we make of the rest of his performance? He actually spread the ball around pretty well, completing 7-of-11 passes for 76 yards, but was off the mark on a few deeper throws.
He's almost certain to start the opener, so the Jets will hope their talented pass catchers will get open to give him plenty of easy throws and that Flacco himself can remain mistake-free.
Mike White - White had an excellent first half; perhaps the best he's ever looked other than his 400-yard game. He was 10-of-13 for 142 yards and a touchdown in the second quarter, working the quick passing game well. One of his touchdowns was a receiver screen, but the other was a good downfield throw to Jeff Smith.
While he played into the fourth quarter without putting up any further points, this wasn't really his fault. The Jets only had one drive in the third quarter and they progressed into Giants territory before getting stuffed on 3rd and 4th down. In the fourth, White went three and out on his only possession though.
There were a couple of issues for White, though. He had one pass that was tipped up into the air and easily could have been a turnover rather than landing in Garrett Wilson's lap for a first down. Also, it's interesting to compare this pass - on the face of it, one of White's best - with the Flacco pick-six: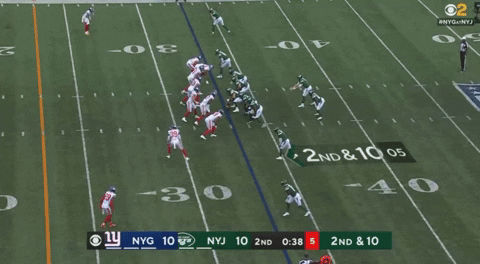 If the edge defender (Tomon Fox, wearing 49), shows a bit more awareness here and looks for the ball, that could easily be an interception. You could say that maybe White could see the back of his head so he knew this was a safe throw to make, but there's always a risk that a defender in this kind of position could get a hand up late to deflect the ball and create a risk of a turnover. These are the kinds of issues that we'd see exploited if White got extended playing time. Hopefully he won't though.
Chris Streveler - Streveler aka the Strevelation, aka Mr. August, aka The M.V.Pre., aka Tim Tebow with more talent or Josh Johnson with less talent, had an incredible preseason with three come-from-behind wins in mop-up duties and surely has extended his career by displaying a combination of athleticism, clutchness and a surprising arm.
He showed good decision making, downfield accuracy and touch as he ended up with 96 yards and two scores on 10-of-13 passing. The Jets now face a dilemma. Will he clear waivers and make it to their practice squad? Should they at least keep both him and White until Zach Wilson returns and then make a decision? Would any decision to keep him be an overreaction to production against third-string defenses?
No matter what his future holds - he would at the very least be a valuable asset for anyone's scout team, but a contender might see him as a cheap Taysom Hill-type - it's been fun to watch Streveler in preseason and he helped make all three games exciting.
Did not play:
Zach Wilson
Running Backs - Oh, what a Knight!
Ace Carter - Carter looked shifty but only gained 10 yards on four carries, although there was one play where he slipped a tackle in the backfield to gain positive yardage out of nothing.
The concern with Carter will be his fumble, which came after he caught a Flacco dump-off and battled to get to the marker. Hopefully that kind of lapse won't happen again in the regular season.
There was one play where he cut a pass rusher to the ground, but this was as he was engaged with a lineman, so arguably should've been an illegal chop block.
Breece Hall - Hall had his best moment of preseason so far on a cutback run for 11 which featured a juicy open-field juke on a defensive back. His other four carries went for just two yards though - although he did have another first down in a short yardage scenario.
Hall allowed one pressure in pass protection and perhaps was lucky not to get called for holding on the play.
Ty Johnson - Johnson had just 15 yards on a team-high seven carries, showing good burst up the middle for nine on one play and also picking up a short yardage first down. He picked up the blitz well once too. He was stuffed on 3rd and 4th down as the Jets turned the ball over in the third quarter though, failing to get to the marker when he seemed to have room.
La'Mical Perine - Perine's only carry was disappointing as he was indecisive at the line and stopped for a loss. He still had a big role to play in pass protection on the last drive though, staying in to block a handful of times. He had mixed results in this role, getting across late one time and staying on the wrong side another time.
Zonovan Knight - Knight capped off a solid preseason with 31 yards on four carries late in the game. This included two first downs, one of which was on a 22-yard burst over the left side as he hit the hole hard.
Tevin Coleman - Coleman ended up with 14 yards on three carries, showing burst on a 9-yard run up the gut. He also had one good blitz pick-up. Is there room for him on the roster though?
Did not play:
Nick Bawden
Tight Ends - Conk! Go to horny jail
Tyler Conklin - Conkin has shown plenty in the passing game this offseason and had two catches yesterday, including a 20-yarder over the middle. He's been having mixed results as a blocker and that continued yesterday, but he made a great block on this play: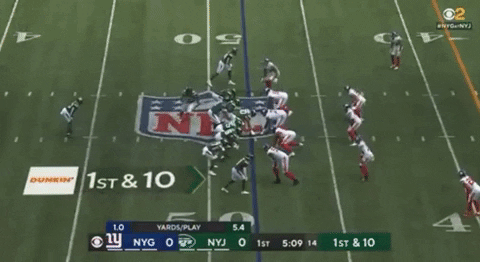 CJ Uzomah - Uzomah has taken a bit of a back-seat to Conklin in preseason as he's been shaking off one or two injuries. He had one short catch in this game and also went deep once but Flacco overthrew him. There were a couple of plays where him and Conklin both ran to the same area, so that might need a little cleaning up. He was also pushed back into the runner on an outside run.
Lawrence Cager - This was Cager's quietest game as he only had two catches for 24 yards, with 19 of those yards coming on a pass down the middle. He also had one go off his hands in the second quarter.
Trevon Wesco - Wesco has had a quiet preseason. In this game he caught a dump-off in the flat and battled upfield to gain seven on 2nd-and-9.
Kenny Yeboah - Yeboah picked up 13 and a first down on a dump-off pass and had some good blocks in the running game, although he also made a couple of mistakes included one poor block in a short yardage situation. He's been overshadowed by Cager throughout preseason.
Jeremy Ruckert - Ruckert had three short catches for 17 yards, including one first down, although his lack of athleticism showed up on the last drive as he twice failed to get out of bounds with the clock running.
It was Yeboah and Ruckert, not Cager, getting reps down the stretch. The question now for Cager is not so much whether he's shown enough to warrant a roster spot - he has - but whether the Jets have room on their roster for four tight ends. If not, would they risk letting the third rounder Ruckert pass through waivers?
Wide Receivers - Denzel HIM
Corey Davis - Flacco made full use of his full compliment of offensive weapons, finding Davis on the outside for a first down as he did well to fall forward to get to the marker.
Elijah Moore - Moore put on weight during the offseason and he displayed his improved physicality on his lone catch in yesterday's game. Moore caught a short pass in the flat, but drove the cornerback five yards upfield to almost get to the marker. He also had a good block on one play.
Braxton Berrios - Berrios' most memorable moment yesterday was obviously his touchdown on a receiver screen, as he slipped a tackle in the flat and tight-roped the sideline to score in spectacular fashion. However, he also had a 15-yard pass from Flacco where he initially set up like he was blocking in pass protection, then leaked outside.
Garrett Wilson - Flacco wasn't able to connect with Wilson downfield, but he did have one first down catch. This was the one where White's pass was tipped into the air and Wilson did well to keep the defender on his back and he came up with it.
Denzel Mims - Mims finally got an opportunity and made the most of it as he had 102 yards on seven catches. His first three catches were all identical in-breaking routes, so you would have been forgiven for thinking he's just a one-trick pony based on this. However, he then had a contested catch on a crosser, a spectacular touchdown on a fly route from the slot and another first down on an out-breaking pattern.
He was thrown at two other times and couldn't come up with a tough catch near the sideline on one, but drew a pass interference penalty on the other. Who knows what's next for Mims, but it's both satisfying to see him finally produce and also frustrating that it probably came too late.
Jeff Smith - Although Mims stole all the headlines, Smith quietly had a great game as he had his first ever touchdown for the Jets, shaking the cornerback on a nice route. He also had two other first down catches and a key block on the Berrios touchdown.
Calvin Jackson - Jackson once again had the winning touchdown, making a good move to get open on a two-way go like last time. He also set this up by drawing a deep pass interference penalty and had one other short catch. He missed two key blocks though.
Irvin Charles - Charles had a key play on the last drive as he broke two tackles and then dragged a defender out of bounds to pick up the first down and stop the clock. He had one other short catch and a good block in the running game.
Did not play:
Tarik Black
Offensive Line - Duane Supreme
Duane Brown - Brown's first action as a Jet was encouraging. He wasn't troubled in pass protection and looked strong in the running game, driving his man back three separate times. Other than an early play where he didn't sustain his block, it was pretty flawless from Brown, who hopefully is in midseason form.
Laken Tomlinson - Tomlinson had a disappointing performance alongside Brown as he had a false start, allowed a pressure, was twice driven back into the runner and failed to sustain his block once. He did have a couple of good run blocks though, so the Jets will hope from more consistency from him in the weeks ahead.
Connor McGovern - McGovern was stood up a couple of times in the running game, including once in short yardage, but he was clean in pass protection and avoided any major errors.
Alijah Vera-Tucker - Vera-Tucker's move to the right side seemed like it would be a major story but it's turned into an afterthought with George Fant's move, the Becton injury and Brown's arrival. In this game, he worryingly whiffed on a block at the point of attack as a short yardage run was blown up for a loss. However, he showed an encouraging sign to pick up the rush and keep Flacco clean on this play.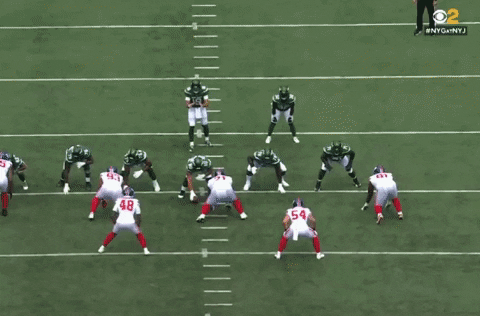 George Fant - Fant was beaten around the edge once, although Flacco got rid of the ball quickly. Otherwise, he had one good downhill block, but also was pushed upfield to force a run back inside.
Dan Feeney - Feeney played into the fourth quarter at right guard and had some issues against the run with three players getting off his block to get in on a tackle and a short yardage play blown up as he allowed penetration. He allowed a pressure on a stunt, but otherwise was clean in pass protection, anchoring well against one bull rush. He did have some good run blocks too, including one pulling reach block.
Chuma Edoga - Edoga has had a pretty solid preseason to perhaps establish himself as the team's swing tackle. He didn't allow any pressure and had one good block where he peeled off a double team to the second level.
Max Mitchell - Mitchell had a pretty solid performance as he worked as the right tackle on the second and third units. His run blocking was pretty good, although he let his man get off his block to make a play in the fourth quarter. He only got beaten once in pass protection.
Nate Herbig - Herbig worked at left guard with the second unit as, interestingly, both he and Feeney were in the game at the end, while Pierschbacher was taken out. He had mixed results in the running game but held up well in pass protection.
Ross Pierschbacher - Pierschbacher played center for most of the second, third and fourth quarters and had an impressive second level reach block to help spring Knight's long run. Like Herbig, he otherwise had mixed results in the running game but didn't allow any direct pressure.
Chris Glaser - Glaser worked as the center on the final drive, having played left guard earlier in the second half. The undrafted rookie had a couple of negative plays in the running game.
Grant Hermanns - Finally, Hermanns worked as the left tackle with the third unit and did a solid job on kickout blocks in the running game. However, he arguably was lucky not to get called for a hold on the final play. What a buzzkill that would have been.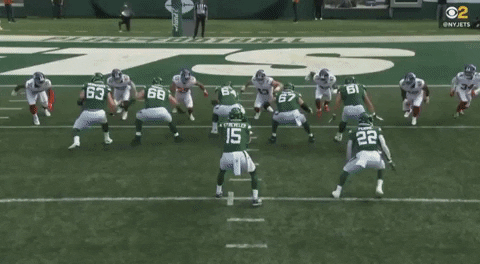 Did not play:
Conor McDermott
Don't go away because we'll have our defensive review in a few hours.