In-depth analysis: Jets-Giants Preseason Week 3 (Defense)
We broke down the offensive performances from yesterday's game earlier. Now we move onto the offense:
Defensive Tackles - King Solomon
Quinnen Williams - Williams looked sharp, which is encouraging given that he missed practice time over the past week or so. He was in on a sack and a tackle for loss as the Jets were predictably too much for the Giants mostly second-string offensive line (their starting center was in there).
Solomon Thomas - Thomas got the start with Sheldon Rankins not playing, but the most significant contribution he made was to jump offside.
Nathan Shepherd - The other three defensive tackles all had to play all the way to the end of the game. Of the three, Shepherd showed the most, as he had a handful of pressures and was in on a couple of stops.
Tanzel Smart - Smart penetrated well a couple of times, drawing a hold on one play, and got to the quarterback once. He was blocked out of one play at the point of attack and botched a chance to recover a fumble, though. Officially, he had three tackles.
Jonathan Marshall - Marshall was blocked out of a few plays against the run but did contribute by deflecting a pass and helping to bottle up one run.
Did not play:
Sheldon Rankins
Edges - Carl Awesome
Carl Lawson - Considering the fact he only played seven snaps, Lawson made a great impact. Early on, he bull rushed the left tackle back into the quarterback's lap, he then went around him with a clean rip move - although Williams got to the quarterback first. He then almost had a sack on an RPO, although Tyrod Taylor slipped out of his grasp in the backfield. Finally, he was in on a stop in the backfield. Impressive stuff from Lawson.
John Franklin-Myers - Franklin-Myers started on the edge, as we've known would be the plan all along, and on the play where Lawson drove his man back into the quarterback, Franklin-Myers did the same thing. Hopefully, we'll see that a lot this year. Franklin-Myers also got upfield to force the quarterback to step up once.
Jacob Martin - Martin entered the game on the edge with Franklin-Myers kicking inside on passing downs, so these two along with Lawson and Williams look set to comprise their main pass rush package. Martin generated pressure with an inside move on one play.
Bryce Huff - Huff did an outstanding job of generating pressure off the edge, beating his man several times to get to the quarterback. He was in on three stops on plays that went for a short gain and was also credited with a pass deflection. Huff is another player who could be trade bait if there's no room for him on the roster.
Micheal Clemons - Clemons capped off an outstanding preseason with a big hit on Tyrod Taylor that knocked him out of the game. He did a good job of keeping that clean, although maybe the call would have been made in the regular season. That was his only statistical contribution but he flushed the quarterback from the pocket a few other times and also helped bottle up a run. His downhill pursuit throughout preseason has been outstanding.
Jermaine Johnson - Having been somewhat overshadowed by his fellow rookie lineman, Johnson still shows some flashes as a pass rusher. He generated pressure on a bull rush and two plays where he came off the edge.
He also penetrated well on one running play.
Jabari Zuniga - Zuniga also got clean pressure a few times and was in on a run stop near the line. It's just impossible to find a spot for all these guys.
Bradlee Anae - Anae seems like a good bet to go on the practice squad to potentially get called up if there's any injuries. He also beat his man a few times to generate pressure.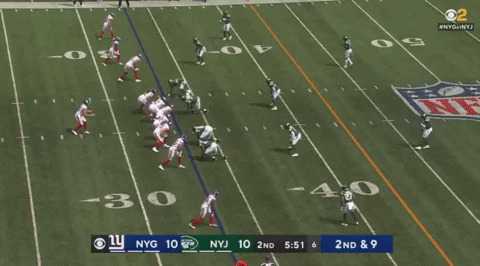 Anae's weakness is that he doesn't hold up well against the run and that manifested itself here as he was driven back off the line by a double-team. As a situational pass rusher, though, he seems like someone you can call upon to do a decent job.
Did not play:
Vinny Curry
Linebackers - King Kwon
CJ Mosley - Although Mosley was only in on eight defensive plays, he made a good impression. He stuffed a run in the hole and was in position in coverage on a short pass that was incomplete.
Quincy Williams - Williams played 16 snaps but didn't record a tackle. He didn't have any negative plays either.
Kwon Alexander - Alexander saw action with the first and second units, making some noise with his big hit to force a fumble, and was in on one other tackle. He got caught inside on one play.
Jamien Sherwood - Sherwood was credited with five tackles, including three near the line of scrimmage and a couple of big hits. He was blocked out of two plays at the second level though, and blew a coverage that led to an easy downfield catch as he picked up the guy that Alexander was already covering. He's come a long way against the run, but Sherwood's awareness in coverage is still lacking.
Del'Shawn Phillips - Phillips had two tackles, including one for no gain in clean-up. He did also miss a tackle in the hole. It feels like most media members don't expect Phillips to make the team but his special teams contributions probably make him safe.
Hamsah Nasirildeen - Nasirildeen had some nice production with a team-high eight tackles, including five within five yards of the line of scrimmage. However, he also had some negative plays as he missed a tackle, was blocked out of a couple of plays and gave up a couple of first downs in coverage, including one where he got caught up in traffic pursuing out to the flat on fourth down.
DQ Thomas - Thomas had four tackles on the Giants' field goal drive to take the lead, with one in the backfield and the other three all short gains. However, he was also beaten for a touchdown in zone coverage and blocked out of a play. On the final drive, he missed a tackle in the open field, allowing both the first down and the ball carrier to get out of bounds to stop the clock.
Did not play:
Marcell Harris
Cornerbacks - Dunn and Dusted
Ahmad Gardner - Once again, Gardner wasn't tested in his eight snaps, but has been named as the starter anyway. It's still difficult to predict whether Gardner will get the benefit of the doubt from officials with his physical coverage once he does start to see targets coming his way, but his positional sense seems good based on what we've seen so far.
Brandin Echols - Echols, who is perhaps on the bubble, got the start this week with DJ Reed and Bryce Hall out. While he didn't give up anything in coverage, his poor awareness against the run was on display again as he allowed a runner to get outside for a first down. He was in on one other stop near the line though.
Deuce Carter - Carter had a big day with an interception, a half-sack and a stop for a short gain in the flat. He was caught inside on one running play though.
Javelin Guidry - Guidry had an active day with a mixture of positive and negative plays. He had a missed tackle, dropped too far off his man on a third down conversion and was blocked off on a screen pass. However, he had a tackle shy of the marker on third down, a tackle for a short gain in the flat and a pass breakup where he forced the ball out of the receiver's hands as he went to ground.
Isaiah Dunn - Dunn had a few negative plays in this game as his pass interference penalty set up a touchdown and he gave up a few first downs in coverage. There was also a third down play where his man had a step on him coming across the field but the throw was too low. He did also have some positives though. He was in position on two other third downs that were incomplete, made a tackle in the flat and batted away the Hail Mary pass at the end.
Rachad Wildgoose - Wildgood gave up a couple of first downs in coverage, as well as a 10-yard catch on 2nd-and-long. He was also blocked out of the play on an outside run. He had four tackles officially.
Justin Hardee - Hardee only played on special teams.
Did not play:
DJ Reed
Bryce Hall
Safeties - Ash and Burn
Jordan Whitehead - Whitehead had one good play in a brief appearance, assisting on Mosley's tackle in the hole.
Lamarcus Joyner - Joyner made the start alongside Whitehead so presumably that job is his. He was also in on a run stop near the line.
Jason Pinnock - Pinnock was back on the second unit and credited with one tackle down the field. He also missed two tackles.
Will Parks - Parks was on the second unit with Pinnock and seems like he has done enough to make the team. He had a solid stop on the outside and one other tackle.
Ashtyn Davis - Davis has disappointingly been unable to get off the third unit all preseason. He had one good open field hit but missed two tackles and was blocked off at the second level on a short yardage run.
Tony Adams - The undrafted rookie Adams, who had four tackles, seems like he might be worth developing on the practice squad. He showed great instincts and closing speed on this play.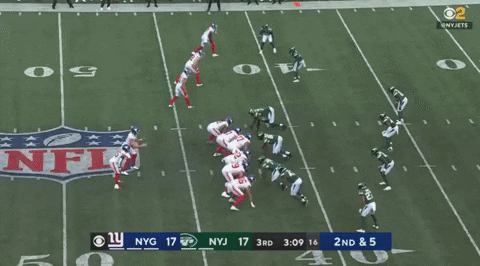 Adams was also in on a stop near the line and chased the quarterback out of bounds for a short gain, but was stiff-armed in the flat by a tight end and gave up a first down underneath.
Don't go away because we'll have our special teams review in a few hours.