In-depth Analysis: Jets-Panthers (Part 1 - Offense)
Over the course of today, we'll be breaking down the performance of every player that took the field in the Jets' preseason game against the Panthers. We'll start now with the offense then we'll look at the defense this afternoon and special teams later on.
Wide Receivers
The Jets didn't get much production at all out of their wide receivers in this game, but ultimately didn't need it. Alex Erickson (two short catches for 17 yards) was the only wideout with more than 10 receiving yards and the longest catch by a receiver was a 10-yard pass to Malik Taylor on a quick dump-off that saw him fall forwards for a first down on his only catch. The only other wideout with a first down catch was Jason Brownlee (two catches, 10 yards) on another short pass.
Allen Lazard and Mecole Hardman saw their first action in a Jets uniform. Each was thrown to once with Lazard's lone target being an overthrow that wasn't close and Hardman failing to make a one-handed catch in the end zone in tight coverage on a play where there was an offensive penalty anyway so it wouldn't have counted.
Brownlee, Taylor, Irvin Charles and Xavier Gipson were each also targeted unsuccessfully once with Gipson sitting down in zone coverage on a play where the quarterback expected him to keep moving and this miscommunication led to an interception.
Also seeing action were TJ Luther and Jerome Kapp. Kapp at least gave a good effort on a few plays as a blocker.
Tight Ends
The Jets got better production from their tight ends, who combined for nine catches, 77 yards and three scores. The three players thought to be competing for the fourth tight end spot (if there even is such a spot available) -- Kenny Yeboah, EJ Jenkins and Zack Kuntz -- each caught a short touchdown pass on pretty similar plays where they leaked out to the flat off a play-action pass.
In terms of what else those three players did, Yeboah and Kuntz each had one other first down catch with Yeboah wide open in the flat for 21 and Kuntz turning upfield athletically for 13. Yeboah did a better job than Kuntz as a blocker with Kuntz blocking the wrong guy on a receiver screen, twice getting pushed back into the runner's path and failing to sustain his block on another play. Jenkins had one good kickout block but got blown up on a play that was stuffed at the line.
The presumptive number three, Jeremy Ruckert picked up 15 as he leaked out to the flat on a similar play to the one that the Jets used on all three of their touchdowns. He had one other short catch but failed to sustain his block a couple of times.
Starters Tyler Conklin and CJ Uzomah each caught a short pass, with Conklin's moving the chains on the first series. Uzomah also had a good lead block on one play but missed his block on another.
Offensive Line
Max Mitchell was the only offensive starter this week who was also in the line-up last week. He did a solid job at right tackle with no clean pressure allowed and a few good run blocks, although he did miss his block on a screen pass.
At center, Connor McGovern had a tripping penalty and a missed block on a screen pass, but did a solid job on a few running plays as the Jets' running game was much better this week.
Left guard Laken Tomlinson looked pretty good in his first action of preseason. He had some good run blocks including a couple on the move, although he did allow late pressure on one pass.
At the other guard spot, Wes Schweitzer got the call and failed to sustain his block on an early play. Otherwise, he had some good blocks at the point of attack and wasn't troubled in pass protection.
The fifth starter was left tackle Billy Turner who failed to sustain his block on one play, but was otherwise error-free.
There was more intrigue this week on the second unit with Mekhi Becton getting a more extended look (28 snaps) at left tackle and Joe Tippmann playing the rest of the game at center.
Somewhat alarmingly, Becton was involved in a play where the backup recorded a big sack for a 15-yard loss. However, reviewing this play shows that he wasn't entirely at fault here.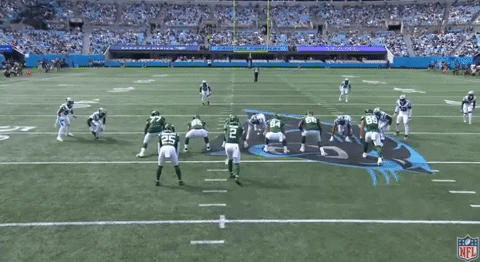 Had this stunt been picked up correctly, the player who registered the sack would have been passed off by Becton to the left guard, Trystan Colon. He tries to do this but Colon is slow to get across and is at a leverage disadvantage. Having passed his man off, Becton would then pick up the defensive tackle (initially Tippmann's man) who loops outside, but he doesn't get time to do this.
Other than this play, Becton had an up and down day and looked a little frustrated at times but he had more positives than negatives and even on plays where he he allowed his man to get off his block, this was usually after driving him off the line so the play still went for positive yardage.
Colon also had a mixed day as he was bull rushed into the quarterback's lap for a pressure and blocked the wrong guy in pass protection leading to more quick pressure, but then settled down and made some good blocks at the point of attack and on a screen pass. That improvement might just have been the difference between facing second and third-stringers though.
As for Tippmann, he wasn't perfect in the running game, although most of his negatives came right at the end of the game when he was perhaps tired - and also had less experienced players in the game with him. Prior to that, he had shown more good than bad, both at the second level and the point of attack and there was only one play where his man got upfield on him in pass protection.
Perhaps more exciting were his contributions to the screen game. He made three key blocks that helped spring good gains, including this one.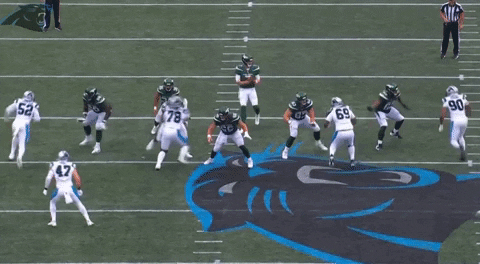 Chris Glaser at guard and Greg Senat at tackle filled out the right side with the second unit. While each was a mixed bag, they both put some good blocks on film, especially against the Panthers' third-stringers. Each displayed some good strength in the running game, although Senat did miss his cut block to allow a pressure.
The versatile Adam Pankey saw action at both tackle positions. For the second week in a row, he struggled with three negative run blocks and a pressure allowed. He is a useful piece to plug in on the line so that everyone else gets work at their preferred position, though.
Undrafted rookie Brent Laing, who also stayed on his man well on the screen play above, saw action as the third team left guard. He had a couple of negatives, including a holding penalty, but also made a few good run blocks.
Finally, the returning Grant Hermanns just got into the game at right tackle for the last three plays. He failed to reach his assignment on one run and allowed outside pressure on the last play, although the quarterback still had enough time to get the throw out for the score.
Running Backs
The running backs had a big impact in this game, as the Jets rushed for 141 yards and also got 93 receiving yards from their backfield.
Ace Carter returned after being rested last week and looked sharp, spinning out of a tackle for a first down conversion and picking up big yards as he was left wide open in the flat for an easy third down conversion. He ended up with 53 yards on six touches and a team-high 4.8 yards per carry.
It was Izzy Abanikanda who led the team in rushing yards and yards from scrimmage though, and he also had the biggest play on a 26-yard burst up the middle. Abanikanda racked up 87 yards from scrimmage on 15 touches with three more first downs on two screens and a short yardage conversion.
Bam Knight was less successful with just 16 yards on five touches. While he was clearly down on what was initially ruled a fumble and his third down drop in the flat was more down to poor ball placement from the quarterback, Knight will be disappointed not to have got more chances.
Off the bench, Travis Dye flashed with a 17-yard gain on a 3rd-and-14 screen followed by a 10-yard run off the edge behind a Senat block. His other 11 touches netted just 30 yards though as he was stuffed a few times in the red zone.
Damarea Crockett was also more impressive than last week, although he had just 17 yards on five carries.
Finally, Nick Bawden had a holding penalty but also had a couple of good lead blocks from the fullback position.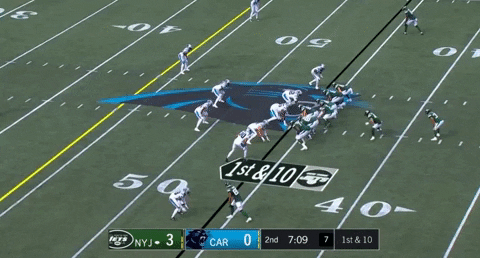 This particular play, while ultimately inconsequential, is an interesting one to review for everyone else's contributions. Aside from Bawden's nice lead block you have the following:
Becton firing off the line for his most aggressive block of the day
Colon staying on his man well to carve out a running lane
Tippmann driving his man off the line and then peeling off to cleanly pick up a second level assignment
Glaser and Senat blocking their men to the ground on the right side
Taylor and Ruckert each carrying out their roles well too
Quarterbacks
Zach Wilson built on a good performance last week with another one here, although he did lapse in the middle. After starting off 4-for-4 playing with most of the first team offense, five of his next six passes were incomplete and he also took a big sack. That included a few passes forced into traffic and the throw to Knight in the flat which was poorly-placed.
He was pretty much lights out after that though, completely nine of his last 10 passes and really getting into a rhythm with the quick passing game on his final drive. Perhaps his best completion saw him complete a tight window throw underneath with good zip on the ball and the only time he really aired it out was a decently placed throw on the end zone incompletion to Hardman.
In the second half, Tim Boyle completed nine of 10 passes for 84 yards and two scores, although he pretty much just took what the defense gave him. His lone mistake was a bad one as he hesitated and then tried to force the ball to Gipson, who had sat down rather than moving across as Boyle had anticipated. Boyle's open field tackle to prevent a certain pick-six was arguably his best play of the day in spite of his numbers.
We'll be back with more on the defense later...