In-depth Analysis: Jets-Panthers (Part 2 - Defense)
Over the course of today, we'll be breaking down the performance of every player that took the field in the Jets' preseason game against the Panthers. We'll continue now with the defense and look at special teams later on.
Defensive Tackles
The most sobering thought for the Panthers is the sheer number of players the Jets rested, including all 11 projected defensive starters. For the Jets' defense to be so dominant when the Panthers weren't even resting many starters on offense bodes hopefully well for the Jets.
Despite this, the Jets had a stronger group than last week with Solomon Thomas and Quinton Jefferson each seeing their first action of preseason. They had a good impact too with Thomas recording a hit on an outside stunt and Jefferson blowing past his man for a sack. Each also penetrated well on one running play.
For the rest of the game, they had a three-man rotation again with Tanzel Smart, Marquiss Spencer and newcomer Bruce Hector.
Of these three, Hector actually had the biggest impact with a strip sack and fumble recovery and he could have had another sack but missed the tackle and his teammate cleaned up instead. He was controlled at the point of attack on one play though.
Smart penetrated well a couple of times but was also driven off the line a few times and missed a tackle in the backfield. He got close to the quarterback twice.
Spencer's best play saw him use an arm-over move to penetrate into the backfield cleanly on a running play.
Defensive Ends
This was the kind of game that could get Jets fans very excited about Jermaine Johnson and Will McDonald.
The rookie McDonald had his first sack coming around the edge with bend on a rip move, but also forced a few more pressures, including two more that came via an inside spin move.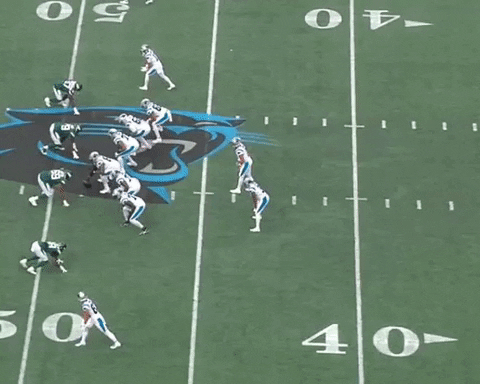 Just to temper expectations slightly on McDonald, there was this play which makes it clear he still perhaps has some work to do if he's to be playable against the run.
As for Johnson, in just 12 snaps, he had a pressure on a stunt and held his ground on the edge to stuff a run nicely but also had perhaps the play of the game on this monster rush that netted him a half-sack.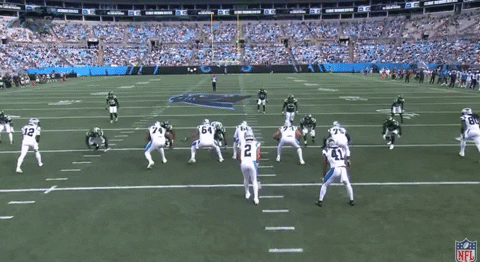 The Jets added a defensive end during the week with the hopes that Bryce Huff wouldn't have to play so deep into the game, but with Micheal Clemons and Ifeadi Odenigbo both not playing, he still had to anyway.
Huff was credited with half a sack, cleaning up on the play Johnson created and also had a good pressure off the edge. He was blocked out of at least three running plays though, underlining why he doesn't get reps in those situations. He did, however, have one good play against the run, stretching a run to the edge with the runner forced out of bounds for a short gain.
The rest of the defensive reps went to undrafted rookie Deslin Alexandre and newcomer Pita Taumoepenu. Each had a good impact with Alexandre cleaning up for a sack on a play where the quarterback had stepped up to elude his initial pressure and adding one other pressure off the edge. Taumoepenu also had a couple of pressures off the edge and penetrated well twice against the run. He was blocked to the ground once against the run and driven off the line by a double team but on the latter he fought it off and got back in on the tackle.
Linebackers
Jamien Sherwood got the start again and stuffed a run nicely in the hole, although there were a couple of first downs into zone coverage where he may have been partially responsible for the breakdown. That continues to be the main concern with his game.
Once Sherwood was removed after the first few series, the other starter, Zaire Barnes, and undrafted rookie Caleb Johnson got most of the work. Barnes ended up with a game-high eight tackles including this nice play to blow up a screen.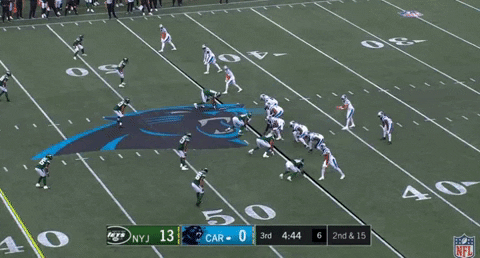 While he had a missed tackle and gave up a first down in coverage, Barnes was much more consistent than last week. Johnson wasn't bad either as he stopped two runs close to the line of scrimmage. He did allow his man to get open on one play though, with the quarterback misfiring.
Newcomers Samuel Eguavoen and Nick Vigil saw action in the fourth quarter. Vigil flashed initially as he stopped the quarterback just shy of the marker on a third down scramble and then blew up the fourth down play with a big hit in the flat. However, he gave up a first down in coverage and missed a tackle later on. Eguavoen overpursued on one coverage snap.
Cornerbacks
This week, the Jets started off with Jimmy Moreland and Brandin Echols outside and Craig James in the slot. Echols looked good as he was in position on two incompletions and in on an run stop before being removed for undrafted rookie Derrick Langford.
Moreland intercepted a desperation heave on the last play of the game and made a few good tackles including one in the flat. However, he gave up a couple of first downs and had a missed tackle.
James also had a missed tackle on a running play but didn't give up anything in coverage.
Langford gave up three first downs in coverage and also had a missed tackle, but he did make a good tackle short of the marker on a third down pass underneath.
Javelin Guidry also saw action but had a missed tackle on a first down run and gave up a first down in coverage (although he was then hit with a blindside block that negated it). He was in good position on a fourth down incompletion.
Safeties
After Ashtyn Davis and Marquis Waters started at safety last week, it was Trey Dean who got the start with Davis this week.
Both starters did a decent job with Davis in on two run stops near the line and Dean cleaning up with a run stop in the backfield and making a good open field tackle underneath.
Waters still saw plenty of action but gave up a first down in zone coverage when he dropped too deep. He took a good angle in pursuit for a downfield tackle on the longest Panthers run of the day though.
Dane Cruikshank also saw action, showing good timing to break up a pass with a hit on the receiver. He was in on two tackles.
We'll be back with more on the special teams later...