Injury News: Saleh tests positive for Covid-19
Here is the first injury report of Jaguars week: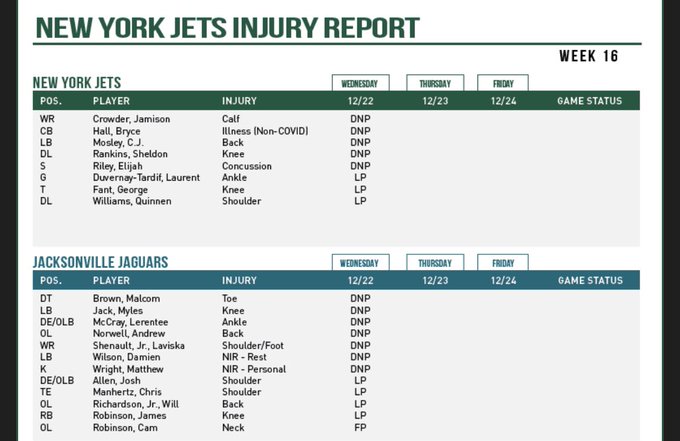 It's probably too early in the week to determine whether the several players who missed or were limited in practice are at risk of missing Sunday's game but it could be all hands on deck anyway. Fant and Williams being back, albeit limited, is a positive sign.
The bigger news today was that head coach Robert Saleh tested positive for Covid-19. He could be back before Sunday and maybe even as soon as tomorrow, but for now tight ends coach Ron Middleton is in charge.
The Jets also made two practice squad additions:
We've signed WR Isaiah Zuber and CB Kendarius Webster to the practice squad.

— New York Jets (@nyjets) December 22, 2021
Zuber is a 24-year old who played in four games as an undrafted rookie with New England last year. He caught two passes. He hasn't played yet this season.
Webster is a 25-year old former seventh round pick with 4.43 speed and a 43-inch vertical. He started five games with the Dolphins in his rookie season and overall has recorded 25 tackles, a forced fumble and a pass defensed in 17 career games. He could be a good option at the gunner position, where the Jets' top three players are all on the Covid-19 reserve list.