Three on O: McDermott, Wesco, Duvernay-Tardif
After each game, we'll be highlighting three defensive and three offensive players and looking in detail at their performance. We'll wrap up today with the offense:
Conor-ing the Market
With George Fant out, this forced Conor McDermott into the fourth start of his career and his first at the left tackle position. The Jets definitely missed Fant as McDermott gave up some costly plays.
McDermott was a mixed bag as a run blocker but did have this excellent reach block to set up a 20-yard run by Tevin Coleman: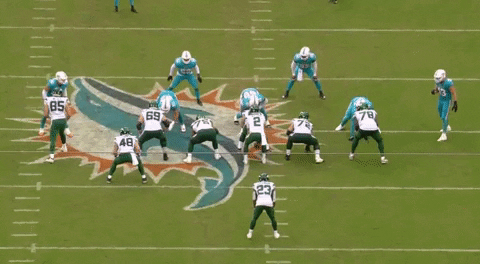 (Side note: This was Nick Bawden's only offensive snap in the past two weeks. Maybe use him more?)
Unfortunately for McDermott, on the very next play, he let Zach Sieler beat him for a strip sack.
That wasn't the only sack McDermott was involved in. One other saw a rusher come unblocked off his edge as he blocked down unnecessarily. That may have been a communication issue rather than McDermott's error though.
There was also a sack where McDermott lost contact with Jaelen Phillips who then almost sacked Zach Wilson but whiffed on his tackle so his teammate was able to clean up.
McDermott's other costly mistake saw him called for holding on the Jets' last drive as Wilson escaped the pocket. That really messed up their efforts to get back into the game.
It was interesting that the Jets opted to go with McDermott and not Chuma Edoga. Edoga has been active to practice for two weeks and was added to the roster on Saturday but did not play. Edoga filled in for Fant for over 50 snaps in the Bengals game and the Jets of course won that game.
Hopefully Fant won't miss any more games because McDermott mostly struggled even though the Jets tried to give him some help. If Fant is to miss another game, it might be a better option to go with Edoga next time.
Trev-on Song
The Jets had five tight ends (and a fullback) active on Sunday, although Dan Brown and Kenny Yeboah didn't get any offensive snaps and Bawden, as noted, only got one.
Trevon Wesco contributed in the passing game as he leaked out for this catch, just the sixth of his career and the longest since his rookie season: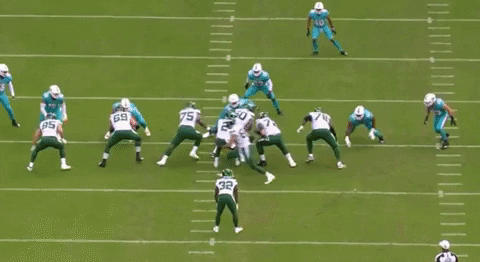 As a blocker, Wesco had mixed results. The Jets employed a lot of plays where the tight end went in motion right before the ball was snapped so was moving across the formation as a possible distraction more than anything else.
On such plays, Wesco pulled across the formation a couple of times and connected on a jarring block on the player on the opposite edge on one play and cut him to the ground on another. Neither block had a material effect on the success of the play though.
In the passing game, Wesco never stayed in to pass protect but did block downfield in front of a couple of screen passes. Again, he didn't have much of a material effect though.
Something interesting about Wesco's usage of late is that he's now a permanent tight end. He hasn't played a single snap as a fullback since the Jets got Bawden - even though Bawden has barely been getting any snaps himself.
Wesco clearly hasn't delivered on the upside the Jets felt he had when they made him a mid-round pick in 2019. With one year left on his rookie deal, it's unclear whether he will even be back next year, assuming the Jets upgrade here.
Belief in Duvernay-Tardif?
It was taken for granted that Laurent Duvernay-Tardif would be an upgrade over Greg Van Roten at the right guard position, but has this really been the case?
Pro Football Focus have Duvernay-Tardif grading out significantly worse than Van Roten and this was his worst graded game of the season so far according to them.
The team hasn't performed much better as a group either. They've given up 17 sacks in the five games he started (3.4 per game), compared with 25 in the other nine (2.8). Then again, the running game has been more productive, averaging 102 yards per game as compared with 76 with Van Roten in that spot.
In this game, Duvernay-Tardif didn't have much in the way of impact blocks in the running game and he allowed his man off the block to bottle up some runs late in the play.
He also gave up a few pressures and a holding penalty in pass protection. On this play, it looks like Connor McGovern might have snapped the ball before he was completely ready, a further sign that they're perhaps still hunting for some cohesion and chemistry with the changes to this group:
The announcers felt that Duvernay-Tardif's holding penalty - which came on a play where the Jets gave up a coverage sack anyway - was unfair. However, he did seem to have a grip on the outside arm as he took his man down when he tried to penetrate the pocket.
On the whole, Duvernay-Tardif looks like a solid veteran and rarely has a play where he looks really bad, while Van Roten was perhaps more consistent but prone to bad plays in key spots - much like one of his predecessors; Brian Winters.
While we would hesitate to compare Duvernay-Tardif to Patrick Elflein, who came here in similar circumstances last year and was objectively poor, the situation isn't altogether different, especially in how the media have been talking like he's been an upgrade when, for now, that hasn't really been true.
It will be interesting to see whether either of these guys or someone new will be at right guard when the 2022 season gets underway.
Previously - Three on D: Marshall, Neasman, Huff