Injury update: Becton and Crowder limited but Williamson returns to practice
The initial injury report for week two is in: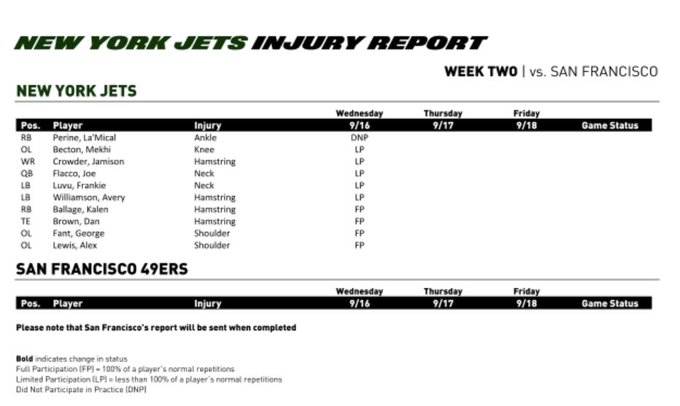 Becton's injury doesn't sound serious because he played through it on Sunday, but if he's slowed at all this weekend, that will hurt his chances of keeping Nick Bosa contained.
If Williamson returns this week, that will be a boost for the Jets. Harvey Langi was forced to play a full-time role last week after Blake Cashman got hurt. The Jets still might be wise to elevate Alec Ogletree from the practice squad for additional cover and have two open roster spots to play with.
Flacco is probably still a few weeks away and Luvu and Perine are unlikely to be key losses if they can't play this week.
Hopefully Crowder's absence was similarly precautionary because there was no indication beforehand that he wasn't expected to practice. That could mean he suffered his injury during practice and was removed.
Although the 49ers' injury report isn't out yet, reports indicate that they are pretty banged up, especially at cornerback, although there is optimism that star tight end George Kittle will play.