Injury update: Crowder misses practice
Thursday's injury report for week two is in: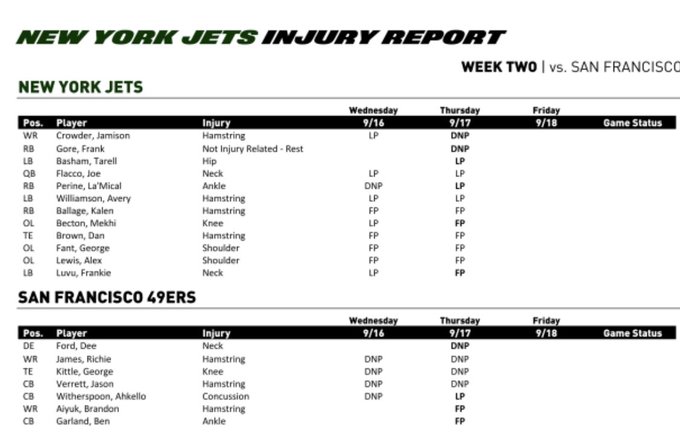 Crowder's hamstring injury, suffered yesterday, kept him out of action, which is a concern after he led the Jets in receiving in week one. Adam Gase said Crowder is not a candidate for injured reserve, but that tomorrow will be key in determining whether he can go on Sunday.
Basham was also a new addition to the list today, as he was limited with a hip injury. Again, this wasn't mentioned beforehand so it could be an injury that took place during practice.
There was some good news too, though. The rookie Perine returned to limited action after missing practice for the past few weeks, Luvu and Becton returned to full practice after being limited yesterday and Williamson - while still limited - apparently saw an increased workload.
The Jets rested Gore last week and will probably use Thursdays as a rest day for most of the year. Steve McLendon wasn't listed but he also was apparently excused for personal reasons. Flacco continues to practice on a limited basis but is unlikely to be ready to play yet.
For the 49ers, Dee Ford was a new addition to the list but Ahkello Witherspoon eased some of their cornerback issues by returning to practice on a limited basis. They had placed Richard Sherman on injured reserve a few days ago and are also without Jason Verrett.