Three on O: McGovern, Crowder, Van Roten
After each game, we've been highlighting three defensive and three offensive players and looking in detail at their performance. We'll start today with the offense:
Cor Blimey McGovernor!
Connor McGovern's first game as the Jets' new center saw poor results from the offense as a whole, but the line itself escaped most of the blame.
The running game didn't produce much with just 46 yards and a touchdown on 14 carries for the three running backs, but Le'Veon Bell's injury and the fact the Jets fell three touchdowns behind in the first half both were factors in them being unable to establish the run.
As for the pass protection, the Jets gave up three sacks, although the offensive line doesn't deserve much of the blame here with one being given up by Chris Herndon and another coming on a play where Sam Darnold rolled out and stepped out of bounds. However, the Jets gave up a lot of pressure with most of it coming on the interior.
McGovern had a couple of plays where he allowed pressure, including one where his man worked his way off the block for a clean quarterback hit. However, he did a good job of picking up rushes and passing off stunts.
The running game started to get some traction in the second half (4.2 yards per carry after halftime) with McGovern making good blocks on a handful of plays. For example, he showed impressive athleticism on an impressive reach block to set up a positive gain and showed good technique to open a hole for Josh Adams' late touchdown run.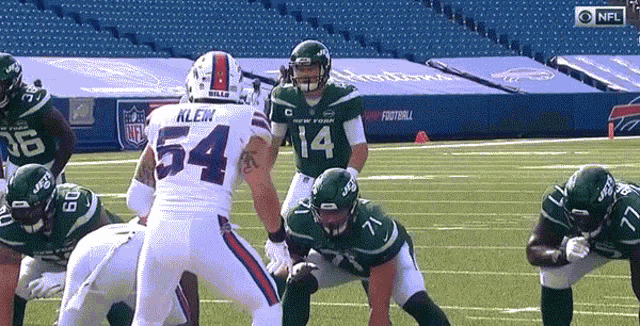 He also had a couple of negative plays in the running game though, failing to get across to prevent a lineman from shooting the gap for a run stuff in the first half and allowing penetration for another stop in the hole in the second half.
According to Pro Football Focus, McGovern actually graded out worse than the other four starters with one of the worst pass blocking grades in the league despite the fact that he was only directly responsible for two pressures. However, this was likely at least in part attributable to the fact he had some uncharacteristic low snaps that threw off Darnold's rhythm on a couple of occasions. Hopefully that's something that's immediately fixable.
Based on what he showed in this game, Jets fans should be encouraged with how McGovern coped with his assignments. Many of the things he was asked to do were things the likes of Jonotthan Harrison wouldn't have been able to handle and therefore his inclusion in the line-up will hopefully allow the Jets to vary up their running attack more than they did last year as the season progresses.
Crowdered Judgment
Jamison Crowder was one of the Jets' most effective performers on Sunday, as he caught seven passes for 115 yards and a touchdown, including four of the Jets' eight first downs.
However, it's easy to forget that he was actually having as rough of a game as anyone until the last minute of the first half. Crowder was targeted three times in the first quarter and got his hands on all three but wasn't able to make a catch. One was a low diving attempt and the other two were when he was covered tightly on a whip route and an out-breaking route but the Jets would usually have expected to connect on these. Darnold then tried to force it to him in the second quarter and was intercepted.
Crowder finally got things going on the two-minute drill that provided the Jets with their first points, catching passes of four, four, 21 and five yards. The 21-yarder saw him leak out to an open area as Darnold extended the play and the first four-yarder was also a first down on a quick out pattern with the defender playing off.
His 67-yard touchdown of course padded his stats, but this was good playmaking from Crowder, who had his first 100-yard game since 2017. On third-and-seven, he slipped out of a tackle and broke into the clear when it would have been another frustrating three-and-out if he was tackled in the open field.
Other than the touchdown, Crowder's best play saw him lose his man on this curl/comebacker route. However, Darnold threw late so he still had to dive to get back to the marker on 3rd-and-10.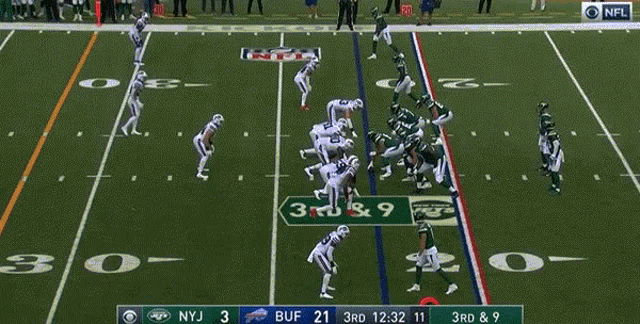 He had a disappointing fourth quarter with just one two-yard reception to his name, but Crowder's overall production bodes well for how much he'll contribute this year.
Don't forget to set your GVR
Greg Van Roten was also making his Jets debut on the interior and he graded out well despite giving up five pressures.
Like McGovern, Van Roten played his part as the Jets' running game started to get some traction in the second half. He did a solid job of controlling his man at the point of attack on this first down run.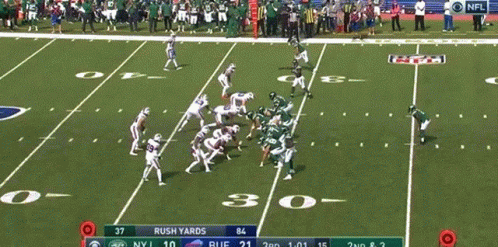 The pair also combined well on a driving combo block and Van Roten showed some ability to make blocks at the second level, although allowing his man to fall off his block late in the play was a common theme.
In pass protection, Van Roten let a guy into the backfield a few times, including a blitzing defensive back on one play, and was driven into Darnold's lap at least once. His worst pass rush rep saw him burned immediately by a quick swim move, although to his credit he hustled back and was able to shove his man upfield as Darnold stepped up. Plays like this are at risk of being a penalty if the contact is below the waist or adjudged to be forcible contact, though.
So far, the line seems to be gelling, although they have a few things to clean up. A lot of people have been expecting Van Roten to be a weak link but, in this game, he did a good job of carrying out his assignments and battling to stay in plays.
We'll be back with the 3-on-D tomorrow...