Jets "at" Giants: In-depth analysis (Part One: Defense)
On Saturday night, a strange thing happened during the annual Jets-Giants preseason tilt. A rare bout of Jets competence broke out as the coaching staff called smart plays, got good execution from their young team and motivated their players to come up with some impact plays due to hustle, effort and technique.
We're going to break down how every player performed for you today, starting with the defense, which allowed just 161 yards and seven points in the Jets' win.
Defensive Tackles - Power Rankins
Despite being without Quinnen Williams, the Jets looked solid and deep on the defensive line.
Folorunso Fatukasi and Sheldon Rankins made the start with Fatukasi bottling up a couple of runs and Rankins flashing some pass rushing quickness as he embarrassed his man to record a quarterback hit.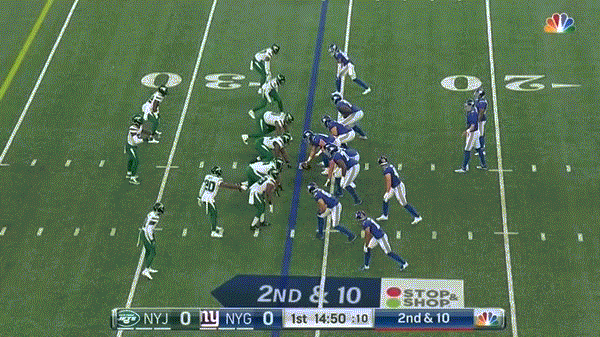 Rookie Jonathan Marshall made a good first impression as he was in on one run stop and two half-sacks, including the clinching safety. However, as disruptive he was as an interior rusher, he was pushed around quite a bit in the running game.
Undrafted rookie Mike Dwumfour had a similar issue but did show some playmaking ability before leaving the game with a second quarter injury. He got driven off the line a few times, but was credited with a half sack, a pass deflection and a fumble recovery and had this pressure.
One player who really stood out with his hustle and effort was Tanzel Smart. He also displayed an outstanding get-off, anticipating the snap count on a number of plays, although he was perhaps risking jumping offside.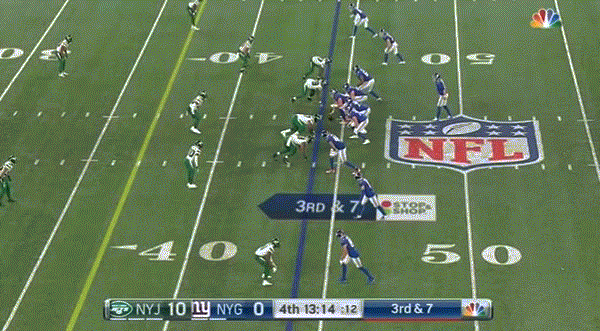 Smart was in the backfield three times as a pass rusher and got some good penetration in the running game. He was credited with two run stuffs, including one for a loss.
Nathan Shepherd had a couple of pressures, including one where he drove his man back into the quarterback's lap, and penetrated well on one run stuff, but he was called for an illegal hands to the face penalty and driven off the line a couple of times.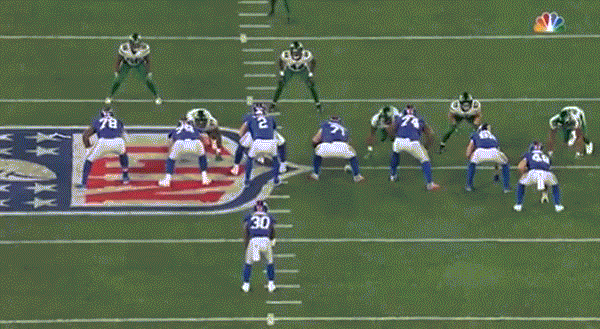 This interior defensive line unit certainly isn't going to be an easy group to make cuts from.
Edges - A diamond in the Huff
John Franklin-Myers made the start and was able to make a good impact in a short space of time as he stuffed a run and got to the quarterback to hit his arm and cause a shaky throw. He got credit for a pass defensed on the play, but was a split-second away from a strip sack.
Something interesting to note about Franklin-Myers was that when the Giants had their first third and long, the Jets brought Bryce Huff off the bench to play on the edge and Franklin-Myers moved inside.
Huff made an immediate impact as he blew by the right tackle on a rip move for an impressive sack, then later added another on a coverage sack. He was also in on a run stop, although he did get kicked out by a pulling lineman on one run.
The first look at Carl Lawson was little more than a cameo but he looked sharp coming off the edge. Ronald Blair, who has been injured, did not play and let's not forget that Vinny Curry and Kyle Phillips are both on the inactive list right now.
In the battle for depth, Jabari Zuniga, Jeremiah Valoaga and undrafted rookie Hamilcar Rashed all got plenty of reps.
Of the three, Rashed made the biggest impact with 1.5 sacks, although he was unblocked on a blown protection for one and picked up a cheap half by falling on the pile on Marshall's safety. Rashed was also in on two run stuffs, including one behind the line, as he actually led the Jets with four tackles but he got buried on the edge on the Giants' longest run of the day.
Anything positive from Zuniga is good to see after he didn't make any impact in regular season action as a rookie but he was only credited with one tackle. That came as he dropped off the line to stop a screen pass for a short gain. He was also driven off the line once and had a missed tackle.
Valoaga did a solid job coming off the edge and had a quarterback hit and another three pressures along with a tackle for loss. He was blocked to the ground on one play though.
Linebackers - Stop...Hamsah-time!
It was great to see CJ Mosley back in action and he made an immediate impact with a deflection on a high pass on the Giants' first play. Mosley was only credited with one tackle but was in on a few others.
As expected, Jarrad Davis lined up as the Will in subpackages as he played an every-down role. He was in on one stuff but got blocked out of one play at the second level.
Rookie Hamsah Nasirildeen seems to be heading the race to be the third linebacker as he was in with Davis and Mosley in the base package. Nasirildeen came up big with a forced fumble in the red zone and almost intercepted a deflected pass. However, he was blocked out of one run at the second level and got caught up in traffic on an end around.
His fellow draft pick, Jamien Sherwood, also made a good impact as he wore the headset with the second unit. Sherwood extended to deflect a pass and was in on a stop near the line of scrimmage. He was also blocked out of a couple of plays at the second level though. These converted safeties need to be kept clean and that wasn't always the case playing behind the backup interior linemen.
Blake Cashman was credited with two tackles near the line on a run and a short pass and also was in a good position in coverage on a fourth down incompletion.
On the third unit, Noah Dawkins was also blocked out at the second level, including on the 48-yard run by Sandro Platzgummer, which also saw him chase back and miss a tackle down the field. He made one good stop on the edge though.
The undrafted Camilo Eifler overpursued on that long run and also had a missed tackle on another play. However, he made a good play in coverage on third down and was credited with being in on one run stop.
Recent addition Edmond Robinson saw brief action on defense near the end and had one good open field tackle, but Del'Shawn Phillips did not play due to injury.
Defensive Backs - Bringing the Giants to their Neas
The first unit wasn't tested much by the Giants offense, but Bryce Hall was disappointingly too far off his man leading to an easy first down on one play. Blessuan Austin wasn't targeted but Javelin Guidry came up big to disrupt a third down pass nicely.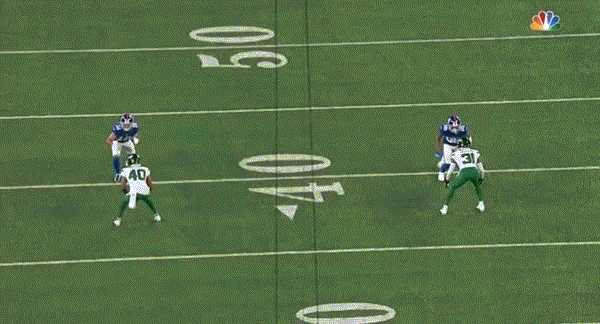 At safety, Marcus Maye played in the box and was in on one run stuff. Lamarcus Joyner was the deep safety and his only tackle came downfield.
Rookie Brandin Echols got plenty of run, playing exclusively on the outside as has been the case since camp opened. He had a nice downfield pass breakup in the second half.
Earlier, Echols had some negative plays as he was called for pass interference, gave up a completion underneath and was blocked out of a play against the run. He was also half-beaten in zone coverage on a missed throw by the Giants.
Reserves Lamar Jackson and Corey Ballentine really struggled though. Jackson was flagged for illegal contact and burned over the top for a big play on third down. Ballentine blew the coverage on the Giants' touchdown and was burned one other time on a pass that was overthrown. He also got called for pass interference.
Ballentine did make some positive contributions too, with consecutive pass break-ups on third and fourth down on one series. However, he was a little lucky on the second of those plays as he was beaten badly off the line and didn't get his head turned but recovered to knock the ball away from a receiver who failed to make a clean catch.
Isaiah Dunn and Justin Hardee did not play due to injury and Jason Pinnock was untested on defense.
In the slot, rookie Deuce Carter was in a good position on an overthrow. He was also in on a run stuff in the second half. Elijah Campbell was not tested.
Competing for a role at safety are Sharrod Neasman, JT Hassell, Bennett Jackson and Zane Lewis. Of the four, Neasman was the only one to make any positive contributions on defense with a good open field tackle to prevent a big play on an outside run, a stop for a short gain in the flat and a pressure as an unblocked rusher.
He did, however, miss a tackle downfield on Platzgummer's long run. Lewis overpursued on the same play.
Don't go away because we'll have our offensive review later this morning.