Jets "at" Giants - In-depth analysis (Part Two - Offense)
We're breaking down every player's performance in the first preseason game against the Giants. We broke down the defense earlier today.
Let's review the offensive performances in depth:
Quarterbacks - The Boys are Zach in Town
Zach Wilson's first NFL action was pretty good, as he completed six of nine passes and led a drive into the red zone for the opening field goal.
Three of his six completions went for a first down, including two third down conversions. He could have had three third down conversions but one was negated by a penalty as his second drive ended up stalling in Giants territory and ending when a fourth down run was stuffed.
Wilson hit his three first down throws to the outside, down the middle and underneath out of an empty set as his displayed good timing. He missed on a couple of throws and kind of forced one into traffic but wasn't sacked.
Off the bench, Mike White wasn't bad statistically, with numbers of 13-for-19 and 127 yards. However, he fumbled on a sack and then caused another fumble when he tried to hand the ball off to a back who had slipped.
White was at his best when releasing quick passes, which he did for a handful of first downs. His downfield accuracy was poor though, as was his ball placement on short passes. He did have one good throw down the middle, though.
The first NFL action for James Morgan saw him complete five of his nine passes for 45 yards. He looked nervous at first as his touch and accuracy let him down on a few early passes. However, he bounced back to pick up a first down on a play action pass.
On the final drive as the Jets ran out the clock with their running game, Morgan completed his only pass on a timing route outside to move the chains.
Morgan also almost connected on a deep ball over the top that the receiver couldn't quite haul in. His biggest play, however, was probably his touchdown-saving tackle that prevented the Giants from scoring on a fumble.
Recent signing Josh Johnson didn't get into the game.
Running Backs - La'Mical Pe-Fine
Aside from Tevin Coleman, who didn't play, each of the Jets' running backs showed something positive, although the team averaged just 2.4 yards per carry.
La'Mical Perine didn't get into the game until the second half, but he got the most touches and scored the Jets' only touchdown. He showed good burst on a first down run but his other 11 carries netted just 16 yards. That did include the touchdown and another short yardage conversion, though.
Although he made some good plays as a runner, Perine's pass protection still needs work as he gave up a couple of pressures, including one where he got lit up.
That could keep him off the field when you compare it with Ty Johnson, who started and led the Jets with 33 yards on nine carries. Johnson does a great job of picking up the blitz here.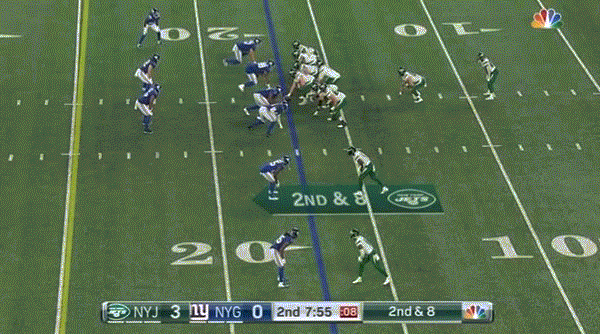 Johnson ran for three first downs but was stuffed on two short yardage plays (although one of these was a terrible spot because he looked to have it easily).
Rookie Ace Carter had 31 yards on eight touches but none of his runs went for more than five yards. He did pick up a first down on a good cutback though and broke a tackle on the outside on one run.
Austin Walter had a few negatives as he fumbled and got beaten for a sack in pass protection, although he did redeem himself slightly by recovering the ensuing fumble. His own fumble wasn't really his fault, as he was on the ground having slipped when White tried to hand him the ball.
Walter did make one impressive play though, as he stretched to haul in a wayward Morgan dump-off and then gave a great effort to reach the first down marker, with an assist from the replay booth.
Josh Adams is a bit of a forgotten man but he got into the game late an immediately showed good burst to cut back for a 12-yard run.
Wide Receivers - Denzel Good
The big story in terms of the wide receivers was Denzel Mims, who got plenty of work with the backups and led the team with 51 yards on three catches. Each of his receptions went for a first down including this spectacular effort on 3rd-and-18.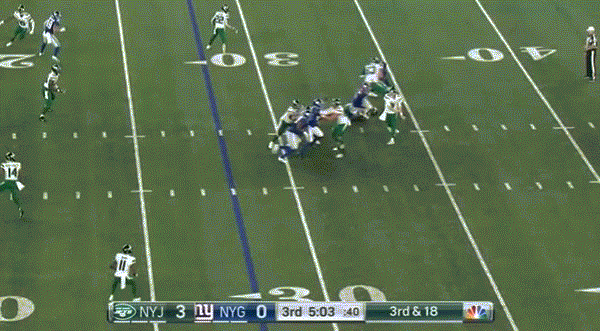 One of his other first downs again saw him make a good play after the catch to get to the marker. The third came on a blown coverage though. Mims, who is working his way back from an offseason illness is a more talented and complete player than some have given him credit for, so it was good to see him show out and he should now move back up the depth chart, even with Braxton Berrios and Elijah Moore having not played.
Aside from Mims, the only other receiver with three catches was Vyncint Smith, who got into the game ahead of him. His three first downs came on a throw over the middle and two underneath and he also drew a pass interference penalty. He had one bad missed block though.
Corey Davis and Keelan Cole made the start and each caught a Wilson pass for a first down with Davis coming back to the ball on the outside and Cole beating his man off the line on a crosser. Cole had a blatant offensive pass interference call to negate a first down by Jamison Crowder though.
Crowder, who made a tough catch on a low Wilson throw on that play had one other short catch.
The rest of the receivers - Josh Malone, DJ Montgomery, Lawrence Cager and Manasseh Bailey - are probably fighting for a practice squad at best, but each got an opportunity.
Montgomery had the longest reception by a Jet in the game on his 22-yarder down the middle. He also made a tough low catch short of the marker and almost came up with a deep throw by Morgan over the top but the diving attempt was off his hands.
Bailey broke to the outside to catch a Morgan pass for the first down to help the Jets run out the clock on their last drive.
Cager and Malone each caught one short pass but Cager could have had a touchdown on a White fade route had the ball placement been better. He also made one good block.
Tight Ends - They killed Kenny!
The tight ends were a disappointment in this game as Chris Herndon was the only one to catch a first down on a short pass for his only catch. Herndon, who improved as a blocker last season, also gave up a couple of pressures and didn't sustain his block on one run.
Tyler Kroft's only catch was short of the marker on third down but he slipped on his other target. He had one good run block. Daniel Brown had one short catch but otherwise did nothing to stand out.
Operating more as a fullback, Trevon Wesco was slow to turn upfield on one dump-off and failed to come up with the catch on another. While some fans were writing him off because of this, his blocking from the fullback position showed some promise with three positive blocks and no obvious mistakes.
Undrafted rookie Kenny Yeboah hurt his roster chances when he took a big hit in the flat and lost a fumble that almost got returned for a touchdown. However, he had a couple of good blocks on the edge.
Perhaps surprisingly, Ryan Griffin got the start, although he wasn't targeted. He had one good block and one whiff.
Offensive Linemen - Dan Feeble
On the offensive line, the Jets have been working without the injured rookie Alijah Vera-Tucker, so Dan Feeney has been working at left guard. While he's a versatile and experienced player that is useful to have available as a reserve, it's clear that Feeney will probably be a weak link if called upon to start games during the season.
He already had a few negative plays on run blocks in the first quarter but there were two particularly bad plays in a row in the second quarter. The first saw him lit up in pass protection, leading to pressure on Wilson.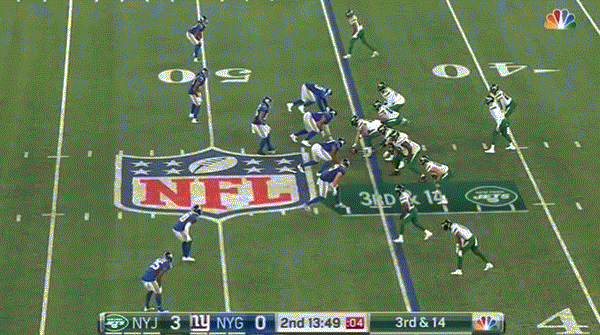 The next saw him allow his man to penetrate into the backfield to blow up the run on fourth down.
In the second half, Feeney moved to center and fared a little better against more of the Giants' reserves, but he still had more negatives than positives, including one low snap. He got downfield well for a block on one run though and got a good surge on Perine's touchdown run.
The rest of the starters were solid. Mekhi Becton made a handful of good blocks in the running game and didn't allow any pressure, although he had one play where he let his man get off his block on the outside to stuff a run.
At right tackle, Morgan Moses worked with the starters and George Fant worked with the reserves. Whether that means the competition is over or if Fant will get his shot with the starters in due course remains to be seen.
Moses set the edge well on one play but let his man get off his block on the edge on another. Fant had a couple of negative plays in the running game but got a good surge on a short yardage conversion. Crucially, neither allowed any real pressure.
The other two starters, Connor McGovern and Greg Van Roten, were solid. McGovern made one good block at the second level and Van Roten made a good reach block to seal the nose tackle off on a run going left.
Jimmy Murray and Corey Levin each saw work at both guard and center with the reserves and each got a surge on Perine's touchdown run.
Murray got beaten for a pressure and allowed his man to penetrate and shed his block to stuff a run but had a good block at the point of attack on one run.
Levin also gave up a couple of pressures, including one where he got beaten on a spin move, and failed to sustain his block on one run that got stopped. He got a good drive on one running play though and did hustle to recover Walter's fumble.
The backup at left tackle - Conor McDermott - got beaten around the edge for a pressure and missed his block on a play that got stuffed in the backfield. He made a couple of positive contributions too, though, pulling outside to lead the way for one first down run and getting a good drive on another good run.
Undrafted rookie Grant Hermanns got into the game at right tackle with the third unit. Hermanns failed to sustain his block on the move as he pulled outside on one play, but set the edge a couple of times by blocking downhill effectively.
The last man in was the other undrafted rookie, Tristen Hoge, who saw action at left guard. While he was stood up and pushed back into the runner and then beaten for a pressure early on, he later had a couple of good run blocks at the point of attack.
Three reserves also missed out with Chuma Edoga and Cameron Clark injured and David Moore only recently having signed.
Don't go away, because we'll have our special teams review for you later this afternoon!