Jets at Packers: In-depth analysis (Part One - Offense)
It's time to break down every player's performance in the second preseason game against the Packers.
Let's start today by reviewing the offensive performances in depth:
Quarterbacks - Zach to the Future
After such a rough week for the team as a whole, the Jets at least got an encouraging performance from their rookie quarterback. In fact, it's difficult to recall a preseason performance that went as well as this from any of the Jets' recent quarterback-of-the-future candidates that went by the wayside.
Zach Wilson completed nine of his 11 passes and threw two touchdown passes as the Jets scored 17 points on his four drives. Early on, he found Corey Davis on two third downs to keep the chains moving and then rolled out to extend a play to hit him deep downfield for a 27-yard gain on perhaps his most impressive pass of preseason so far.
His only two misses were another third down throw to Davis that was broken up and a low throw that he rushed.
Wilson's last two passes of the game were both 18-yard touchdowns to Tyler Kroft, one on a lofted pass that was placed where Kroft could go up to get it near the goal line and the other on a dump-off that Kroft turned upfield.
Wilson had earlier picked up 17 on a similar play. It will be useful for the coaching staff to dial up some simple plays like that where Wilson can gain some confidence and get the defense on its heels.
Speaking of playcalling, there was an interesting sequence after Wilson left the game which gives us some clues as to Mike LaFleur's offensive approach. They ran a running play where the right guard pulled left and then immediately followed that up with a playaction pass that was set up identically.
As you can see, the play ultimately failed as the center got beaten for a sack. However, you can see that the fake handoff freezes then linebackers and the tight end is wide open on a crosser for an easy first down and possible touchdown. Mike White appears to see this but can't get a clean throw out and is sacked as he steps up. It was clearly effective as a tendency-breaker to throw off the linebackers though.
White was efficient with his short passing as he completed seven of nine passes, albeit for just 39 yards, and led two field goal drives. His worst throw came under heavy pressure as he threw behind an open receiver on a slant pattern in the red zone.
There will be concern over White's status after he left the game with a rib injury following a big hit. That's probably what they got Josh Johnson for though, so he would presumably step up if White was going to be sidelined for any significant length of time and we can expect to see him in action for the first time against the Eagles next week.
James Morgan was living a lifelong dream by getting to see action at Lambeau Field but the Jets were mostly just running down the clock by that stage so he didn't get many chances to throw the ball.
For the second straight game, Morgan looked a little nervous at first and missed his first two throws. He eventually completed just one short pass. It will be good to see him get a more extended outing next week so he has time to settle down and gain some confidence.
Running Backs - Ace in the Hole
After missing last week's game for personal reasons, Tevin Coleman started at running back this week and gained 18 yards on five touches. He had one decent run to the outside and showed soft hands on a catch, albeit on a play that was stopped for a loss.
In this game, the Jets didn't really involve their running backs in the passing game, as they threw them just two passes, both of which went for a loss.
La'Mical Perine again didn't have much statistical success with just 16 yards on six carries, although that did include two 3rd-and-short conversions. There are times where Perine's vision seems to be lacking and that was the case on one of those third down conversions.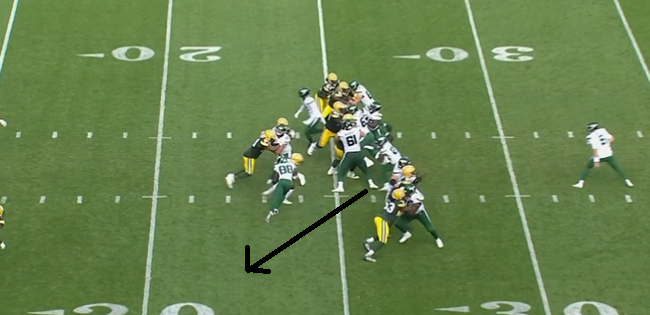 It looks like Perine should've cut to the left and then he could have broken this run into open space but he instead plowed dead ahead and was ultimately lucky to get a generous spot as he was stuffed in the hole.
Ty Johnson had a couple of good runs this week, including one for a first down, but ultimately ended up with just 22 yards on six carries.
The best performance at running back came from Ace Carter who racked up 52 yards on 10 carries and had the best run of preseason so far.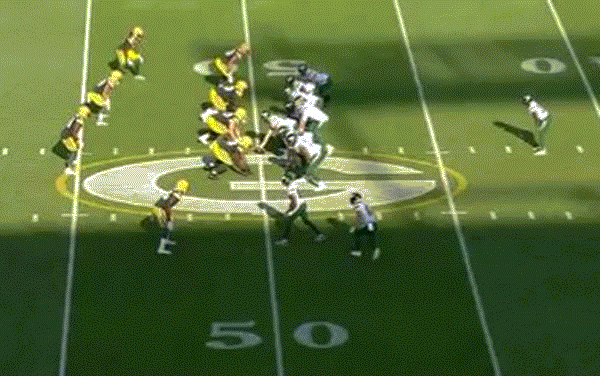 This play shows what a good fit Carter is in a zone blocking scheme like the Jets will run. The left tackle drives his man laterally and the left guard works his way to the outside shoulder of the defensive tackle to seal him on the inside, so Carter has a huge running lane. He decisively hits the hole but also finds a lane at the second level and then breaks out of a tackle down the field.
Carter also had a short yardage conversion on third down and should have had another short yardage conversion but got a bad spot. Perhaps more importantly, he did a pretty good job of picking up the blitz on one play.
Josh Adams didn't get any opportunities on offense, so his roster chances are looking slim.
Wide Receivers - The Corey of my Life
As already noted, Wilson had a good connection with Corey Davis who racked up 70 yards on four catches and displayed good route running, hands and abilities after the catch. However, an attempt to hook up on third down was broken up on Wilson's only unsuccessful drive.
Their developing chemistry is obviously a good sign, but the fact that Jamison Crowder and Keelan Cole have been quiet so far could perhaps give rise to some concern if Wilson looks to force the ball to Davis and begins to stare him down or miss the fact that other players are open.
That hasn't necessarily started to happen yet, but it's something to watch as Wilson and Davis continue to develop their connection. Cole, who mostly played with the backups anyway, had just one short catch and Crowder's only catch was negated by a penalty.
The Jets do, of course, also have Elijah Moore to add into the mix, which will give the offense another dimension, but Braxton Berrios made his return this week and picked up seven on a screen and 10 on a tough catch over the middle. He was also open in the red zone but White threw behind him under heavy pressure.
Vyncint Smith and Jeff Smith each got into the game before Cole this week as the Jets tweaked their rotations at a few positions and each had a first down on a short pass.
DJ Montgomery was the only player to catch a pass from Morgan, albeit for just five yards.
Denzel Mims was the only receiver not to see action, after he suffered a minor injury in the last practice, but Lawrence Cager, Manasseh Bailey and Josh Malone were not targeted.
Tight Ends - Tyler the Creator
Having been so poor in game one, the tight ends made much better contributions in this game with Tyler Kroft scoring on a pair of 18 yard touchdowns. Kroft caught a jump ball and turned upfield with a dump-off in the flat, showing good dexterity to get into the end zone each time.
Chris Herndon only had one short catch but his blocking was a bit better this week as he set the edge on one run and got in the way downfield on Kroft's second score. He did allow his man to get upfield on him in pass protection though.
With Ryan Griffin out, undrafted rookie Kenny Yeboah got more work this week and had a couple of good blocks in the running game. His only catch, on a dump-off in the flat, saw him marked just short of the first down marker.
Interestingly, Daniel Brown got an extended look at fullback this week. That's a bit of a departure for Brown who, let's not forget, is a converted wide receiver. He didn't look too bad in that role, though. Brown also leaked out from tight end and was open on a play where the protection broke down, as noted earlier.
Trevon Wesco was used as the fullback in the first half and he had a more complete game this week with a good lead block, another good block on a receiver screen and a 17-yard catch and run on a Wilson dump-off.
Offensive Linemen - Don't Murray, be Happy
After a week where his progress has been called into question, Mekhi Becton looked more than comfortable again at left tackle and it has to be a good sign that he's back pancaking people.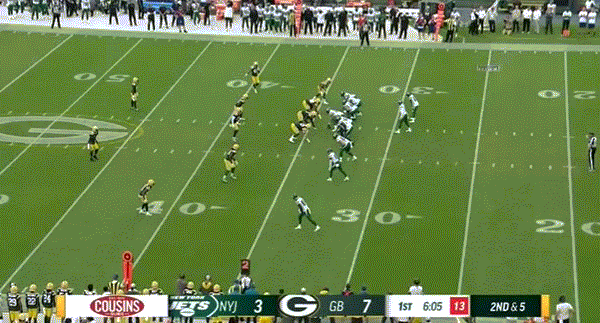 Becton had some solid run blocks and only allowed his man to get off his block a couple of times. He was also solid in pass protection as the pocket held up well on a couple of Wilson's completions and he looked confident to stand in there.
With Morgan Moses sitting out for personal reasons, George Fant started at right tackle, then had to reenter the game to play left tackle when Conor McDermott suffered a serious-looking knee injury on his first snap.
Fant's run blocking on the edge was pretty good, especially in the second half, but he did have one play in pass protection where he was cleanly beaten, although the pass rusher ultimately ran into his teammate's back so couldn't get to Wilson.
Chuma Edoga remains out, so Grant Hermanns was the only other tackle available. He did a pretty solid job at right tackle with a couple of good run blocks, although he tripped when leaking out on a screen pass, leading to that play being blown up.
On the interior, the most interesting development was that Jimmy Murray got some work at left guard with the first unit. Dan Feeney had started there and returned to work with the backups later, so this wasn't due to injury. Could Feeney's assumed spot as the primary interior backup actually be under threat from Murray?
Murray did a really solid job as a run blocker, including on a handful of plays where he pulled effectively. However, he was badly beaten in pass protection on one play.
Feeney let his man shed his block to stuff a run early on but was much more consistent this week in pass protection and had some solid contributions in the running game. Murray was probably better overall though.
Connor McGovern had mixed results as a run blocker this week, but was solid in pass protection. Greg Van Roten made a couple of mistakes, though, as he was beaten for a pressure and shoved back into the runner on one run. He also got called for a penalty for being downfield on a pass.
Corey Levin had a shaky game at center as he gave up a sack and the hit that injured White. He also let his man get off his block a few times to make a play against the run and missed a block in space on a screen. He worked well on some combo blocks inside though.
Tristen Hoge saw more action than last week at left guard and had a few positive moments, but also got shoved back off his spot a few times, including once on a bull rush.
Finally, David Moore saw his first action near the end of the game. He looked active and strong at the point of attack but didn't get much of a chance to make an impact. Alijah Vera-Tucker will hopefully return to full action in practice this week.
Stick around because we'll have our defensive review for you later this morning.