Jets at Packers: In-depth analysis (Part Two - defense)
It was a good offensive performance from the Jets on Saturday night, but the defensive display was disappointing in the first half. The second half was much better, although that presumably coincided with the Packers digging even deeper into their depth chart.
We broke down the offense earlier today but now it's time to break down how every player performed on defense.
Defensive Tackles - Smart Bomb
The Jets were without Quinnen Williams and Sheldon Rankins this week and it showed as their heralded defensive tackle depth didn't look so hot without them.
Folorunso Fatukasi was available to start though and, although he wasn't credited with any tackles, he penetrated well on a couple of plays. He was driven off the line by a double team once though.
Rookie Jonathan Marshall got plenty of work with Tanzel Smart and Nathan Shepherd, who started alongside Fatukasi.
Once again, Marshall struggled to hold up against the run as he was constantly pushed around at the point of attack and, unlike last week, didn't contribute anything as a pass rusher either. He wasn't credited with any tackles either, but there was one positive sign when he stood up his man on 4th-and-short as the Jets forced a turnover on downs.
Smart and Shepherd each had two tackles and one pressure, but of the two, Smart was the more disruptive.
Shepherd was driven off the line or controlled at the point of attack several times, while Smart had fewer negative plays, blew up a run, forced a holding penalty and caused the quarterback to trip over the guard by driving him back on consecutive plays. Shepherd also had a penalty on an interception return.
Edges - Wallowing in the Jeremiah
The Jets struggled to generate any pressure in this game, which some media members were attributing to the loss of Carl Lawson to a season-ending injury during the week. That doesn't make sense, though, because they generated plenty of pressure in game one with Lawson only playing a few snaps. The easiest explanation for this is probably just that the Packers' offensive line backups are better than those of the Giants.
John Franklin-Myers chased Kurt Benkert from the pocket once but his play against the run was perhaps more concerning. He got drawn inside on the Packers' touchdown run, allowing the back to stiff arm him to get outside and also completely misread this play to lead to an easy gain.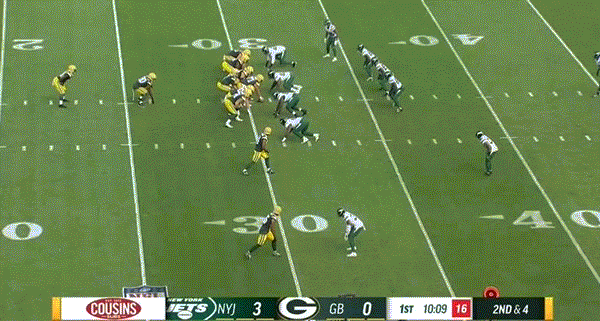 Frankin-Myers is a great pass rusher but he can't neglect his run stopping responsibilities if he's going to be a full-time starter as now seems inevitable. To his credit, he did penetrate well on one other run.
Bryce Huff made the start on the other edge, but saw action deep into the second half. Despite these opportunities, he had no tackles and just one quarterback hit on a play where he was unblocked. Officially, that was the only hit registered by the Jets, though.
Undrafted rookie Hamilcar Rashed got into the game early but didn't impress. He didn't cleanly beat his man all day as a pass rusher. He also had a missed tackle, was exposed in coverage a few times and was out of position at the snap on Green Bay's touchdown run. In addition, his penalty for illegal hands to the face gave the Packers a first down after a third down stop.
Much of the talk this week was about whether Huff, Rashed or Jabari Zuniga (who did not play) would step up in Lawson's absence. However, Jeremiah Valoaga was probably the edge defender who performed the best in this game.
Valoaga didn't do much as a pass rusher either, although he picked up a pressure on a stunt and flushed the quarterback from the pocket on another play. However, he produced against the run. He was in on four run stops, including one in the backfield, and did a great job of penetrating to set the edge to blow up this run.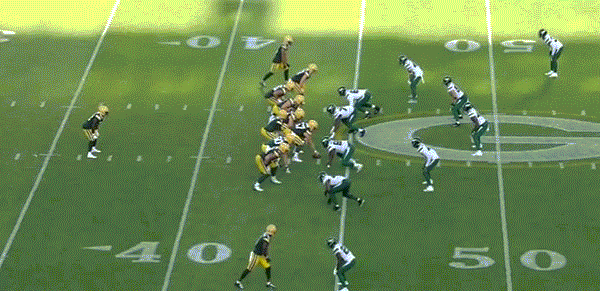 We know the coaching staff was impressed with this because you could hear "Great job, Jeremiah" being yelled from the sideline.
Finally, Ronald Blair apparently saw his first action as he played one defensive snap. With him available and Vinny Curry and Kyle Phillips set to join the team during the regular season, actually any apparent lack of depth on the edges is misleading.
Linebackers - Noah? She's having my baby!
There was more bad news this week as starter Jarrad Davis went down with an ankle injury, although Robert Saleh was hopeful this was not going to be too serious. Davis had three tackles but didn't make a major impact as he tripped while trying to pursue across the field on the Packers' first touchdown, got dragged for extra yardage on one play and was lucky that the player he was covering on third down dropped a pass.
CJ Mosley may have stayed in longer than he would have done if Davis was healthy but he was active and constantly around the football as he racked up five tackles.
He wasn't flawless, though, as he gave up a downfield catch and was blocked out of a couple of runs. Mosley was called for defensive holding to give the Packers a first down too, although he also drew a hold at the second level to negate a long run.
Interestingly, Noah Dawkins got into the game as the third linebacker this week as rookie Hamsah Nasirildeen didn't get into the game until the second half. Dawkins made a couple of good plays as he eluded a blocker in space to get in on a stop and helped bottle up a run on the outside.
Nasirildeen had three tackles including one where he was in on a stop near the line in clean-up, but was also driven back off the line on a short yardage conversion.
Jamien Sherwood had two tackles, including one for a loss after a botched snap, and recovered a fumble. He was also in position to make a stop in the flat although the receiver dropped the pass anyway.
The concern with Sherwood - and Nasirildeen - remains that they need to anticipate well to avoid getting swallowed up by blocks at the second level. Sherwood failed at that here: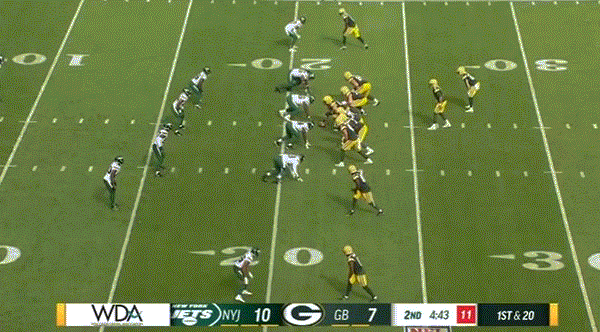 Blake Cashman was blocked out of a couple of plays too, but did have a nice hit in coverage following a short pass.
The undrafted Camilo Eifler flashed against the run as he had three stops near the line, including a fourth down stop, although he was blocked out of one play at the second level.
In coverage, he was also in on a stop on a third down screen pass to force a punt, but he blew a coverage here as he picked up someone who was already covered, allowing the back to leak out into space.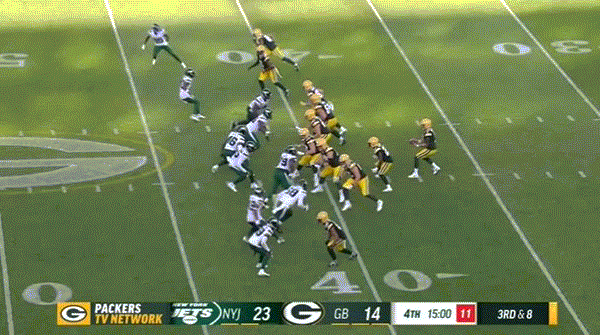 Once again, Edmond Robinson saw brief action on defense near the end and Del'Shawn Phillips did not play due to injury. Robinson was blocked out of one play at the second level.
Defensive Backs - Echols of the past
The Jets were without Blessuan Austin this week so they gave undrafted rookie Isaiah Dunn the start across from Bryce Hall. Dunn was a bit overmatched, though, as the Packers went after him on two third downs and a fourth down. One of these was incomplete as he was in close coverage but it was more of a drop than a disruption. He also missed a tackle in the flat, but was in position on one deep ball.
Hall made a good play to blow up a short pass in the flat but he also gave up a third down conversion where he was in pretty good position and was the closest man on Benkert's first half touchdown pass. That was a blown coverage, which may actually have been more the fault of Marcus Maye as the tight end leaked to the back pylon but Hall couldn't drop with him because there was a back alone in the flat. Maye probably should've read the danger and got across.
Maye's performance wasn't great as he was also blocked out of one run, made a weak attempt to stop the back at the goal line on the first touchdown and had a bad missed tackle that led to a long run, although it was negated by a penalty. He was in on three stops near the line though.
With Lamarcus Joyner sitting out, Sharrod Neasman made the start as predicted. However, it was backup JT Hassell who made the biggest impact. Hassell forced a fumble on the first play of the second half, added a sack as he came unblitzed off the edge on a blitz and was in on a couple of run stops near the line. He had a missed tackle and gave up a first down in coverage though.
Neasman avoided any mistakes as he had two tackles, including one on a run stuff and made a diving pass deflection in the end zone, although there was a penalty on the play so it didn't count.
In the slot, Deuce Carter got the start over Javelin Guidry this week and wasn't really targeted, although he got blocked off on a screen pass. Guidry made a good stop in the flat, was in good position on a downfield incompletion and was in on a stop near the line on a screen pass.
Off the bench, Brandin Echols and Lamar Jackson each came up big with an interception, with Echols making a diving catch on a low throw and Jackson making a leaping catch on a jump ball.
Echols also did a good job as he also helped bottle up an end around, stopped a screen pass for a short gain and made a third down stop short of the marker.
Jackson was also in on a run stop, but gave up a third down conversion in coverage.
Elijah Campbell and the recently-resigned Bennett Jackson also saw action on defense with Jackson recording three downfield tackles.
Corey Ballentine didn't see any action on defense while Justin Hardee and Jason Pinnock did not play.
Don't go away because we'll have our special teams review later this afternoon.