Poll Results: Fan confidence in Adam Gase drops even lower
Each month, we've been looking at how confident Jets fans are in the head coach and general manager. With the season just around the corner, let's assess where Adam Gase and Joe Douglas stand.
Here were the results from last month's poll:
Douglas: JCI = 61%
Gase: JCI = 7%
Here were the results from this latest poll:
Douglas: JCI = 58%
Gase: JCI = 4%
The JCI is based on a 0-100 scale calculated from the poll responses. Here are the results so far plotted onto a graph: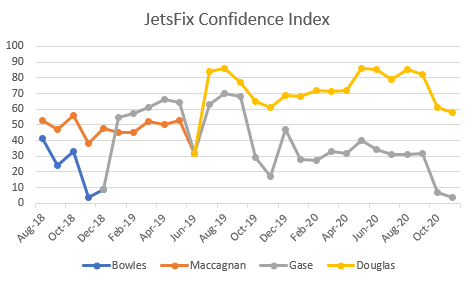 Gase's number - which ties the lowest confidence level for anyone since this project began - includes three "very confident" votes which we assume were sarcastic and/or trolling. Without those, his confidence rating would have been less than 1%.
As for Douglas, his public support for the unpopular Gase continues to be a drag on his numbers and confidence in him is currently lower than it has been at any point since he was hired so it will be interesting to see what develops from here.
The next poll will be at the end of November.
Let's hear your thoughts in the comments.