QuickFix: Saucy Nuggets from the Jets' loss to the Bills
We're going to kick off today's analysis with some things you might not have noticed from yesterday's loss to the Bills:
A Paler Shade of White
As we speculated ahead of Mike White's second start, there was always a danger that, for as well as he had executed the offense in his few appearances so far, some of his flaws could be laid bare once there was a bigger sample size.
Something we observed after the Patriots game was that, although he was a lot more efficient than Zach Wilson with the short and simple stuff, White was often just firing downfield into traffic on longer throws and trusting his receiver to make a play.
Both in this game and the Bengals game there were a few plays where he arguably got a little lucky and always the risk that, on another day, he might get burned on plays like these.
Of course, he threw the four interceptions on Sunday and you could see a mixture of obvious reasons for this. One was a trap coverage where he didn't see the defensive player dropping, one was a bit late and behind the receiver, allowing the receiver to jump the route and one was an ill-advised downfield shot to a receiver who wasn't open.
The other one could perhaps be considered unlucky because his arm was hit as he threw, and it is clear from the film that he was just trying to dump it to an open receiver underneath and it sailed over his head.
However, even beyond these four picks, he got away with a few throws. The issue is that he's staring at the receiver and looking for him to clear the defender, but not seeing the whole field so other defenders can drop off an make the play.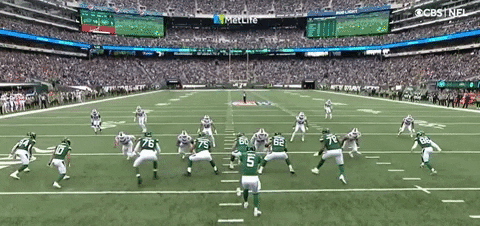 That's pretty much exactly what happened on the Tre'Davious White picks too. In that case, the receiver got a step on the defender that was covering him, but the other cornerback had read this and dropped deep.
On another day, maybe a couple of the interceptions would have been dropped or negated by penalties and that would have extended drives and created more opportunities for White to rack up another statline that people would get excited over. As it was he had 251 yards and Joe Flacco added another 47 after he got hurt, so this easily could've been another 300 yard game but on balance you can probably expect NFL teams to punish mistakes like these more often than not.
White's career from here on in could go anywhere. He might not take another snap this season or could start multiple more games this year. And whether he gets more opportunities with the Jets or elsewhere in the years to come is also hard to predict. Either way, he has some things to work on if he's to maximize the talent he possesses.
Ace Cartaracts?
Having spoken about how well White sees the field, it's worth checking in on a player who has impressed with his vision and running ability so far this year.
Ace Carter again had a productive day with 82 yards and a touchdown on 20 touches. That's his fifth game this year and fourth in a row with at least 80 yards from scrimmage.
However, he only averaged 2.4 yards per carry so, perhaps for the first time all season, may have left some yards on the field. He particularly struggled after halftime, with just 16 yards on 10 carries. His vision had been praised earlier in the year but did his eyes let him down on a few occasions on Sunday?
On this play, the obvious gap seems to be over the right side as the offensive line flows downhill and Morgan Moses kicks his man out upfield. Jamison Crowder just has to block down on Taron Johnson in space and Carter would appear to have an angle to bounce a big gain over that side.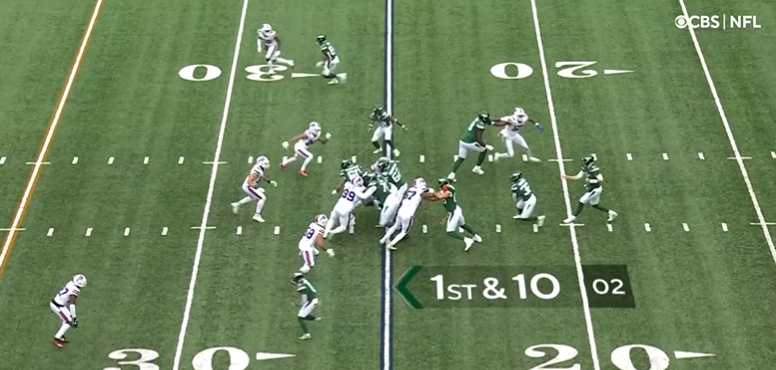 Ryan Griffin gets stood up at the point of attack, giving Carter all the more reason to bounce it to the right even if the run is designed to go left, but he hesitates, tries to go left and then reverses his field to go back up the middle. The Bills stop him for no gain and Griffin ends up getting called for a hold as he tries to sustain his block with Carter changing direction to create a leverage advantage for the defender.
After this play, Carter had four runs stopped for no gain and three stuffed for a loss. So, were there other runs where he failed to pick the obvious running lane?
Actually, there wasn't any. In fact, on a lot of his runs, you could see Carter having to react to an immediate mistake at the point of attack and changing course just to get what he can or, in some cases, to limit the damage. Griffin whiffed on a block at the point of attack a couple of times on plays which otherwise looked like they might have given Carter some good running room and there was one play where Greg Van Roten let his man into the backfield to blow up a run.
Despite that one early moment of indecisiveness, Carter's vision, not only as he receives the ball but also as he gets to the second level and anticipates spaces opening up downfield is very impressive. On this occasion, it was the blocking, combined with good play recognition from the Bills' linebackers that held him back from being able to produce more.
From here on in, Carter just needs to continue to trust his eyes and be decisive and he should keep having positive results.
What might have been
One key sequence saw the Jets get a delay of game penalty on 4th-and-1 so they had to punt the ball from near midfield. This came in the second quarter with the Jets down 10-0.
The play was blown dead but we got a quick look at what they were going to run, a bit like when NBA teams deliberately commit a delay of game before a last second shot attempt so they get a peek at what the offense is going to run.
Obviously everyone heard the whistle and stopped (apart from the Bills players who pretended not to so they could get a not-called cheap shot on White). However, here's the fragment of a play we did get to see.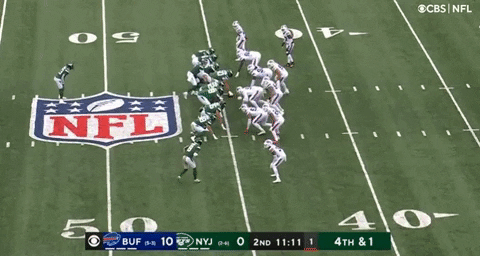 So we can see that instead of just running on 4th-and-short, they ran a fake. Had White handed it to Tevin Coleman, it looks like he would probably get stuffed and if he'd given it to Elijah Moore, it looks like Moore might have been able to get outside but would've needed to beat Taron Johnson in a one-on-one to get to the marker.
One option as White rolls out is obviously for him to run to the marker himself, but it doesn't look like he would've made this.
So, his only options were the tight ends. It looks like the design is for Nick Bawden to run down the seam and with any luck he'll be wide open for a big play. However, Dane Jackson isn't completely fooled. It's unclear as to whether he could've stayed with Bawden since he stops running almost immediately.
Griffin does something similar on the other side, but this is likely designed just to keep defensive players in the middle of the field. Obviously Moore and Coleman are part of the run action so they're not options.
This leaves Trevon Wesco as the most likely recipient of this key play. Wesco blocks his man and then leaks underneath. From there he can sit down if White has the angle to dump it underneath or run to the flat as White rolls in that direction, perhaps for a lob over the top.
It's impossible to tell whether this was a good call and would've presented White with a high percentage option to move the sticks. However, it's interesting to get an insight into what they were looking to unlock in this key situation.
The more things change...
It was interesting to see what the Jets would do in their efforts to fix things after the struggles in the Colts game. Essentially what they decided to do was make some personnel changes.
After playing just nine snaps in the Colts game, Del'Shawn Phillips was in the starting lineup at linebacker. After being inactive last week, Jarrod Wilson was starting at safety rather than Sharrod Neasman, who had replaced Marcus Maye in that game. Both backup defensive ends from the Colts game - Jabari Zuniga and Tim Ward, who combined for 36 snaps - did not play, while Hamilcar Rashed and Ronald Blair each made their first appearance of the season.
Perhaps not surprisingly, Ward, Zuniga and Neasman were on the field for some of the Colts' big runs. This perhaps suggests the Jets are happy with the system and did not intend to make any changes other than hoping for better execution from the replacements in each case.
Did it work though? 45-17 suggests that it obviously didn't and while there were five offensive turnovers that played a part in that, the Bills still almost racked up 500 yards.
In terms of the running game, it did arguably help though. Other than an Emmanuel Sanders end around, the Jets didn't give up any runs longer than 15 yards. In the Colts game, they had given up touchdowns of 21, 34 and 78 yards and a 25-yard gain.
Ultimately, instead of 260 yards on 30 carries, the Bills "only" gained 139 on 24 carries, but that's still almost six per carry and the reduction is almost entirely attributable to the eradication of those longer runs. In terms of the front seven stopping runs from getting to the second level, it was arguably not much better, if at all.
So, what's next? If teams continue to exploit the way the Jets use their linemen and linebackers and the players they're using cannot prevent this, then they will have to consider tweaking the scheme otherwise they'll be at a major disadvantage every week since it's too late to upgrade their personnel.
Perhaps some of the weaker teams coming up on the schedule won't enjoy the same level of success, but the Jets should guard against allowing this to make them think it is acceptable.
---
We'll have some more in-depth analysis for you throughout the rest of today and over the next few days, so keep checking back here early and often.