QuickFix: Saucy Nuggets from the Jets' loss to the Bills
We're going to kick off today's analysis with some things you might not have noticed from yesterday's game:
Sometimes it's just not your day
Already 7-0 down, the last thing the Jets needed to begin their day was a three-and-out. They had a manageable 3rd-and-one and, perhaps smartly given how much success they had running the ball the rest of the day, they opted to run a play action.
Here's how it went: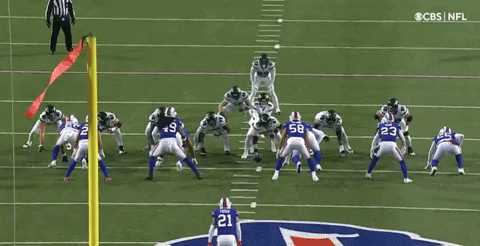 You have Keelan Cole running a downfield route, but this is more of a clear-out than anything else with the safety staying home in the middle of the field.
Nick Bawden comes out of his stance and falls flat on his face. Could this be a designed cut block? It seems unlikely given that there's no other receiver option on that side of the field. Maybe Wilson could have got the ball to him after he got back up again if he hung in there a beat longer.
Greg Van Roten, an extra tight end, is eligible on this play but clearly supposed to stay in and block. He slows Matt Milano's blitz somewhat, then also falls to the floor.
Tevin Coleman stays on his feet after the playfake but ends up stuck in traffic so if there was any plan for him to make himself available as a checkdown option, that fell apart.
Finally, Tyler Kroft, the most likely target on this play, stumbles coming out of his break, which Wilson likely sees and then can't risk making that throw over the middle as the timing is thrown off.
And all of this ignores that fact that the pulling guard, Alijah Vera-Tucker, almost collided with Wilson after the snap.
What a mess.
No separation
After Jamison Crowder was ruled out due to an early re-occurrence of his calf injury, Wilson was forced to play without his top four receivers for the first time all season. Based on his final stats, you can probably guess how well his receivers were getting open. Let's take a look at Denzel Mims trying to get open when a play got extended: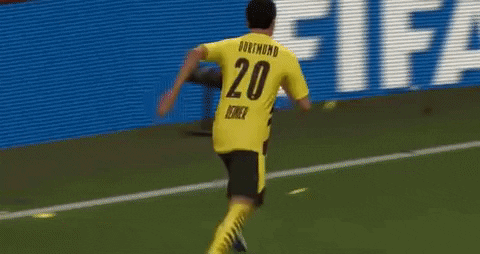 Oops sorry, that's the wrong gif. It should have been this one:
It's no wonder Wilson ended up running out of bounds for a 10-yard loss on this play as Mims is just making Levi Wallace's life too easy for him. He just has no plan, makes no sharp change of direction to break to an open area or work back to his quarterback and simply fails to create any kind of threat.
If you've ever coached kids basketball, you might recognize this. Everyone runs around aimlessly, nobody gets away from their defender and the kid trying to inbounds the ball just stands there until the ref blows for a violation.
In basketball, you get five seconds to inbounds the ball. Unfortunately, NFL quarterbacks have to get rid of it a lot quicker than this.
The thing is, Mims surely knows this stuff. He just seems to have no plan, no confidence in his abilities and it gives the impression he isn't giving a complete effort. It seems like he needs rebuilding from the ground up and should perhaps work with some kind of technician who can try to succeed where Miles Austin has apparently failed to reach him.
What's Hines Ward up to these days?
A well-blocked play
Let's take a look at one of the plays from Sunday where the offensive line did a good job of blocking:
Record Setting Mann
It's interesting that the Jets set a franchise record in this game that was only tangentially linked to how terrible their pass protection and passing offense was.
Braden Mann punted 10 times for 497 yards, setting a record for the most punt yardage by a Jet in a regular season game. The previous record came in a 2019 loss to New England.
The Jets did have 530 yards once in a playoff game, but this was after double overtime (against the Browns in 1987) and on 14 punts. In fact, if Mann didn't also have one blocked on Sunday, he would have beaten this mark too.
Interestingly the most ever punting yards in a game is actually over 700. The most by an AFC East team was when Brandon Fields had 564 yards on 10 punts in a 10-6 win over the Jets in 2010 (best remembered for Santonio Holmes dropping an easy touchdown that would have won it). That's easily the most memorable punting performance we can recall. In heavy winds, Mann did pretty well too.
The Curse of 88
The Jets gained just 53 yards on Sunday, of which 40 came on Cole's touchdown catch. He ended up leading the Jets in receiving, which is hardly surprising because he was the only Jet to catch more than one pass.
In fact, Cole had 54 yards receiving, which means he was responsible for 102 percent of the Jets' offense which is hilarious.
Did Cole finally put to rest the Curse of 88, though? Since Al Toon, everyone to wear that number has been a disappointment in the passing game and Cole had a good chance to break that trend.
However, Cole ends the season with 28 catches for just 449 yards and one score, easily the fourth worst season in his five year career, beating only the 2019 year where he hit a midseason slump and was barely targeted for a couple of months. He averages 37 catches, 538 yards and three touchdowns so it was definitely a down year.
Here's the updated list (via PFR) since Toon (who, for the record, posted an average AV of eight per season in his career, despite the injuries):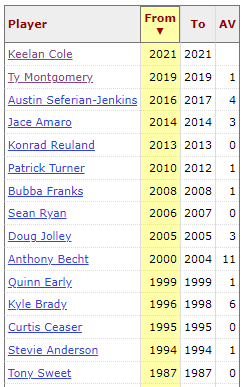 Maybe the next guy to wear this number will fare better. It doesn't seem all that likely we'll see Cole wearing it again.
---
We'll have some more in-depth analysis for you throughout the rest of today and over the next few days, so keep checking back here early and often.