QuickFix: Saucy Nuggets from the Jets' loss to the Patriots
We're going to kick off today's analysis with some things you might not have noticed from yesterday's loss to the Patriots:
Paincakes with da Becton
Breakfast time...
Unfortunately, Becton went down with a nasty looking injury later on but thankfully it was just diagnosed as a high ankle sprain. Rest up and get healthy big fella, we're going to need you next year.
Ya dats right.
Everything is not Hall it seems
The four Patriots touchdowns on Sunday all came through the air. While one saw a tight end release downfield with the free safety Arthur Maulet unable to get over in time, the other three appeared to victimize the Jets' linebackers. However, that wasn't necessarily the case.
At first glance, it seemed that Frankie Luvu, Neville Hewitt and Bryce Hager each gave up a touchdown in coverage but actually each of these touchdowns arguably exploited Jets rookie cornerback Bryce Hall instead, even though he was nowhere near the receiver.
Let's look at each one in turn:
First, Cam Newton completes the pass underneath in front of Luvu:
Hall, as you can see, is lined up at the top of the screen and allows the receiver a clean release, believing the safety behind him has that covered - and he does.
Hall's responsibility becomes the short flat on the right side, but as Newton looks to the left, he should close on White underneath, as the only threat in his area. Instead he backs off even though the safety has that receiver covered by the back pylon.
While Luvu, who is inexperienced as an off-ball linebacker, allows himself to get drawn out of the middle, you could still consider that Hall left him hung out to dry here.
The second touchdown was the gadget play to Cam Newton and this time it's Neville Hewitt who can't get across to stop Newton: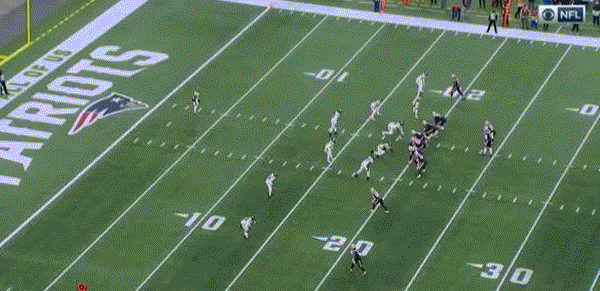 Again, though, it's Hall that appears to be the root of the problem here. He initially reacts like it's a zone coverage and he passes off the inside releasing receiver. Had he stuck to his initial notion, he'd have stayed on that side and the pass to Newton wouldn't be open. However, he panics that nobody is going to pick up the receiver and instead chases him across the field, vacating that side.
While it's possible Jacobi Meyers could have read that Newton was covered and thrown the deep over route to that receiver instead, this would have been a much harder throw and there did seem to be a safety back there to pick that up.
Hall should've been aware of the threat of Newton leaking over to that side and perhaps messed himself up by doubting his own initial read.
Finally, the Sony Michel touchdown was a basic dump-off to the flat. Hager didn't get across in time and Michel was able to race to the pylon:
Again, though, the finger of blame points squarely at Hall here. He runs downfield with the receiver even though the safety is in position to pick this up. At that point you should be able to tell it's a blown assignment and there should be communication between Hall and the safety so that he can pass off the receiver and then come off that receiver sooner to prevent the score.
Interestingly, the defenders on the other side of the field made the same mistake and had two players covering downfield while leaving a receiver open in the flat. The result could have been about the same if Newton had dumped it to the left instead.
The Jets are probably getting a brand new defensive coordinator and system next year, so we won't overreact too much to Hall's uncertainty being exploited by New England. However, it does show Hall needs more work and film study to be fully comfortable at this level and also underlines how the defensive communication needs to be better.
Adam Gase and the Folly of "Coaching to Where Football's Going"
While we usually concentrate on the players when we share our nuggets, it seems fitting to close with some thoughts on Adam Gase now that he has been fired.
Clearly Gase was a coach that many in NFL circles thought would be a success despite his failures in Miami, even if his hiring did have some people wondering if the Jets were forced to settle for him because other, more desirable, candidates didn't want the job.
Gase never seemed to command the full respect of his team, put together a team that constantly suffered from inconsistent execution and, most importantly, failed miserably to develop Sam Darnold into a franchise quarterback.
In their efforts to defend Gase, quotes coming out of the Jets organization have been widely derided, increasingly so as the team's failures piled up with Gase in charge. Gase was supposed to be "a brilliant offensive mind" and the offense was supposed to be "going into hyperdrive" but the quote which explains why the hire was made - and why it was doomed to fail - was when Christopher Johnson said that Gase is "coaching to where football is going".
Clearly the idea of a coach with such futuristic ideas is desirable. Unfortunately - while it may even be true that Gase has a forward-thinking approach which one day might be the approach everyone uses - clearly it doesn't work right now because he was unable to put the fundamental foundation in place that was needed to get the offense off the ground.
While some coaches could blame their players and perhaps claim that they didn't fit the system or what he wanted to do, Gase had plenty of opportunities to add "his" players and, throughout his time with the Jets and in Miami, they virtually all underperformed.
Maybe if Gase was a capable coach, he could gradually get his players to execute his system the way he wanted it done, but you need to be able to build to that point, to simplify where necessary and to adjust when things aren't working.
When Sam Darnold was "seeing ghosts" last year, Gase didn't adjust - he simply told a shell-shocked Darnold, who was crying out for some guidance or something to make his life easier, that he knows what to do and just to do it.
If you're coaching in the future but everybody on your team is stuck in the present, you're doomed to fail.
In the NBA in the early 2000's, Jim O'Brien took over from Rick Pitino as the Boston Celtics head coach and built on some of Pitino's core philosophies, including the (over)-use of the three point shot.
Over the next few years, he turned his team into one that jacked a historic amount of threes at a low percentage. He turned Antoine Walker from a versatile and athletic five-tool player into a lazy three-point gunner who shot less than 40 percent but still racked up enough numbers in volume to make a few more all-star appearances.
It was an approach that was doomed to fail with O'Brien soon out of the league and Walker no longer an NBA starter by the time he was 30.
These days, everyone can shoot from outside, even the big guys, and the analytics and percentages work in the favor of any team who shoots a high volume of threes. Like Gase, O'Brien was coaching "to where the NBA was going", but at the same time, he had people miscast in roles that didn't suit their skill-set and didn't put in place the other core elements a team needed to win.
So, maybe Johnson was right about Gase and the Jets and the NFL just weren't ready to successfully adopt his approach. Had he been a better man-manager, strategic planner and more adept at anticipating and reacting in-game, then he might have been successful at getting everyone on the right track.
Unfortunately, his own arrogance may have prevented him from being good enough at these things to ever have a chance of making it work. Hopefully, his replacement will have much better success.
---
We'll have some more in-depth analysis for you throughout the rest of today and over the next few days, so keep checking back here early and often.