QuickFix: Saucy Nuggets from the Jets' win over Miami
We're going to kick off today's analysis with some things you might not have noticed from yesterday's game:
The Sauce Awakens
SAUCY NUGGETS ARE BACK!
As per CJ Mosley's official ruling, Sauce Gardner was going to remain "Ahmad Gardner" until he proved himself by making a play at the NFL level and so our own nuggets were also waiting to be Sauced. Yesterday's Gardner interception to set up a key score officially brought the Sauce, although he'd arguably already earned his stripes with an early blitz that produced a safety and the first score of the game.
The interception itself was largely caused by John Franklin-Myers, whose hit on Skylar Thompson's arm caused his throw to flutter to the outside. However, Gardner still had to outmuscle River Cracraft at the catch-point to come up with it so this was no routine play.
It took Gardner five games to break through with his first pick, following an impressive first month. This wasn't the only breakthrough on Sunday though:
The first home win since last December;
The first back-to-back wins since 2020, when the 0-13 Jets bounced back from a 40-3 loss to Seattle to stun the Rams and Browns;
The first time the Jets have been over .500 since they began 3-2 in 2017 - a feat they followed up by losing five of their next six games and nine of the last 11;
The first three-wins-in-four-games since December 2019 when the out-of-contention Jets went on an inexplicable 6-2 run to finish the season; and
The first time the Jets were live on TV in the UK for a Sunday afternoon game for several seasons - potentially since JetsFix started. (This is mostly relevant because it means the game is currently blacked out so you might have to wait a day or so for your officiating and special teams reviews this week).
Flagging Behind
Since you'll be waiting an extra day for your full officiating review, let's touch on that here. It was a sloppily officiated game where there were several soft calls and then other seemingly obvious calls getting ignored. (The uncalled jersey grab on Corey Davis on 4th-and-short was one that stood out).
Anyway, the outcome was that both teams had over 100 penalty yards in this game, so when you do get that officiating review, it'll be an epic article. This got us wondering: How often is it that both teams go over 100 in the same game?
Looking back, this did happen once last season. The Cowboys and Raiders met on Thanksgiving and combined for 276 penalty yards. However, this game went into overtime, prior to which the Raiders only had 95.
So, when was the last time before that? It came in the 2020 season opener between the Bucs and Saints - Tom Brady's first game after leaving New England. Remarkably, in that game, the Saints only had six penalties: Four for pass interference, two for unnecessary roughness.
You probably already guessed that all six of these calls were terrible and also that Jerome Boger was in charge of the officiating crew that day. The only surprise is that Boger wasn't in charge of either of the other games we mentioned here (yesterday was Clay Martin and the Thanksgiving clash was Shawn Hochuli).
The hits keep on coming
We noted in last week's 3-on-D how Carl Lawson had been showing signs of dominance and has actually been pretty productive in terms of generating quarterback hits. On Sunday, he took that to the next level.
Lawson had his breakout play of the season so far when his strip sack essentially turned a close game into a blowout in the fourth quarter. However, he also racked up an impressive seven quarterback hits.
Let's try to put that into some context:
According to PFF, only one player in the entire NFL had more than seven hits in the entire season entering Sunday's action...and that was Nick Bosa, who failed to add to that total on Sunday;
Lawson now has 14 quarterback hits, which is the same number as Franklin-Myers led the Jets with in 16 games last year; and
In 2020, Lawson led the NFL with 32 quarterback hits. With 14 in the first five games, he's on pace to rack up 48 in 2022.
So, Lawson isn't "doing what he's always done", he's surpassing it...with a managed workload and despite by his own admission not being 100 percent yet. Scary stuff.
It doesn't stop there, though. Franklin-Myers himself added five having never previously surpassed three in any game. It was a big game for Franklin-Myers, who - as noted - affected the pass on the Gardner interception and added a half-sack, a run stuff and a pass deflection.
Miami still got the first down here, but it was one of the best examples you'll see of a relentless motor from Franklin-Myers: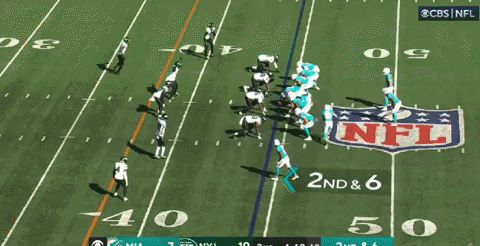 Yes, they've benefited from the quarterbacks not getting rid of the ball as efficiently these past two weeks, but that was always going to happen once the secondary got the communication in coverage down. Let's hope it continues in this vein.
Everybody Snap your Hands
As the season progresses and rotations start to settle down, looking closely at the snap counts becomes less relevant. However, there are still a few interesting observations to be made after Sunday's game:
Marcell Harris was active, but only played five defensive snaps having not practiced much during the week. Instead of base personnel, the Jets opted to run a lot of three-safety sets with Will Parks (inactive last week) heavily involved;
Lawson's 49 snaps (73%) were a season-high. While this might be because Jermaine Johnson got hurt, creating the opportunity for extra playing time, that doesn't completely explain it. Johnson played the same number of snaps as Bryce Huff (15) and more than Jacob Martin and Micheal Clemons; and
The Jets used their dime personnel package a little this week, which involves only one linebacker and four cornerbacks. Brandin Echols entered the game in these packages and was in coverage on this important failed third down:
Some of these changes may have been a reaction to Miami's success running the ball out wide against the Jets' nickel packages. They seemed to deliberately target Deuce Carter on these plays, sealing him to the inside on some of their longer runs.
Cool Breece
Clearly it was a spectacular performance from Breece Hall, who ended up with 97 rushing yards and 100 receiving yards.
Hall fell just short of a 100/100 game, which is rarer than you might think. Let's break it down:
This has only been done three times since 2011;
The last person to do it was Austin Ekeler in 2019;
The last (and only) Jet to do it was Johnny Hector in 1986; and
Only two backs have done this more than once in their career: Priest Holmes and Brian Westbrook.
Clearly Hall's two spectacular catch-and-run plays stood out, but his work as a runner was also stellar. Credit must also go to the offensive line though. In his first regular season game as a Jet, Duane Brown established himself as someone you can run behind, Nate Herbig continued to hold up well at right guard and Alijah Vera-Tucker performed more like someone who has played 60 games at right tackle than just 60 minutes.
Here's maybe the best play that illustrates all five offensive linemen doing a good job:
Here you see Vera-Tucker and Herbig each executing a reach block, Connor McGovern climbing to the second level to seal a man off, Laken Tomlinson pulling left to kick the edge defender out and Brown controlling his man to set the edge. Both tight ends do just about enough to make this play work too.
Thank you!
Finally, on a personal note, thank you so much to everyone who donated to my sister's gofundme account. She's been through a lot, as we all have, and there's still a long way to go in her recovery. Just having your support has been more than valuable personally, but any financial contributions that can make her life easier going forward are gratefully received by the family.
---
We'll have some more in-depth analysis for you throughout the rest of today and over the next few days, so keep checking back here early and often.