QuickFix: Saucy Nuggets from the Jets' win over the Packers
We're going to kick off today's analysis with some things you might not have noticed from yesterday's game:
You Snapped Out
Let's start with the snap count data this week because there were some interesting changes that had a bearing on the outcome:
First, the Jets hardly ever operated with three wide receivers on Sunday, going with either two backs or multiple tight ends on the majority of their plays. This resulted in fewer reps being available for the likes of Elijah Moore (32 snaps, a season low) and Garrett Wilson (24 snaps, also a season low). And yet they still found eight reps for Jeff Smith.
You didn't need to read between the lines to tell that Moore was frustrated after the game despite the win. The Jets threw to him just once on a deep ball that had little chance of being successful and didn't count anyway due to an offensive penalty. By contrast, Wilson had a rough day as they threw to him five times but he only caught one short pass. He ran a bad route on third and short and had a few passes bounce off his hands as he wasn't getting open against man coverage.
This might something to watch, because Wilson hasn't done much against man coverage all season, other than his first touchdown against the Browns. He's also caught just six passes on 15 targets since Zach Wilson's return.
There was some question as to whether Jaire Alexander was shadowing Wilson, but this was not the case. Alexander has lined up on the right all season this year (having been on the left all last year), so the Packers don't use him to trail another team's top target. Wilson just happened to be lined up on the left on most of his targets. While there was one play where Wilson was in the left slot and targeted on a crosser that Alexander broke up having matched up with him, this was because there was no wide receiver on the left side on that play, so Alexander was moved into the left slot as he usually would in those situations.
Next, let's consider the linebacker position. CJ Mosley was in a full-time role as usual, but the returning Quincy Williams returned to the starting lineup despite Kwon Alexander's solid play while he was out. However, Williams was not in a full-time role with Alexander employed is subpackages at times. They weren't in base as much this week, as you'd probably expect with a quarterback like Aaron Rodgers.
Speaking of Rodgers, he threw his only touchdown pass by going after Brandin Echols immediately after Echols had entered the game in the middle of a drive for unspecified reasons. Echols - who later temporarily filled in for the injured Gardner - is part of the team's dime package, but they barely used this on Sunday. On this particular play Deuce Carter came out and Echols replaced him in the nickel package and then immediately gave up a touchdown. The obvious question is whether Carter perhaps got injured, but he was on the other side of the field from where the ball went on the previous play, so it's hard to see how.
Rodgers may have identified Echols as a potential weakness from the teams' joint practices last season or perhaps saw him coming into the game at short notice. He might even have noticed how he lined up in terms of his leverage compared to Carter. He didn't really go after Echols when he replaced Gardner later on though.
Finally, the freshly activated Vinny Curry played 17 snaps, which - as expected - pretty much just replaced Jermiane Johnson's usual workload. Micheal Clemons has seen his snap count reduce every week and was down to nine this week, but he'll definitely remain active as long as he's contributing on special teams.
General Pattern
We do important work here at the Saucy Nuggets Headquarters in identifying unusual or interesting patterns. For example, we told you after the win against the Browns that the Jets would definitely beat the Packers because they have won every fourth week during the Robert Saleh era. This came to pass (although we did also say that the Jets were going to lose nine of their next 10 based on this pattern).
Maybe that's a new pattern though - the Jets are going to win every four weeks no matter what. So this means we'll definitely win [checks calendar] the bye week!
This week's interesting pattern is that the first seven Jets touchdowns this season were all passing touchdowns but, since then, none of the Jets last nine touchdowns have been touchdown passes.
This isn't exactly a drought though, as they've only gone two games without a touchdown pass. Zach Wilson hit Corey Davis late in the game against Pittsburgh, since which time they scored another late touchdown in Pittsburgh, five against Miami and three more yesterday. Of these nine, eight were runs with the other coming on special teams.
Nine straight Jets touchdowns without a touchdown pass - how rare is that? Well, you have to go back to 2010 for the last time they had a streak of more than five (and this was only six). They had streaks of six and seven in 2009 too (in fact the streak of seven was at the end of the season and the first touchdown in the playoffs was a run, so you could call that eight).
Perhaps the fact that these streaks happened on teams that went to the playoff is a good omen for the 2022 Jets. The running game certainly looks as good as it ever has since that time (The 2018 Anomaly Bowl against Denver when Isaiah Crowell rushed for like 350 yards excepted). That has to be a good thing.
Broom or Brust
Breece Hall's first 100-yard rushing performance was a fairly unique one in terms of yardage distribution. 13 of his 22 touches, including both of his pass receptions, were stopped for a gain of three yards or less. These 13 plays went for just 14 yards.
This means his other nine touches went for over 100 yards. 107 to be exact. There was a clear pattern of Hall either being stopped near the line or breaking to the second level.
All of those nine plays went for between 7 and 12 yards apart from (a) his touchdown run and (b) his final carry, which was a wildcat run from the five yard line that saw him stopped at the one-yard line.
While Ace Carter only got six carries, he had a similar kind of pattern. Three of his seven touches were stopped for two yards or less and the other four went for four, six, eight and 25 yards.
Credit must go to the Jets for scheming up some nice tendency breakers to get Hall (and Carter) to the second level as often as they did.
While the prettiest running play of the day was probably the Braxton Berrios reverse which saw CJ Uzomah and Duane Brown leading the way after Uzomah pivoted and reversed his direction, here was another nice play where those two led the way.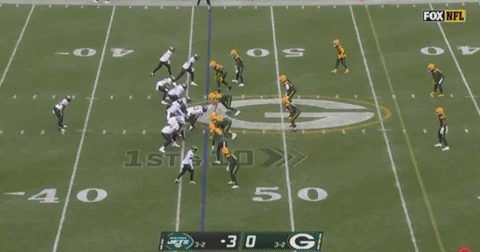 Laken Tomlinson also had some really nice run blocks too, although how the linemen will grade out with so many runs stuffed at source is anybody's guess.
The Hall touchdown was a fascinating play because the design apparently called for Hall to pitch it to Garrett Wilson who was then going to throw downfield to Berrios.
While the all-22 footage isn't available, we can see here that 29 crept up and run blitzed after his man (Berrios) had motioned to the other side. Clearly the Packers' communication was good here and they picked up Berrios so the gadget play wouldn't have worked.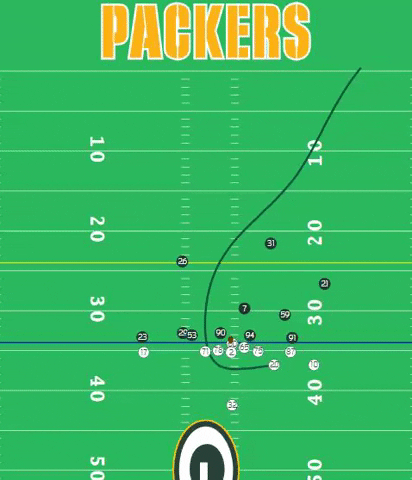 So, Hall made a smart decision to not make the pitch, which was impossible anyway with a defender in the backfield. He instead turned upfield, perhaps with a view to just picking up whatever positive yardage he could from the play, but then suddenly found himself with a huge cutback lane and ran into the clear.
This play call, on the first play of the fourth quarter, was obviously the Jets taking a shot at a splash play and that's how it worked out, albeit not in the way it was designed. Whether Hall's decision to run upfield was a stroke of luck, an amazing read by the rookie or just good coaching because he knew that's what he was supposed to do if there was a defender in the backfield, it worked out perfectly.
As for the Packers, you have to feel some sympathy towards them on this play. The Jets tried to run a gadget play and they smartly recognized it and snuffed it out. However, one player (rookie linebacker Quay Walker, wearing #7) read it so well that he tried to get out in front of it, so when Hall cut back, Walker had run himself out of the play.
Not your classic, develop a tendency and then break the tendency play so much as develop a tendency, break the tendency and then improvise when that deviation doesn't work play. We'll take it - that's what good playmakers can do for you.
SHEESH
Finally, Alijah Vera-Tucker was one again amazing at the right tackle position, as the Jets only gave up two coverage sacks (Brown and Uzomah's man got each sack) and no other quarterback hits in addition to all their running success.
However, he was in for a rude awakening on his very first pass blocking attempt of the day. This arguably goes to show just how impressive it was that the Jets were able to keep Rashan Gary relatively quiet because what a beast that guy is.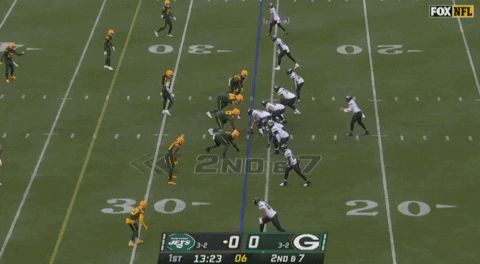 Sheesh.
---
We'll have some more in-depth analysis for you throughout the rest of today and over the next few days, so keep checking back here early and often.