QuickFix: Thoughts on the UDFAs
The Jets have reportedly signed a bunch of undrafted free agents but, as always, some of the reported deals may fall through or just be invitations to participate in rookie mini-camp on a tryout basis.
Either way, it seems likely the Jets will be well over the roster limit when these deals are finalized, so we can also expect a series of corresponding cuts once we get clarity on who actually signed.
As already mentioned, Dimitri Flowers is probably the best known name in this year's UDFA class. He has a good shot of earning the starting fullback job, although he spent much of his time as an H-back in college. He is a decent pass catching threat who served as a useful safety valve for Baker Mayfield.
On the offensive line, the Auburn duo Austin Golson and Darius James bring different things to the table. Golson is versatile and a better pass blocker than run blocker. James just played right tackle last year and his run blocking was better than his pass blocking. Check out today's daily check-in for more on Canadian Dakoda Shepley.
Running back Vic Enwere is a big back who might be converted to fullback. It was also reported that the Jets signed Ryan Green, but he didn't play much in college.
The Jets didn't bring in a quarterback and only invited a few tryout receivers.
On defense, the Jets continue to add youth to their defensive line group. Nifae Lealao is a possible nose tackle project but has graded out poorly against the run, while Mych Thomas has been a much more effective run stopper. The magnificently named Lord Hyeamang is a former wrestler - perhaps they could try to convert him into an offensive lineman.
Frankie Luvu is the closest thing to an edge rusher the Jets have brought in, although he has also played off the ball. He had 6.5 sacks off the edge last year and might project best to SAM. Tre' Williams is a versatile player with all-round skills who might be undervalued because he was hurt last year.
The rest of this year's crop, including a couple of linebackers and defensive backs and a kicker are low-profile options from smaller schools.
Finally, here are some PFF stats on some of the names reported: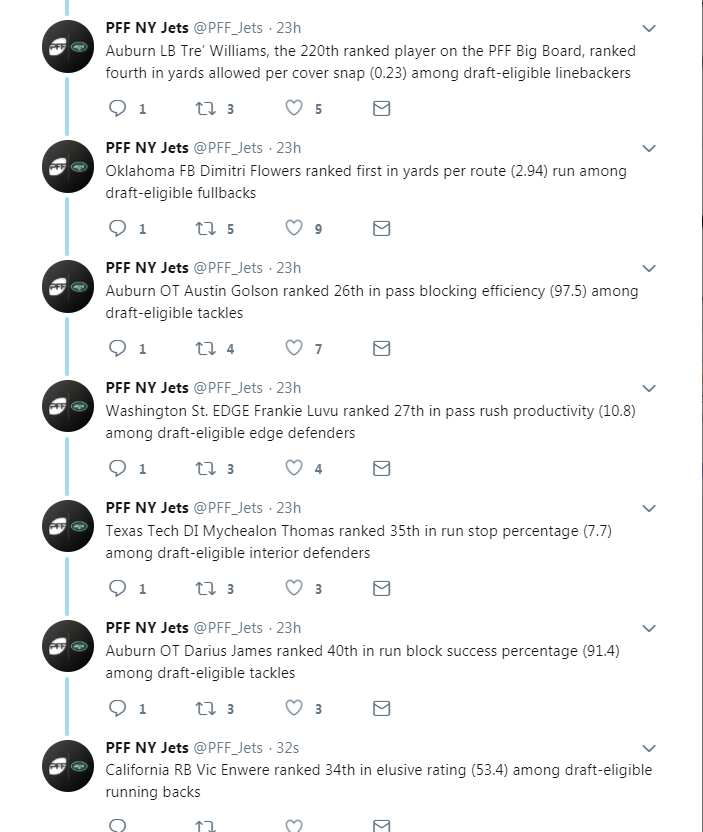 We'll eventually have in-depth reports on everyone who is confirmed to have signed and remains on the roster through rookie camp.