The 2020 JetsFix 53-man Roster Relay: Fourth Leg
As we did last year, we're going to mark preseason with a series of fan-sourced roster projections. The usual idea is that as players make their case in each preseason game this will be reflected in the next leg of the relay, along with other developments such as injuries. However, with no games to react to this time, everyone will be flying blind.
After Hazard took us around the bend in the third leg, the next leg will be run by David Aron ...
After channeling my inner GM, scouring the camp tweets, injury reports, video highlights, rumors, debated with my better half and the opposite of my better half, divined, and used other odd sorts of black magic, I've reached my 53 and 16-man practice squad.
On offense, I have the belief that the lack of depth in the WR room will be made up for by the TE room, somewhat due to the continuity of the TEs but also to comments made by HC Gase and others as to the depth of the TE room.
With that TE depth in mind, as well as the revamped OL, I also envision an increased emphasis on the running game with multiple TE sets (12, 13, or even 14 personnel, depending if you define TE Wesco as a TE in these instances), and then utilizing play-action to get downfield over the LB zones. The speed in the WR room would keep the defenses honest and prevent the FS from creeping down into the box.
We have seen a possible use of such a system by Vrable's Titans, and QB Darnold is much more talented than QB Tannehill. To facilitate this philosophy, I kept 4 TEs on the 53, and with the injury to WR V Smith, I kept 4 RBs on the 53 to allow RB Bell to line up frequently at WR.
Pre-S Adams trade and LB Mosley's opt-out, we were treated to a fantastic summary as to how the Jets might play a Tampa-2 or Cover 3 on D. However, it remains to be seen as to how DC Williams will adjust the coverage within the limitations of the talent at CB.
Without further ado...
Offense (26 players)
QB: (3) Sam Darnold, David Fales, James Morgan I am leaving QB Flacco off the 53 to start and move him to the IR to reactivate in W3. If I have not followed procedure correctly, I'll leave QB Fales off the roster and resign QB Fales once QB Flacco is on the correct list. Initially thought to cut QB Fales outright, however, playing the Bills in W1, I wouldn't put it past them to purposely injury QB Darnold with some late, cheap shot with no one behind him to run the offense. QB Morgan does not seem to be ready to be running an NFL offense just yet.
(Editor's note: Changes since the previous leg - Fales in, Flacco out)
OL: (9) Starters: Mekhi Becton, Alex Lewis, Connor McGovern, Greg Van Roten, George Fant; Backups: Chuma Edoga, Cameron Clark, Josh Andrews, Jonotthan Harrison
With the injury to OL McDermott, I cut him with an injury settlement and resigned to the PS, which lead to keeping C/G Harrison on the 53. Thought to move the raw and injured OL Clark to the IR to allow him time to heal and gain experience. In no way did I want to expose OL Clark to waivers.
(Editor's note: Changes since the previous leg - Harrison in, McDermott out)
RB: (4) Le'Veon Bell, Frank Gore, Le'Mical Perine, Josh Adams
Thought to cut RB Gore from the 53 and resign him afterwards to prevent his salary from being guaranteed. However, at this point in time he seems to be a real part of the plan but might still have done so if RB Adams hadn't shown up on the injury report. I had RB Dixon cut before the WR Hogan signing. Have RB Adams still pegged at RB4 because he was advanced to the 53 from the PS last year to protect him from being poached. The coaching staff seems to see a future for him on the team. Extended depth at RB would also allow RB Bell to flex out to the WR positions with regularity, as stated in the introduction.
(Editor's note: No change from the previous leg)
TE: (4) Chris Herndon, Ryan Griffin, Dan Brown, Trevon Wesco
The unexplained placement of TE Brown on the NFI list had me worried. Meanwhile, its been interesting to see how TE Wesco has taken to being an active part of the passing O.
(Editor's note: Changes since the previous leg - Brown in)
WR: (6) Jamison Crowder, Breshad Perriman, Jeff Smith, Denzel Mims, Braxton Berrios, George Campbell
In a veteran cap saving move, WR Hogan is cut from the 53 and resigned to the PS to be returned to the 53 in W2. The injury to WR V Smith, sent to the IR throws a wrench into the works. I kept WR Campbell on the 53, to replace WR V Smith, due to his speed and work on ST as a gunner and jammer. I've included a screen shot from the Jets PR reel where WR Campbell is shown as a jammer.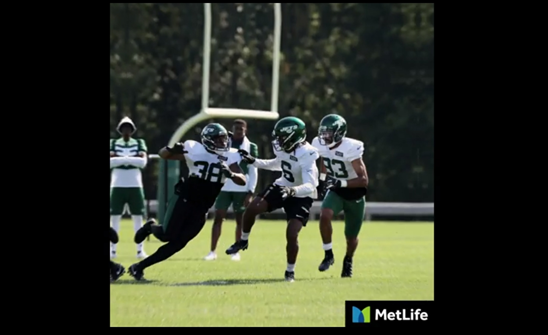 (Note: 6 = Campbell, 38 = Dixon, 83 = Malone).
If the pic was a "highlight" I'm going to assume he's on the 53. (BTW, while looking at some tape of DE Zuniga to determine if he'd ever rushed standing up instead of a 3-point stance [hadn't – played only with the hand in the dirt], I kept seeing WR Cager make outstanding plays, which is why I think that WR Cager has a future on the Jets. However, due to the injury to WR V Smith, two or three players need to be kept on the 53 to take his place – WR depth (WR J Smith), KR (S Davis), and gunner (WR Campbell) – thus WR Cager got pushed to the PS.)
(Editor's note: Changes since the previous leg - J Smith and Campbell in, Cager and V. Smith out)
Defense (24 players)
DL: (6) Henry Anderson, Quinnen Williams, Steve McLendon, Nathan Shepherd, Folorunso Fatukasi, Jabari Zuniga
Last year, the Jets kept 9(!) DL players on the 53. Talk about a rotation. Had to whittle down the DL this year, but fought to keep 6 due to DC Williams' habit of rotating his DL. Keeping DE Anderson if he's healthy this year. Placing DE/EDGE Zuniga in this group as he's the only true 4-3 DE on the roster (except for UDFA DE Huff, and maybe DE Franklin-Myers), and without a true offseason with OTAs and minicamp to practice a 2 point stance, I think that he'll be that 4-3 hands in the dirt DE. Moved DE Phillips to the OLB/EDGE grouping.
OLB/EDGE: (4) Jordan Jenkins, Tarell Basham, Frankie Luvu, Kyle Phillips
Due to the injury to DE/EDGE Franklin-Myers, who had been my surprise keep on the 53, LB Luvu gets the nod while LB JFM gets to rehab on the PS. LB Luvu is the 1st cut, by some odd chance or out of character GM Smaug behavior, if the Jets sign an EDGE/pass rusher (DE Ngakoue or DE Clowney) or when LB JFM is ready to go.
(Editor's note: Changes since the previous leg - Luvu in, PTBNL out)
ILB: (4) Avery Williamson, James Burgess, Neville Hewitt, Blake Cashman
I fear the worst with the non-contact injury to LB Onwuasor who will get moved to the returnable IR or signed to the PS. Since this position is the deepest, except maybe for the DL, the Jets still have the dogs (let's say, puppies) to make this work.
(Editor's note: Changes since the previous leg - Onwuasor out)
S: (4) Marcus Maye, Bradley McDougald, Ashtyn Davis, Anthony Cioffi
S Maye has been all over the place as the S Adams replacement but from seeing S Maye perform such duties in the past, he'll be a pale replacement. As a rough estimate, if S Adams had a 90% success rate, S Maye will have a 50% success rate (arbitrary numbers).
Initially thought to keep only three S and have CB Poole play FS in a pinch because of the numbers crunch due to keeping 4 TEs and 4 RBs, however the resigning of S Cioffi and camp reports of S Farley being the punt protector, I understand that the intention will be to keep 4 S on the 53. For now, S Cioffi is the backup, S Farley signed to the PS until he recovers, at which time he'll be reactivated instead of S Cioffi.
IMO, S Davis will have a new nickname – Double Oh 7 – because he will have an important, successful spy role in the 2020 D to prevent QB Newton, QB Allen, QB Wilson, and QB Mahomes from scrambling roughshod all over the Jets.
(Editor's note: Changes from the previous leg - Cioffi in, Carter/Jackson out)
CB: (6) Bryan Poole, Pierre Desir, Bless Austin, Arthur Maulet, Quincy Wilson, Bryce Hall
Last year the Jets kept 6 CBs, so this year I expect the same. All of the top Jets CBs have been making noise in camp, if only for different reasons – some for plays and some for injuries. Another reason to have kept 6 is injury depth, ie CB Poole and CB Desir. I expect CB Hall to be put on the IR, however, I didn't want to expose him to waivers so kept him on the 53.
(Editor's note: No change from the previous leg)
ST: (3) LS Thomas Hennessy, P Braden Mann, K Not Yet on the Roster
KR – S Davis
PR – WR Berrios
Gunner 1 – S Davis
Gunner 2 – WR Campbell
I don't have any confidence in the kickers on the roster and, as written above, feel that the Jets 2020 kicker, K Roster, is not yet on the roster. As noted, the Jets PR put out a clip in which WR Campbell is a ST jammer, which is why I've included him on the 53 in light of WR V Smith's injury (see the screenshot provided above).
(Editor's note: Changes since previous leg - PTBNL in, Maher out)
Practice Squad: (16)
Tried to keep a backup or two for most of the positions. I feel that there is missing depth at WR, EDGE/pass rusher and OL that is not yet on the roster, reflected below. The first six players make use of the 2020 'Rona rule unlimited experience exceptions.
1.) WR Hogan
2.) WR Veteran FA
3.) G McDermott
4.) EDGE waiver claim
5.) S Farley
6.) LB Bello
7.) LB Franklin-Myers
8.) WR Cager
9.) RB Dixon
10.) TE Travis
11.) OL Waiver claim
12.) OL Murray
13.) QB White
14.) DE Willis
15.) CB Jackson
16.) CB Guidry
With the Jets kicking the tires on QB Lauletta, I thought to sign him to the PS. However, with the reports of QB White lighting it up, I'm going to resign QB White instead.
(Editor's note: Changes since the previous leg - Hogan, Willis, Murray in, Hilbers, C.Kaufusi, S.Johnson, Huff out)
---
Would you like to take the baton for the a lap of the track? (We're not stopping at four). Volunteer in the comments section below...