Three on D: Austin, Williams, Franklin-Myers
After each game, we've been highlighting three defensive and three offensive players and looking in detail at their performance. We'll start today with the defense:
There's no time to wallow in the Franklin-Myers
After a tough loss like the one on Sunday, it's always good to seek out any bright spots and young defensive lineman John Franklin-Myers was definitely that.
Franklin-Myers, a healthy scratch last week, has been with the Jets for over a year, but this was the first time he's suited up for them in a regular season or preseason game. His inclusion paid immediate dividends as he led the team with three quarterback hits in 27 snaps.
Franklin-Myers - who is a bit of a tweener at a listed 288 pounds - lined up mostly as a 5-technique, although he played a few snaps inside. He was at his most effective when lined up outside and rushing on the interior, though.
His first two quarterback hits saw him show good speed to get past guard Daniel Brunskill's inside shoulder as he aggressively slapped his hands away to blow past him cleanly on the first and then got a leverage advantage and drove him back to get upfield on the second. His third pressure came against tackle Mike McGlinchy who he drove back off his spot and then threw off his block to get to the quarterback cleanly.
The pass was still completed on all three of these, although two were short dump-offs short of the sticks. The other went for 24 down the middle though.
Against the run, Franklin-Myers didn't contribute as much, with his only tackle coming on a seven-yard run. However, he helped blow up a run with penetration early in the second half.
His only real negative was a costly one as he was cleared out by Brunskill's interior kick-out block to set up the 49ers' final touchdown: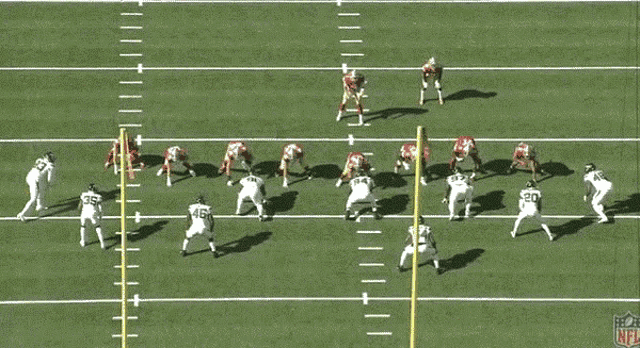 This shows what can happen when you get your running back a one-on-one in space. Neville Hewitt cannot make the play and it's six points.
To digress slightly for a moment here, though, Pierre Desir's contribution on this play is also a key factor. Any time a runner scores at the pylon, you have to wonder who had outside contain and that shines a light on Desir here.
Watching the play again, Desir inexplicably takes himself out of this play and what seems to have happened is that he saw McGlinchy break off the line and dropped off to cover him as if he was a tight end leaking out for a play action pass. However, McGlinchy was ineligible on the play having lined up at tackle and the fact he came off the line so fast should have told Desir this had to be a run (since any play action pass would be flagged because an illegal man was downfield).
It seems to be a major lapse in concentration by Desir here and if he stayed home, Franklin-Myers being kicked out wouldn't have prevented the Jets from making the stop.
The Jets are not doing a very good job of evaluating their talent to see who is worth keeping beyond this year as most positions, although injuries have undermined that effort. On the edge, though, they seem to be getting a lot of players some quality reps and the signs from Franklin-Myers so far have been positive, so they should look to see more.
Q and me against the world
Another obvious bright spot on defense was Quinnen Williams, who for the first time looked like a true gamewrecker. Williams was tied for the lead with seven tackles, of which five went for a loss and the other two were just gains of one and three yards.
Williams got things going early with a sack which saw him toss aside Laken Tomlinson's block and then added another sack later, this time also forcing a fumble, with an explosive get-off to get into the backfield.
Against the run, Williams was in on a handful of run stops, including three that went for a loss. On this play, he shows explosiveness out of his stance, power to drive Tomlinson back and quick feet to move laterally then disengage to make the stop.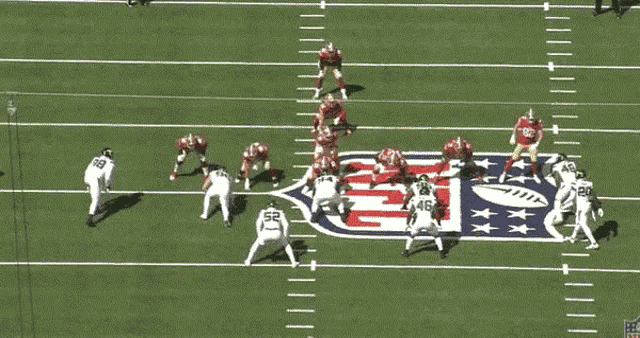 One of his other tackles for loss came on a cutback run where he threw off a Trent Williams block to chase down the runner. The third showed terrific quickness as he lined up shading the center's left shoulder and then burst into the backfield all the way around the right guard's outside shoulder before exploding back to the ball.
Williams also didn't have many negatives although he had one missed tackle and was handled at the point of attack a couple of times late in the first half. He was not at fault on either of the long runs the Jets gave up - and they held the 49ers to 47 yards on 27 carries other than those two long runs.
This week, he only played three snaps at nose tackle, having played 11 there last week. This perhaps means he can be employed in a role where he can have more of an impact and is clearly something they should persist with.
After a quiet game one which saw him flagged harshly for two penalties, Williams bounced back in this one and hopefully gave us a sign of the sort of thing we can expect from him going forwards.
That's Blessed up!
Last season, Blessuan Austin was benched because of a mistake against the Steelers which led to a long touchdown just before halftime. He admitted he had a lot to learn about situational football. On the basis of this play, he still does: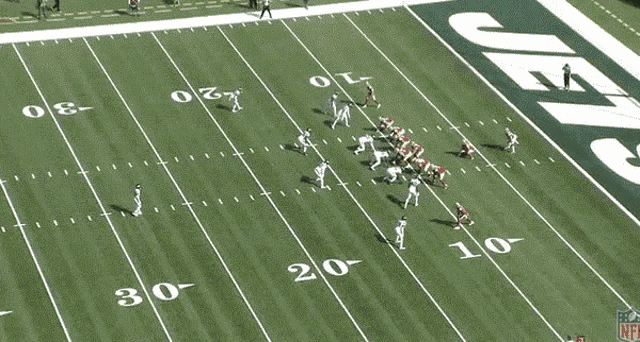 This was the play where the Jets gave up an embarrassing 55-yard run on 3rd-and-31 and it's almost all Austin's fault. Clearly Austin had responsibility for outside contain but recklessly flies in to try and make an unnecessary hero play.
Austin's missed tackle - his sixth in the first two games - gave the running back a wide open lane to pick up the first down and more. Yes, Alec Ogletree overpursued by flowing too far to the right and couldn't recover but the stop is still routine if Austin stays home. Also, yes, Bradley McDougald - the last line of defense, although he was 18 yards deep at the snap, not 40 as some were suggesting on twitter - came up fast and got stuck in the middle of the field - but again this is avoided if Austin just does his job and forces the runner back inside.
Aside from his three missed tackles, Austin also gave up a couple of key first downs in coverage, although his coverage numbers for the year so far are not bad.
He did make a few positive plays - a tackle on a short pass underneath, a disruption of an incomplete deep ball and a quarterback hit as he chased down the quarterback from behind, although he still converted the third down pass.
Austin clearly has some talent but these lapses from him are concerning because he can't be relied upon until he eradicates them from his game. It'll be interesting if he keeps his job once the Jets review the film this week. If he does, he won't keep it much longer with mistakes like these.
We'll be back with the 3-on-O tomorrow...