Three on D: Carter, Mosley, Quincy Williams
After each game, we'll be highlighting three defensive and three offensive players and looking in detail at their performance. We'll wrap up today with the defense:
Don't put the Cart before the horse
Is it too soon to get excited about Deuce Carter's potential at slot cornerback? The Jets always seemed really confident in this draft pick and the rookie already looks the part through two games as the starting nickel.
His coverage numbers are excellent so far as, on 11 targets, the longest play he's given up was eight yards and he's surrendered less than four yards per target. However, perhaps more than this, what's encouraging is how comfortable he looks and how routinely he's always in the right position.
Carter had eight tackles in Sunday's game, including one for loss. Three times in the first quarter he was in on a tackle on a pass into the flat and then once more in the second half. Five of his eight tackles took place within five yards of the line of scrimmage.
There was one play where Carter had a negative impact on Sunday and that was on Damien Harris' 26-yard touchdown run, on which several players were at fault. Carter was picked up by a blocker down the field and he managed to fight off the block to get hold of Harris at about the five yard line. However, Harris had built up some momentum by then and essentially ran through Carter, who was on his heels, to complete the run.
Other than that, he had one play where he was blocked at the second level on a run but didn't make any mistakes in coverage.
Here's one of his most impressive plays. Excellent instincts are on show here as he isn't fooled by the fake reverse and closes instantly for the hit on the tight end.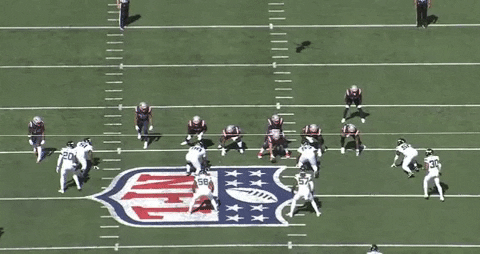 Carter has also played a role on special teams over the first two games, including several snaps at the vice position. He's been beaten a couple of times in this role, but was facing two of the best gunners in the league this week.
Although he's yet to make any major impact plays, being in the right place at the right time is a surefire way to ensure that happens. Hopefully the consistency he's shown so far continues too.
What you CJ is what you get
While he still seemed to be shaking off some rust last week, it was difficult not to notice CJ Mosley this week as he was flying around making plays with the effects of his offseason weight loss instantly apparent.
Mosley had 10 tackles, eight of which were within three yards of the line of scrimmage. He wasn't just making plays in space either. Right from the start he signified his intent to play with physicality by taking out the lead blocker to help blow up this run.
Aside from this play, he was doing an excellent job of filling gaps, getting to the edge, avoiding traffic and getting off blocks. There was also a distinct lack of any blown coverages by the defense, which is also a good sign he's having a positive effect.
Here's some more tremendous linebacker play as he reads the action and then explodes to the ball before anyone can block him out of the play: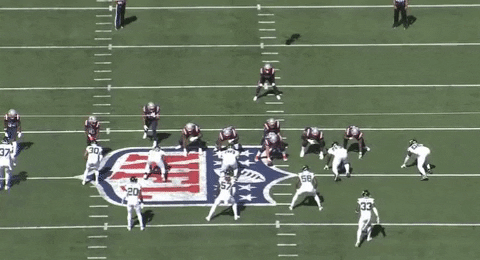 Mosley was good in coverage too, stepping into the passing lane to deflect a pass incomplete. He ended up giving up just 17 yards on four targets. He added a pressure as a pass rusher, as well.
In terms of negatives, Mosley was only blocked out of a couple of plays and didn't miss any tackles.
It can't have been easy for Mosley so far with the revolving door of linebacking companions he's had to line up next to thus far. Hopefully this kind of performance will become the norm from now on, but maybe it's not impossible he could be even better once Jarrad Davis is back.
Quincy Watch
Entering this game, Mosley had been paired with Jamien Sherwood, Del'Shawn Phillips and - in preseason - Davis. This week, Quincy Williams got the start in his first game as a Jet and that could be temporary too because BJ Goodson might be ready to start as soon as this weekend.
Williams didn't do a bad job of filling in but he had mixed results in a performance that saw him credited with five tackles including one for a loss.
In our in-depth scouting report on Williams, one of the main observations was that he's a big hitter but misses a lot of tackles. Both aspects were on display on Sunday.
Williams had two missed tackles, including a key one (along with virtually everyone else on the roster) on Damien Harris' 26-yard touchdown run. The other came on a screen pass in the second quarter.
The big hitting came on this spectacular play: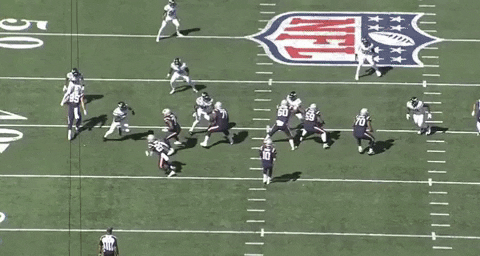 Williams took a while to settle down, as he was blocked out of two running plays at the second level, including James White's touchdown in the first quarter.
However, he made a couple of play against the pass, including the above big hit in the second quarter and was in on a run stop in the fourth quarter. He also had a pressure as he came unblocked on a blitz.
In coverage, Williams mostly did a good job of limiting yardage, but he got blocked out of the play on a screen pass to White that went for 28 yards.
On special teams, Williams was only on the field for one snap, but his skill-set could lend itself well to becoming a contributor once he's no longer starting.
It's going to be interesting to see if Davis makes a big difference when he returns. Until that time, Williams could remain in the mix to get some opportunities. We'll see how he develops under this coaching staff.
Previously - Three on O: Wilson, Moore, Fant