Three on D: Dunn, K. Phillips, Riley
After each game, we'll be highlighting three defensive and three offensive players and looking in detail at their performance. We'll wrap up today with the defense:
Thy will be Dunn
With Brandin Echols injured, undrafted rookie Isaiah Dunn made his first career start having only previous played four defensive snaps.
Unfortunately, the Dolphins were able to exploit Dunn a handful of times. Dunn was involved in three plays that went for a first down, including Mack Hollins' crucial 65-yard touchdown in the third quarter and another that went for a big gain but was overturned by a penalty.
On each of these plays, it was a blown coverage rather than him losing a matchup in man coverage. The touchdown came on a play where Elijah Riley passed his man off but Dunn stayed with the underneath route rather than running deep and that came a few plays after a similar mix-up saw both Dunn and Riley picking up the outside receiver underneath so nobody picked up the slot receiver running down field around the outside. The other two saw Riley and Ashtyn Davis get their wires crossed in zone coverage.
As with Echols, Dunn's coverage skills seem pretty good, but his awareness appears to be lacking. On two direct coverage plays he made an open field tackle on the outside to limit the gain to seven yards and was in good position on a third down incompletion.
However, he looked lost in zone coverage and also inexcusably lost contain on this 2nd-and-14 near Miami's end zone.
Echols should be out for 2-4 more games and Dunn might get a longer look but the team could instead turn to Javelin Guidry, Jason Pinnock or even Lamar Jackson who remains on the practice squad.
Throw another one on the Kyle
Kyle Phillips' first appearance in over a year saw him making some good plays against the run as he was in on three stops near the line, taking on blocks and coming downhill with aggression.
Phillips also had one other running play where he penetrated well into the backfield.
Here was a play where he actually lined up inside with Ronald Blair and Nathan Shepherd at the end positions. He engaged the right tackle, stood him up, drove him back and shed the block to trip the runner in the backfield.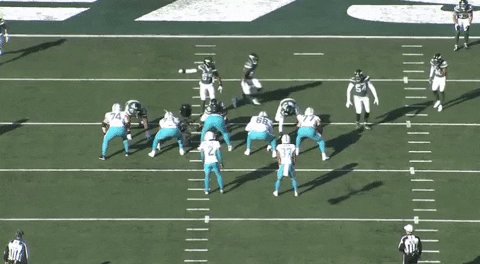 In 28 snaps, Phillips had no obvious errors and may have earned a bigger role going forwards.
Phillips has always been more of a run stuffer than a pass rusher and in this game he only recorded one pressure. However, he certainly brings something to the table against the run and could easily be used in a rotational role that uses him mostly in run stopping situations to make the most of his abilities.
Elijah Wily
Much like Dunn, Riley found himself in the starting lineup at safety despite entering the game having played just four defensive snaps in his career.
Riley actually played cornerback at Army but his NFL position is obviously as a box safety because he showed good willingness and production against the run throughout his college career.
The Jets poached Riley a couple of weeks ago and he seemed to add something to their run defense whether he was coming from deep or creeping up into the box.
He was in on four plays that went for four yards or less. Here's one where he moves up into the box and does a good job of keeping himself clean and finding his way to the ball carrier.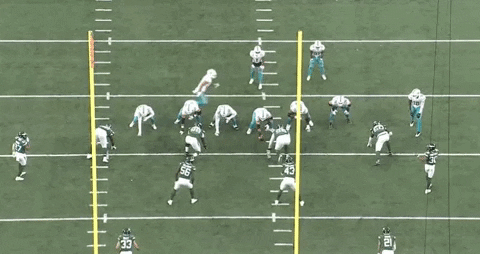 While there were no obvious negatives in Riley's performance - he was targeted once for six yards in coverage - there were the two plays in coverage where he and Dunn weren't on the same page, so better communication there should be expected.
Riley's inexperience could make him a target for opposing teams to try and exploit, so that will be the main challenge for him if he's to remain in the lineup ahead of the more experience veterans Sharrod Neasman and Jarrod Wilson, who perhaps don't have the same kind of upside.
Previously - Three on O: Flacco, Duvernay-Tardif, Bawden