Three on D: Franklin-Myers, Gardner, Parks
After each game, we'll be highlighting three defensive and three offensive players and looking in detail at their performance. We'll start today with the defense:
Jawdroppingly Functional-Manbeast
While Carl Lawson made headlines with his key strip sack and for racking up seven hits - the most by any Jet since 1970 - John Franklin-Myers arguably had just as big of a game.
The 26-year old had a half-sack, a run stuff and five quarterback hits on Sunday. His previous career-high was three hits and he only had 14 in 16 games in 2021, although this led the team. He also had the key disruption that led to Sauce Gardner's first career interception, impressively forklifting Greg Little to get quick pressure:
Franklin-Myers' power, speed and relentless motor were all on show in this game as he produced well in his best performance of the season so far. Prior to this game, he actually only had one quarterback hit and no sacks, although he was still grading out well.
For all the offseason talk about how Franklin-Myers would line up inside more, he's actually only lined up inside the tackle eight times all season. However, the Jets will often isolate one edge rusher on one side, with three on the other side. In those situations, Franklin-Myers will typically be the middle one of the three, aligned across from the tackle.
However, they're using him, it seems to be working. Hopefully Sunday's game is a sign that he'll start adding some more statistical production to his solid play in the trenches on a regular basis.
Power Sauce
Gardner broke out this week by producing a safety on his first ever blitz at the NFL level and then intercepted his first pass as shown above.
Perhaps more importantly, once again, he didn't give up much in the passing game. He did give up a first down but this was essentially by design as he was playing off his man late in the game in a prevent situation. He otherwise just gave up two short catches.
For the season, Gardner's coverage numbers are absolutely outstanding. A 50 percent catch rate, 5.3 yards per target and only one completion given up of 15 yards or more.
Despite his playmaking and lack of plays given up in coverage, he still didn't grade out that well in Sunday's game. The main reason for this was that he had a few negative plays on the outside. There was a missed tackle, a play where he overpursued to allow Tyreek Hill to pick up a first down on a reverse and a few plays he got blocked out of: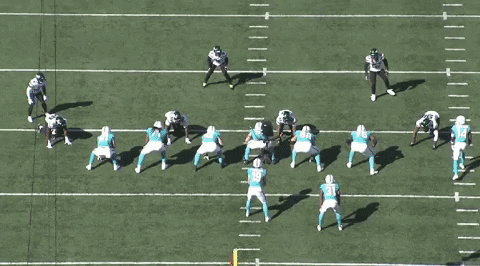 His main negative in coverage was his 34-yard pass interference penalty; the first time he's been flagged in his career. On the play, he recovered well to get into a good position but pushed off on his man while the ball was still in the air and he was trying to locate it, although it wasn't entirely egregious. Gardner can be a bit physical at times, so is certain to end up on the wrong end of some judgment calls from the officials and will need to adjust to this.
Later on, he got away with a similar play in the end zone. Arguably this could have been called too and perhaps wasn't because it was garbage time by then. Again, he's in a great position and completely under control, but taking a chance by bumping rather than leaning on the receiver before the ball arrives.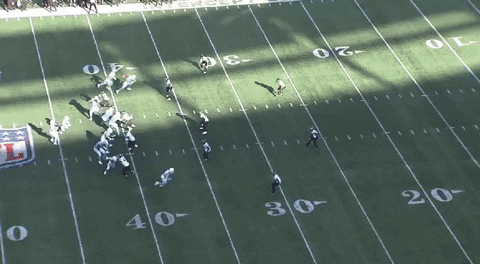 In addition to his two key plays, Gardner was also in on a run stop and had a touchdown saving tackle at the pylon (although Miami scored on the next play anyway). The Jets have to be encouraged by his performances so far, but he does still have a few things to work at.
Put it in Parks
The most interesting personnel change this week was that the Jets basically employed Will Parks as a linebacker. Marcell Harris was active, but was restricted to just five defensive snaps after having been limited in practice during the week, so Parks (who was in the box or matched up in the slot all the time and never lined up deep) got those third linebacker base package reps.
He actually did a pretty good job of this. Although Miami ran the ball effectively, led by Raheem Mostert's 113 yards, most of the Dolphins' best runs came with nickel personnel in the game. The one exception was a 20-yarder where Parks was in the game, but he wasn't at fault on that play.
His effort and hustle in pursuit was immediately on show from the early stages of the first quarter: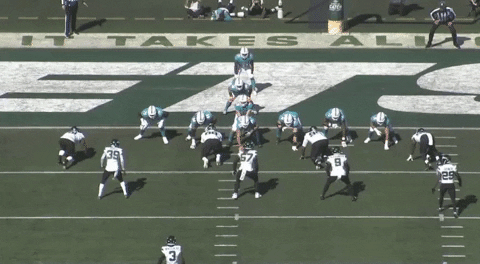 Obviously the concern with a 200-pound defensive back taking on a hybrid safety/linebacker role is that he'll struggle against blockers, but he took on two here to make this play.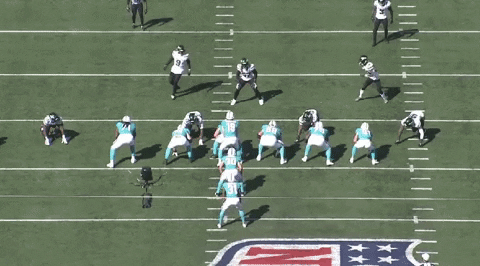 In coverage, Parks was only targeted once but it was an important incompletion as the tight end failed to make the catch over the middle, setting up 3rd-and-10 right before the missed field goal in the fourth quarter. This was arguably a drop, but Parks was in tight coverage. A catch there would have kept the drive alive and at worst made the go-ahead field goal much easier.
Prior to this game, Parks had played just one defensive snap and been inactive a few times. It seems likely he'll get to play more from now onwards after this display.
We'll be back with the 3-on-O tomorrow.