Three on D: Guidry, Blair, Quincy Williams
After each game, we'll be highlighting three defensive and three offensive players and looking in detail at their performance. We'll wrap up today with the defense:
I Guid you not
One underrated storyline from this game was that - as we predicted last week - Javelin Guidry was in at starting cornerback for Isaiah Dunn. Guidry essentially had a faultless performance and has surely earned himself at least another start, if not more.
While it's fair to note that the Jets played a lot of zone coverage, Guidry didn't give up a single catch all day. He was targeted twice directly, on a downfield incompletion where he stayed tight to the receiver and on this well-timed pass breakup.
The Texans obviously didn't know who would start but you'd have thought they'd have had a plan to attack the Jets' number two corner whoever it was. One part of this plan may have been to line Brandin Cooks up on the left because Hall nearly always lines up on the other side. However, since Echols has been out, Hall has actually been coming across to the right side to shadow specific assignments. He didn't do this at all until the Miami game.
Even so, Hall didn't follow Cooks all day. And Cooks had success against him with a long touchdown catch, but caught just one pass on three targets when not covered by him.
As for Guidry, who also was in on one run stuff and had a good open field tackle on a Tyrod Taylor scramble to force a third down, he did his job when required to and that's all you can ask.
Life is just a Blair
As we figured, the addition of Kyle Phillips and Ronald Blair into the defensive end rotation has helped the Jets' run defense. Blair was really productive in this game, racking up six tackles in just 22 snaps.
In terms of the system, he just seems to get it. Note how, on this play, he engages his blocker outside, and then leverages his way downhill to get in on the stop in the hole.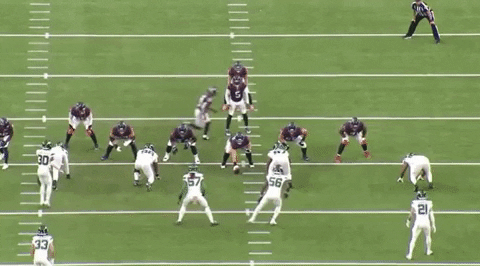 If he was just sealed off on the edge there, it could have created a big running lane, but the ends are doing a better job of pinching in over the past few games, without completely selling out so they are susceptible to cutbacks and bounce-outs.
Blair was in on four tackles within five yards of the line of scrimmage, making an excellent contribution as the Texans running backs averaged just three yards per carry.
You wouldn't generally expect too much from Blair as a pass rusher but he has had some production with 14.5 sacks in 50 career games. Blair, who had two pressures against Miami, got his first sack of the year on this play.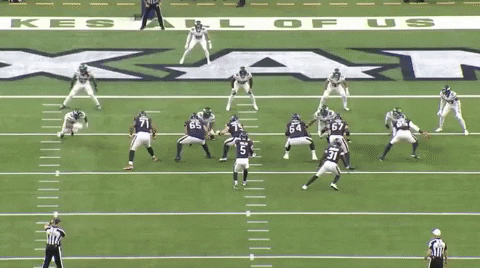 While John Franklin-Myers arguably deserves more of the credit as he gets his man backpedaling on an explosive rush, Blair also gets traction on the bull rush and completes the sack when the quarterback is forced to his side of the pocket.
Blair has already been protected for this weekend's game so he should see himself elevated at least one more time. The team will then need to decide if they have room to add him to the 53.
Quinching his way back into a starting role
Quincy Williams has largely been viewed as a prospect with potential or a placeholder this season, but over the last few weeks, he's making a case for himself to be the best available option to play alongside CJ Mosley this season.
Jarrad Davis' long-awaited return didn't really go to plan and he looked lost at times in the Jets' system. The Jets went back to Williams last week and he fared well, so they stuck with him for this game and he turned in another excellent performance.
To be fair to Davis, when Williams was knocked out of the game temporarily, he came into the game and for the first time made some good plays, although he was only out there for nine defensive snaps.
Williams, who had 15 tackles last week - the most by any Jet since David Harris' rookie season - only had seven this week but he also made fewer mistakes. Other than on Taylor's 30-yard scramble where he got blocked out of the play down the field and on fourth and one where he filled too conservatively, there were no obvious errors - including no missed tackles or penalties.
In the running game, Williams was in on five tackles within five yards of the line of scrimmage, including this one where he tripped the runner in the hole: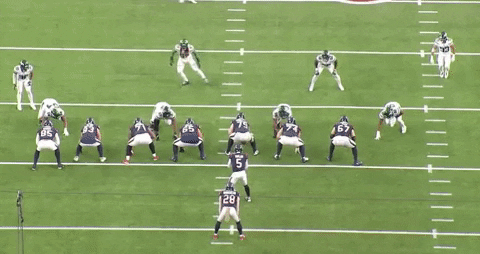 Again on this play, you can see how well the edges pinch in, but also that the Jets have defensive backs in position on each side to maintain contain in the event of a bounce-out.
Williams also held up well in coverage as he was only directly targeted on this one play, which he blew up.
Williams has shown much more promise this year than either of the Jets draft picks and should continue to get a longer look this year as the Jets determine his longer-term future.
Previously - Three on O: Cole, Walter, Vera-Tucker