Three on D: Huff, Hall, Quincy Williams
After each game, we'll be highlighting three defensive and three offensive players and looking in detail at their performance. We'll wrap up today with the defense:
Taking the Huff with the smooth
Early on in Sunday's game it was John Franklin-Myers who came out with his hair on fire. Three times in the first quarter, he blew past his man with one of those leading to a sack for his teammate and he also had a strip sack that didn't count due to a pre-snap penalty. He then registered a sack that did count early in the second quarter.
On the other edge of the line, Bryce Huff had gotten off to a slow start as he jumped offside and was blocked out of two running plays on the edge. However, he gradually worked his way into the game and started to generate consistent pressure.
He ended up with three quarterback hits including 1.5 sacks officially but also generated pressure at least three other times. Ryan Tannehill lost the ball momentarily on his sack in overtime but was able to regain control before hitting the ground.
Most of Huff's pressure came as he beat the tackle around the edge because he's mastering the rip move that so few Jets' edge rushers have been able to succeed with on a consistent basis in recent years.
However, he's not totally one-dimensional, as he shows by driving the guard back into the quarterback's lap on this interior bull rush, again in overtime.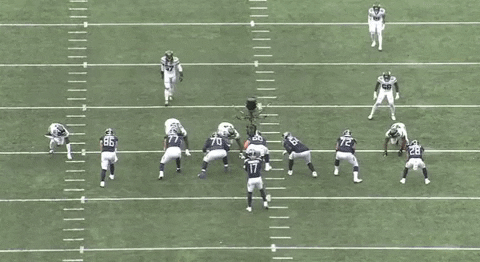 Huff didn't contribute much against the run and wasn't actually credited with a tackle other than on the 1.5 sacks, although he was in on one stop near the line. As a pass rusher, though, he continues to develop in encouraging fashion.
First-team Hall Pro
Bryce Hall continues to earn plaudits at the cornerback position and put up some impressive numbers this week, as he was targeted eight times and broke up three passes, allowing just two catches.
While both catches were first downs, including one third down conversion, that's an excellent return for Hall who was thrown at more in this game than in the first three games combined.
There was one play where Hall was beaten by a step and perhaps got lucky that the ball was slightly underthrown, but even on that one he showed excellent recovery speed and, importantly, didn't panic as he was able to disrupt the pass without committing pass interference.
On this play, he blanketed the receiver, got his head turned at the last minute and got his arm in the way to prevent the receiver from making a play on the ball.
His other pass break-up was also near the goal line, as he stayed tight on his man at the back of the end zone.
Hall also made contributions as a pass rusher this week as he recorded a half-sack and another quarterback hit. He was only blocked out of a couple of plays and was in on one run stop against Derrick Henry, limiting him to a four yard gain on 2nd-and-8. He did miss a couple of tackles, but one of those was a positive play anyway as he forced a run back inside.
While his confidence is growing, Hall must continue to be technically sound and get his head turned in time. Otherwise some of his more physical coverages could attract a penalty from some of the more flag-happy crews. So far, though, he's exceeding expectations and paying the coaching staff back for the faith they've shown in him.
Flashes of Quincy
Linebacker Quincy Williams filled up the stat sheet this week with 12 tackles and a sack, which included a number of impressive hits like this one.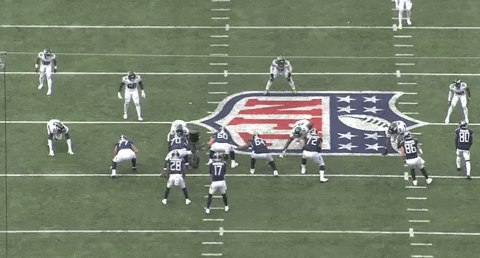 Perhaps more impressive than the hit on this play, however, is the fact that Williams sniffed out the screen pass and got out in front of the lineman leaking out to blow it up.
At this stage, Williams is still a bit of a work in progress and was caught out a couple of times as the Jets converted in 3rd-and-long situations on screens earlier in the game (although he was blocked in the back on one of these and his brother was on the other so neither should have counted).
However, he had two tackles behind the line of scrimmage (including his sack) and was credited with five others within two yards of the line of scrimmage, so Williams was making a lot of plays when kept clean.
They did pick on him a bit in coverage, albeit mostly with the screen passes. Williams gave up 85 yards in coverage, but 93 yards after the catch. He did give up one first down on a completion underneath though and was fortunate on one play where he got beaten down the seam but the pass was overthrown.
If Williams can cut out some of the negative plays, he could develop into a really good linebacker, especially if paired with a cerebral veteran like CJ Mosley.
We've documented before that Williams is an inconsistent tackler and he had a couple of missed tackles in this game - one in the backfield and one in the hole. However, a bigger issue this week was overpursuing on runs and short passes, which happened a handful of times. He was also blocked out of a couple of big runs at the second level and a couple of screen passes.
Once Jarrad Davis returns, it's uncertain what Williams' role will be but he seems to have shown more than rookies Jamien Sherwood and Hamsah Nasirildeen and clearly the staff has more faith in him than Del'Shawn Phillips who didn't get any defensive reps this week.
He is certainly fun to watch and fires up his teammates with some of his hitting so he can be a major factor if he can shore up his consistency as the season progresses. Hopefully they can find a way to keep him involved.
Previously - Three on O: Cole, Wilson, Crowder