Three on D: Jackson, Huff, Williams
After each game, we've been highlighting three defensive and three offensive players and looking in detail at their performance. We'll start today with the defense:
The real Lamarticle?
Undrafted rookie Lamar Jackson was unexpectedly called into action in his NFL debut, which was itself a surprise after he was activated from the practice squad.
Despite being thrown into the fire, Jackson didn't completely embarrass himself although he did give up a couple of first downs.
One of these was extremely costly as it came on 3rd-and-8 with the Jets leading 28-27 with just four minutes to go. Jackson obviously thought he had safety help behind him, as he passed off the downfield route but this left the receiver all alone for a 31-yard gain that set up the go-ahead score.
The other first down he gave up was when he dropped too far off in shallow zone coverage allowing the running back to pick up the first down on a 3rd-and-4 checkdown. Instead of a three-and-out, that drive ended in a touchdown.
Other than those mistakes, Jackson didn't do too badly. He did okay on special teams, cleaned up to register a tackle for loss on a run that got stretched out wide and broke up this third down pass on a crossing route.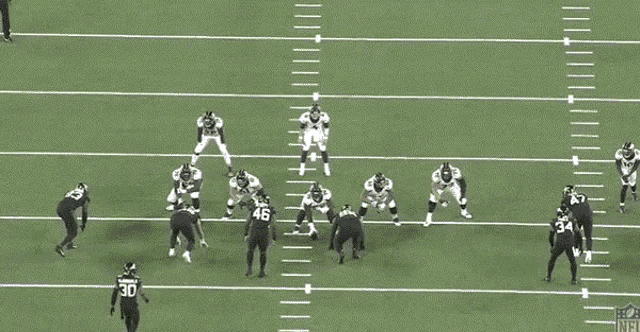 With these temporary rules, you never know whether a guy like Jackson will get more opportunities later on but he didn't do too badly, so if the Jets suffer more injuries at cornerback they won't hesitate to give him another chance.
It's Huff at the top
Another undrafted rookie, Bryce Huff, made his NFL debut last week. However, this was the first time he saw significant action.
Huff was credited with three tackles on the day, as he was in on two run stops near the line and sniffed out a screen pass to blow it up in the backfield.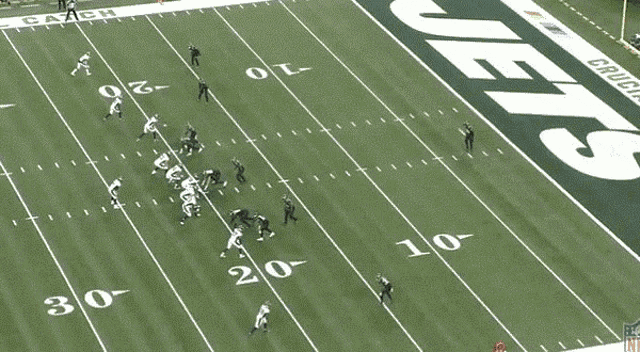 Jets fans will be hoping Huff can bring constant pressure as a pass rusher. In this game he was stonewalled by his blocker quite a few times, but did register a couple of pressures as he showed an ability to get some traction on a bull rush and worked upfield well with good hand-fighting techniques.
Huff played with good energy and, other than one missed tackle, didn't have any significant mistakes. He also impressed with his instincts, reacting quickly to get to the ball carrier on the screen pass and working back to the ball quickly on his two run stops after staying at home with good discipline.
The Jets are weak on the edges but have had a few players that have impressed in small doses over the past few games. While they'll most likely continue to adopt a committee-based approach, players like Huff can see more opportunities if they impress when they get a chance.
Let's not forget, though, that another rookie - Jabari Zuniga - could return from injury soon, so that will put a further premium on any reps a guy like Huff can get.
Why do you hate Quinnen?
For the second time this season, Quinnen Williams was flagged for two penalties and - like the last time - he was extremely unlucky to do so.
Williams was called for roughing the passer on a clean hit where he landed on the quarterback, which arguably is virtually impossible to prevent from happening. Then, he impressively exploded into the backfield for a key sack, only for his hand to get caught in the quarterback's helmet aperture as he was on his way down.
Had that penalty not been called, Denver would have punted to the Jets - who were up by one at the time - with less than five minutes remaining.
Although these plays didn't count, this is a different Quinnen Williams from the player we saw last season. He is making these plays, even if these won't count in the box score. Officially, he just had three tackles and no quarterback hits, but the reality is that he was beating his man and being disruptive more than his statline would suggest.
The three tackles he was credited with went for a one-yard gain, a one-yard loss and no gain, but he was also in on or contributed towards a few other stops near the line. On two of these three stops, he was single-blocked by Dalton Risner and walked him back into the backfield and then threw off his block to get to the ball carrier.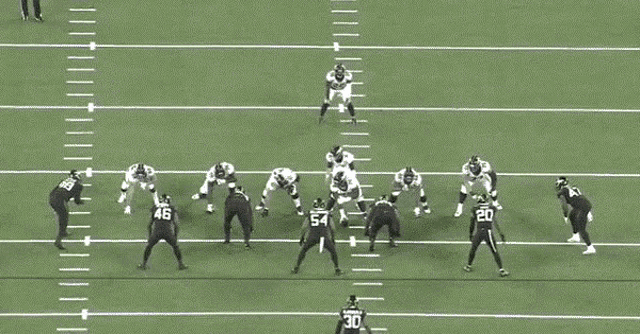 One thing that doesn't appear in the official boxscore is pressure and Williams generated four hurries on Thursday night, according to Pro Football Focus. That's notable because it's the first time he's had more than three in his career, another sure sign that he's become more and more disruptive.
These included one as he drove the center back on a bull rush and one as he beat Risner with an inside leverage move that led to Pierre Desir's pick-six. He also split a double-team to get in the quarterback's face on the play that Jackson broke up as you can see above.
Williams played more snaps at nose tackle (10) than he did in the past two weeks combined, perhaps because Steve McLendon missed part of the game after having suffered an injury, so it's good that the fact he'd having more of an impact isn't entirely down to him doing that less than in the past.
Hopefully Williams can continue to build on these recent performances and will get better luck with the officials in future so that the plays he makes actually count.
We'll be back with the 3-on-O tomorrow...