Three on D: Jefferson, Franklin-Myers, Huff
After each game, we'll be highlighting three defensive and three offensive players and looking in detail at their performance. We'll wrap up today with the defense:
Jefferson Airplane
Quinton Jefferson already had a big role with the Jets, but that's going to become even more important with Al Woods out for the season.
When he joined the Jets, Jefferson was asked to lose weight and got himself in great shape and that's being reflected in some of his numbers. He had half a sack in Sunday's game, giving him 3.5 on the season, just two shy of his career-high. He could also end up with a career-high in terms of quarterback hits. He has seven in seven games and 16 is the most he's had in the past.
Other than the half-sack, which came on a play where he chased Tyrod Taylor to the sideline and led to the injury that knocked Taylor out of the game, he also had three other pressures. That's the second game in a row and third this year where he's had at least four total pressures.
Jefferson is less well-known for his run defense but he made some good contributions on Sunday, taking advantage of rookie John Micheal Schmitz with his quickness to make this play: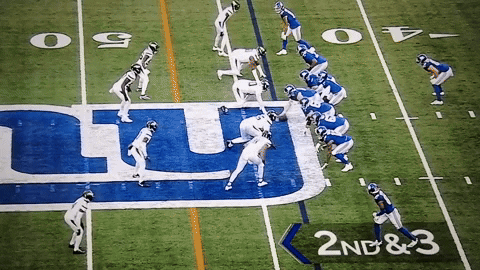 While he wasn't credited with a tackle for loss on Sunday with the above play being spotted as no gain, Jefferson was in on two other stops behind the line and one other on a short run. He also made a key stop on a 3rd-and-9 run that went for a six-yard gain to force a punt. There was also a play where he penetrated impressively to bottle up a run that was cleaned up by his teammates.
With Woods out, Jefferson may be required to do more run stopping than planned over the rest of the year, but he seems equipped to produce in this area despite the weight loss. Hopefully, he can keep up his production in the pass rush too.
Myers-ing on all cylinders
John Franklin-Myers seems to be one of the most consistent Jets on the team and Sunday's performance was emblematic of that. Although the official box score will show that he had just four tackles and a tackle for loss, with no quarterback hits, he also had three pressures and forced a couple of penalties.
Franklin-Myers was in on a number of stops near the line of scrimmage, including one where he shed Daniel Bellinger's block to stop Saquon Barkley for a loss on the edge.
However, perhaps his most impressive reps was this one. Although it's really Quincy Williams who makes the stop in the hole, Franklin-Myers is credited with the assist as he hustles downhill. But check out how fast his hands are as he rips under Tyre Phillips' left arm to lock himself into a leverage advantage.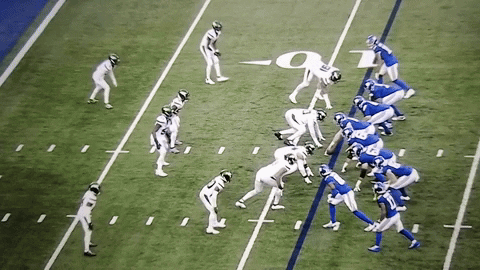 That technique, coupled with his combination of size, strength and athleticism is what makes Franklin-Myers such a tough player to stop.
Franklin-Myers had one negative when he was called for offside to negate his own run stuff near the Giants' goal line. This seemed like a bad call though, because he moved backwards before the ball was snapped. He did also miss one tackle.
The Jets have come to expect good production from Franklin-Myers on a regular basis and remain lucky to have him.
Show me the goods Huff
It's long overdue that we check in with Bryce Huff, who has been having an outstanding season in an expanded role. For much of the past two offseasons - and even towards the end of last year - Huff has looked like the odd man out, but the Jets can't keep him off the field. That's meant that their highest paid edge Carl Lawson and first round pick Will McDonald have been limited to less than 20 snaps per game between them on average.
Huff has always been a player that generates pressure at a high rate but he's taken his game to another level with 3.5 sacks over the past three games. He's finishing now and that's going to make him a rich man if he can keep doing that.
Previously a player known as a specialist speed rusher off the edge with an elite get-off, Huff is now displaying strength and power. This means he can play on running downs without being a potential liability and also adds to his arsenal as a pass rusher: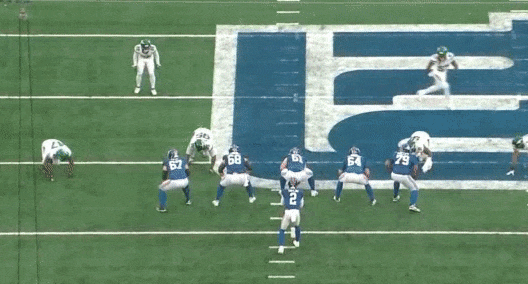 Aside from this sack, Huff also had three more pressures, which is particularly impressive given the fact that the Giants hardly ever threw the ball after Taylor got hurt.
The Jets were criticized for giving Huff so many preseason reps, but it might have been exactly what he needed to gain confidence in his ability to stop the run. After registering just one tackle on a non-quarterback all of last season, he has 14 tackles this season and is on course to more than double his career-best in that category.
Despite recent optimism that extension negotiations are headed in a positive direction, the most likely outcome is that Huff tests his value on the open market, but the Jets will hope to be able to bring him back at an affordable price. Lawson's own $15 million per year deal, which expires at the end of the season, could be a good starting point.
Previously: Three on O: Newman, Turner, Lazard