Three on D: Jenkins, L. Jackson, Basham
After each game, we've been highlighting three defensive and three offensive players and looking in detail at their performance. We'll wrap up today with the defense:
A Jor-dropping Performance
Jordan Jenkins has had a disappointing season but he broke out on Sunday with easily his best game of the year. Jenkins only had five tackles, but he had half a sack, two quarterback hits, a forced fumble and a handful of other pressures.
Here's a play where Jenkins' pressure led to an incompletion: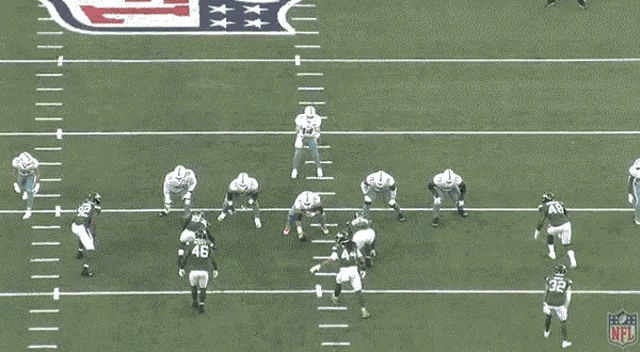 On the play, he combines an inside jab step with a cross chop to get the left tackle's hands off him. This is particularly effective because on the previous play he had made the same initial move but this time gone inside with the tackle looping around the edge.
Even so, his technique could still be better as he doesn't totally sell the jab step and there no real sharp change of direction and burst of speed. Watch Chase Young or the Bosa brothers to see this done more effectively. In fact, when Young mastered this move - by watching the Bosas - that coincided with him going from a good prospect to a potential first overall pick. Then again, perhaps Jenkins lacks the explosiveness and flexibility to do this as well as they do.
His half-sack was actually just a clean-up tackle at the line of scrimmage as Ryan Fitzpatrick stepped up but he was unlucky not to get credited with at least another half-sack on Foley Fatukasi's sack later on.
Jenkins often has a lot of negative plays in the running game, as he makes late reads on the edge and misreads on read option handoffs, but in this game he played good disciplined football in the running game. He was in on two late stops near the line of scrimmage and made a good hustle play to chase down the runner and strip the ball out for a turnover.
Whether Jenkins will remain with the Jets beyond this year, he's never really taken his game to the next level and probably isn't going to get a much bigger deal than the one he's on now.
Lamar Superstar
Bryce Hall has been getting a lot of attention now that he's been starting on the outside but what about Lamar Jackson? He might not have the same kind of upside but there are some good signs from him.
On seven targets on Sunday, Jackson only gave up three catches and was in a good position defensively on a couple of them including the one in the gif above. However, the three catches all went for first downs and he did get beaten one other time on a play where the receiver dropped the pass.
Of the three he gave up, one was on a quick slant and one on a crosser for about 10 yards each. The longest one was a 25 yard gain on the outside where DeVante Parker was stronger at the catch point (although he arguably pushed off).
Jackson was credited with five tackles, although the first four were all on plays that went for a first down anyway. He did make this play against the run in the second half though.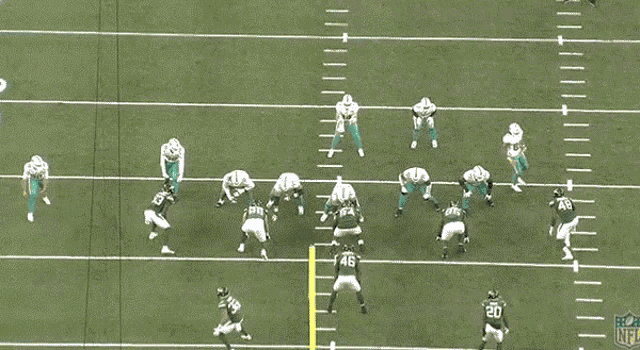 Whether Jackson has a future as a starter remains to be seen but this last month or so will be invaluable experience as he tries to establish himself as a contributor and win a roster spot for 2021 and beyond.
Bash of Honor
Tarell Basham didn't have a very good game despite the fact that the Jets generated a lot of qualify pressure. Basham led the Jets in total pressures last year but hasn't been as productive this season.
As a pass rusher, he didn't do too badly with three pressure but he only had three tackles, just one of which was near the line of scrimmage.
In the fourth quarter, Basham had three bad plays against the run, missing a tackle on a Ryan Fitzpatrick first down keeper, getting caught inside on another run and losing contain on the edge here: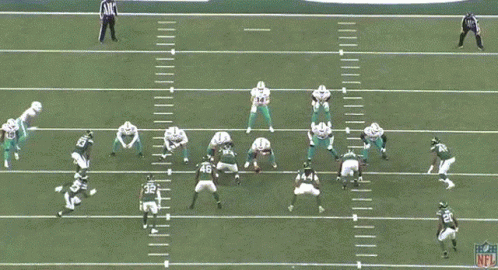 He also had a play where he dropped into coverage and overpursued after the catch, taking out a teammate in the process.
There's an interesting battle going on right now in terms of who is going to lead the Jets in pressures this season. John Franklin-Myers had a big lead but Quinnen Williams is now tied with him on 29 after two big weeks and Jenkins is third on 26. Basham is down in fourth with 20, which is perhaps a sign that the Jets have diversified their pass rushing threat a little, especially with Jamal Adams gone.
Like Jordan, Basham is out of contract at the end of the season and the Jets may yet decide to bring both or neither of them back.
Previously - Three on O: Perriman, McGovern, Gore