Three on D: Johnson, Mosley, Hall
After each game, we'll be highlighting three defensive and three offensive players and looking in detail at their performance. We'll start today with the defense:
Jermainelining Adrenaline
This was supposed to be Jermaine Johnson's breakout season but after a quiet first four games, he also entered the second half of Sunday's game with no tackles and no quarterback hits.
He came up big in the second half, though, generating pressure on a handful of plays and getting to Russell Wilson twice.
On this play, he recorded a sack with an impressively powerful bull rush against a legitimately good veteran tackle in Mike McGlinchey, releasing from the block well to finish strongly.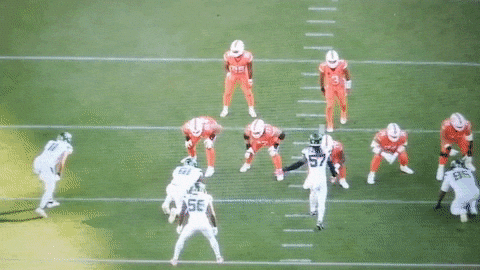 Johnson also had a play where he chased Wilson from the pocket and got a hand on the ball to force a fumble. This should also have been a sack but due to a statistical anomaly (the ball was incorrectly spotted where Wilson landed rather than where it was stripped, making the net result a positive gain of two yards), he won't get credit.
In the running game, as has been the case all season, Johnson again held up well, although he was only in on one tackle, a three-yard run in the red zone that saw him crash down to combine with CJ Mosley on a big hit that knocked the runner backwards. He also hustled downhill in pursuit well on a couple of other plays.
As a first round pick, Johnson being solid against the run but not producing much as a pass rusher isn't going to cut it, as he'll come in for criticism if he doesn't create regular pressure and sack the quarterback from time to time. Hopefully Sunday's performance was a bit of a breakout which he can build from. This weekend will be a tough test against a strong Eagles line though.
Sea Change Mosley
Mosley arguably had one of his best performances in a Jets uniform. While he was involved in some big plays in the first half, these tended to be plays where he was isolated against blockers in space and there wasn't really anything he could have done differently. He ended up with 13 tackles, with 10 of those coming within four yards or less of the line of scrimmage.
The Jets made a few adjustments that worked well at half time. They spied Wilson a few times - mostly with the linebackers but also with players like Tony Adams and Bryce Huff - but also started stunting their ends inside to ensure pressure was coming from the interior and force Wilson to roll out rather than step up. With the Jets playing zone defense in these situations, that tended to mean there was someone in position to prevent Wilson from scrambling for big yardage on the outside.
Once they did this, the screen game and threat of scrambles vanished and the Jets shut down Denver's offense for all of the third quarter and most of the fourth. This allowed Mosley to go to work.
Many people consider CJ Mosley to be slow, but when Denver schemed up some plays to get the speedy Jaleel McLaughlin isolated against him in space, Mosley showcased the value of quick reads, discipline within the system and well-judged angles when everyone else is doing their job.
Quincy Williams has started to get some headlines for his excellent play so far and he and Mosley are working so well together. On this play, Williams is responsible for spying Wilson and he closes on him at the first opportunity. McLaughlin hesitates and then sprints to the sideline, with the plan being that he is so fast bursting to the flat that he can get out there ahead of Mosley and turn upfield for big yards. Mosley reads it the whole way and takes the perfect angle to finish behind the line of scrimmage, not allowing McLaughlin to cut back.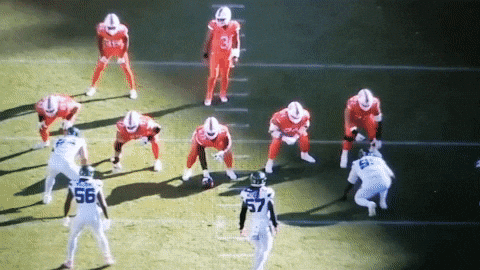 The pair also work well on this play, communicating before the snap as the Broncos try to create confusion by motioning McLaughlin into the slot but then running him across the field in a jet sweep action.
Williams hustles outside, ensuring his leverage forces McLaughlin to cut back inside rather than trying to blow the play up himself and risking him slipping a tackle to get to the edge as a younger Williams might have done. This leaves Mosley to again take the perfect angle to the ball, avoiding traffic and finishing in the backfield.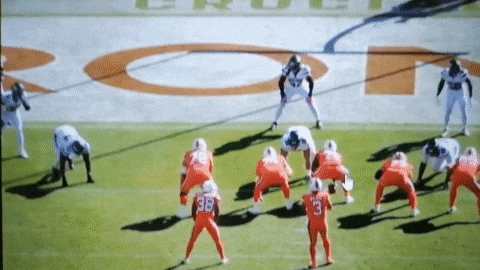 Mosley, who also closed late on Wilson to deflect a pass as it was coming out of his hands, didn't miss a tackle all day. Williams - of course - came up big with two sacks on the final drive.
This is the kind of display the Jets will need from their linebackers every week to ensure there are no defensive letdowns and to keep them competitive even against good teams.
Hall the Small Things
With DJ Reed and Brandin Echols out, Bryce Hall had to step into the starting lineup and the Jets had to be concerned that Denver would go after him, since he looked poor last year and in preseason.
The Jets smartly prevented this by playing a lot of zone coverages that allowed Hall to pass off his man to a safety behind him rather than trying to stay tight in downfield coverage.
Hall executed this perfectly on an incompletion where he passed off the outside receiver and came off that assignment to close on the back in the flat.
Otherwise, he was targeted just twice on plays that went for six yards each. One was for a first down though.
He did make a few other key contributions with a touchdown saving tackle on Wilson's scramble up the middle and this run stop.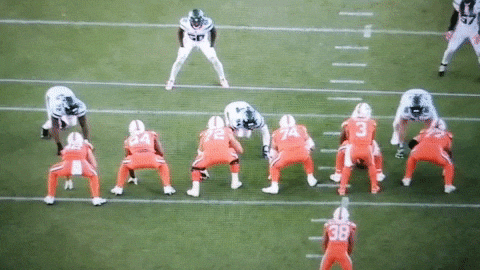 Of course, most of the headlines generated by Hall come from his late fumble return for a touchdown, although this was more about him being in the right place at the right time than anything special he did. It was a deserved reward for a job well done, though, and the Jets can feel more confident about their cornerback depth than anyone perhaps has since the start of last season.
It will still be important to get DJ Reed back so that he can play man and the scheme can be less exploitable. If they have to operate like this against the Eagles, they may have more success in finding opportunities once they've had a look at the film from this game.
Three-on-O will follow tomorrow.