Three on D: Johnson, Sherwood, Whitehead
After each game, we'll be highlighting three defensive and three offensive players and looking in detail at their performance. We'll start today with the defense:
Deadly Jerm
Jermaine Johnson made a welcome return to the rotation this week, conveniently getting 15 snaps that were handily available following the trade of Jacob Martin during the week.
As noted in this week's Saucy Nuggets, Johnson had one important negative play as he was fooled by the pre-snap misdirection on the Josh Allen 36-yard touchdown run, causing himself to get sealed to the inside by the tight end. However, there was also some positive stuff to get excited about.
Johnson's flashiest play saw him run down Allen for a critical sack with the scores tied in the fourth quarter. The cameraman was fooled by the play-action bootleg on this one, but Johnson was not.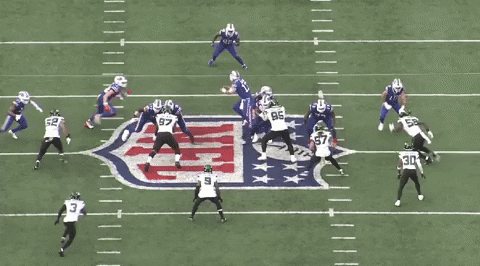 You can see how critical that tackle was from this image: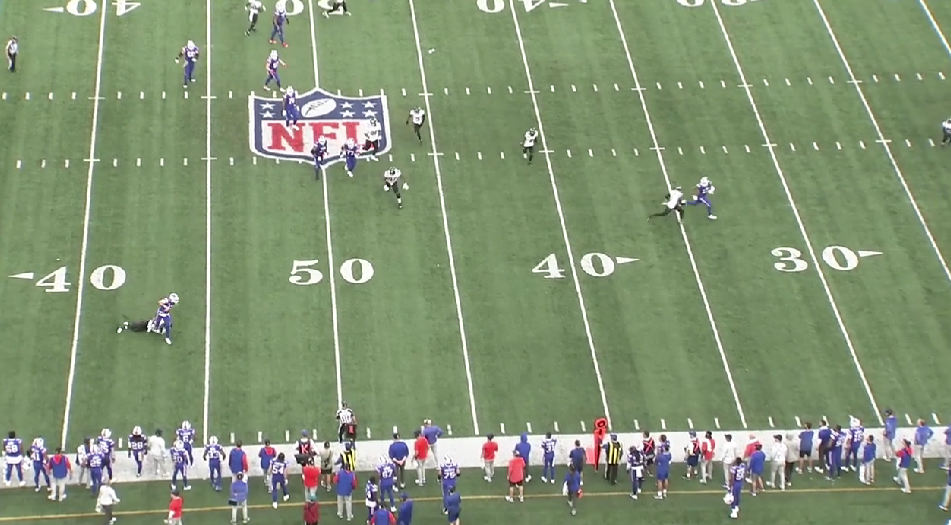 Allen might not score a touchdown on this play but he's at least going to get into field goal range and end up with a 100-yard rushing game if Johnson doesn't make the tackle. Instead, the Bills ended up having to punt and that set up the Jets' game-winning drive.
Other than this, Johnson didn't have another tackle, but he did have one more pressure. He made a standout play on special teams though, with this great block to take out two Bills players and set up Braxton Berrios' long return (although a penalty on Marcell Harris negated this).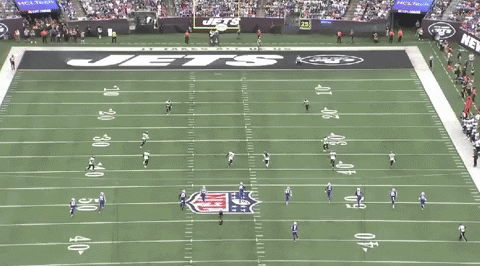 It's a sign of how many exciting young players the Jets have this year that Johnson hasn't received that much attention despite being the first round pass rusher we've all been awaiting for over a decade. Hopefully he can learn from the mistake that led to the Allen touchdown and make more plays like that hustle sack going forwards.
Sherwood be a shame
We wouldn't ordinarily single out a player who played less than 10 snaps for 3-on-D but Jamien Sherwood was in the thick of the action as he temporarily replaced CJ Mosley in the first quarter for his first defensive snaps in over a year. That was perhaps by design as the Bills tried to exploit Mosley being out. We can therefore break down every one of his snaps.
On Sherwood's first snap, Allen threw a pass out to the flat and Quincy Williams made a good tackle to force 3rd-and-5. Sherwood had the running back but Allen went right to his first option so never looked that way.
The Bills picked up the first down as Sherwood was swallowed up by a pulling lineman. Being able to avoid getting blocked at the second level has been an issue for Sherwood since making the move from safety.
The next play was a blown coverage between Sherwood and Williams who both followed the running back to the right flat and left the tight end uncovered for an easy nine yards underneath. Whose fault this was is impossible to tell but these things rarely happen with Mosley in the game and happened all the time with Sherwood wearing the headset in preseason and last year.
Sherwood made a tackle in the hole on the next play but he was a beat slow to fill, so this was a four-yard gain and first down conversion.
He got credit for half a sack on the next play, cleaning up after Allen had recovered his own fumble. Not only is this a bit of an anomaly (Sheldon Rankins really sacked Allen to force the fumble but since he recovered and then was tackled for no gain, the credit doesn't go to Rankins), but also Sherwood didn't really deserve credit here. Kwon Alexander hit Allen first, Sherwood basically missed the tackle and Williams finished him off. Good rallying to the ball by all three backers there, though.
The next play was a run stop in the hole, similar to the previous play but this time Sherwood was a beat quicker so he plugged the hole sooner to limit it to a two-yard gain. Nice adjustment there.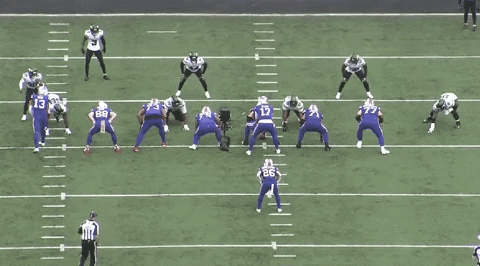 The next play was when Allen scrambled and initially had been ruled to have scored but the replay booth called him just short. Sherwood bit on a pump fake here and so had to dive to try and make the tackle rather than stopping Allen in the open field. Allen dived to break the plane and honestly this probably shouldn't have been overturned, but Sherwood gets credit for a TD-saving tackle rather than a missed tackle leading to a touchdown due to the overturn.
Nothing Sherwood could do about the next play, a successful quarterback sneak for the opening score.
His final snap saw him drop into zone coverage and pass off his man (who made an eight-yard catch) so he could key Allen.
Going back to look at the last time Sherwood was covered in 3-on-D is actually encouraging, because there was nothing positive to be said about his performance when he wore the headset for Mosley against New England and the Jets gave up over 50 points.
At the same time, this performance, coupled with how badly he struggled in coverage during preseason, underlines how important Mosley is to the Jets. If they were to lose him for any length of time, it would probably be a better plan to move Alexander into the Mike role.
To his credit though, Sherwood has definitely made strides against the run and hopefully is working his way towards being a useful piece for the Jets. Right now, the plan for him still seems to be as a Mike linebacker and he's not ready for a full-time role as one of those yet.
Has Jordan righted the ship?
Jordan Whitehead got off to a rough start to the season, giving up a touchdown in coverage against the Ravens, missing four tackles against the Browns and having a costly missed tackle to lead to Tyler Boyd's decisive long touchdown against the Bengals. However, he's been extremely solid since that time and this continued in the Bills game.
After last week's tough loss and a couple of negative plays to open this game, the Jets could easily have folded if the Bills completed the opening drive with a score. You get a good look at Whitehead reading the roll-out and undercutting the route to make a key pick here:
Whitehead isn't known for his coverage and did give up one first down catch. However, he showed good range on one play to limit a pass out to the flat to a short gain after Williams' missed tackle and had another pass defensed, although - and not for the first time this season - this should have been intercepted.
He's been solid all year against the run and had a good run stop here as he displayed his eagerness to come up into the box and make a play.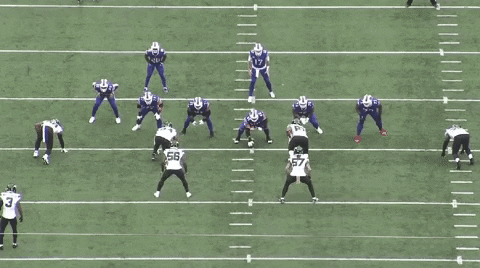 Whitehead isn't immune to mistakes - his missed tackle on Rhamondre Stevenson last week was a huge play to set up the go-ahead score - and he probably needs to spend some time with the JUGS machine, but the Jets have to be pleased with how he's settled into his role.
We'll be back with the 3-on-O tomorrow.