Three on D: Johnson, Smart, Gardner
After each game, we'll be highlighting three defensive and three offensive players and looking in detail at their performance. We'll start today with the defense:
Goody Johnson
It may be time to get really excited about Jermaine Johnson.
The second-year player had a phenomenal game this week, with half a sack, three quarterback hits and a team-high nine total pressures in just 30 pass rush snaps.
Johnson got upfield against a double-team for his half-sack and showed good patience and timing on a rush for a quarterback hit from inside linebacker early in the game. His most impressive pass rush rep was probably this one, though, as he used the inside jab to get all-pro Rashawn Slater on his heels.
It's not just his pass rushing that's coming along, though. He's held up well as a run defender since his rookie year and showcased his improved physicality once again on this terrific play.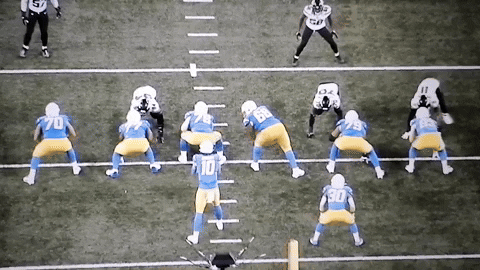 Johnson wasn't perfect. He missed one tackle (as did 10 other players, including nearly every starter), was correctly called for an illegal hands to the face penalty and arguably could have drawn a taunting call after pointing at his opponent on the above play. You can't argue with his production in recent games, though, and he's grading out as elite over the past month.
It's Johnson, not Bryce Huff, that is the reason the Jets don't need Carl Lawson any more (which may, in turn, free up the money next year to enable them to retain Huff).
Oh what a Tanzel web we weave
With Al Woods done for the year, Tanzel Smart made his first appearance of the year on Monday night. As predicted, he received fewer snaps than the other three interior linemen on defense, but the Chargers only ran 57 plays due to their offense not sustaining many drives and the fact that they scored on a punt return and had a fumble return to the goal line. Smart would usually therefore receive more snaps than the 10 he did.
On one play, Smart was easily driven laterally at the snap to create a big running lane, although the play went for only four yards.
Here, he showcases terrific hustle to pursue the short pass out to the sideline, only to then whiff on the tackle and allow 5-10 more yards.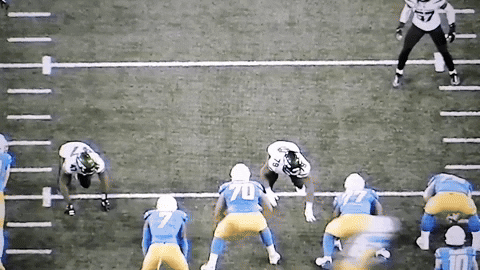 In his 10 snaps, Smart failed to register any pressure or record a tackle, but there weren't any other negative plays.
This was too small of a sample size to get too much of a read on Smart, but we basically know who he is already. Smart works really hard, has an excellent get-off and the ability to shoot gaps into the backfield, but is also susceptible to being sealed off or driven back in the trenches.
For the fourth man in a four-man rotation, that might be enough. However, he could come under challenge from recent practice squad addition Perrion Winfrey, who probably has more upside. The flipside to this, of course, is that if someone ahead of Smart goes down, he could be forced into a bigger role which might expose some of his weaknesses a little more.
The Sauce is strong with this one
With no interceptions on the year, Sauce Gardner hasn't made a headline-making impact. However, he's been very solid and has given up less than 20 yards in each of the past four games.
Gardner had two pass breakups on Sunday, showing a terrific break on the ball and using his length to disrupt on one and casually keeping his man on his hip and swatting away at this one.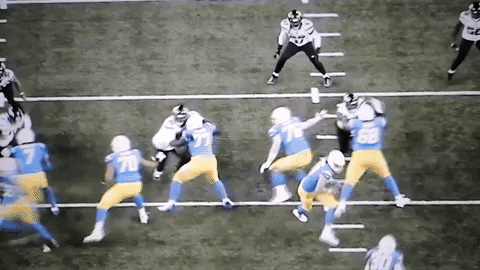 The only question here is whether Gardner should be trying to disengage from his man and making a play on the ball to try and come down with the pick on a play like this.
Gardner made an immediate hit on a short pass shy of the marker and gave up a cushion to allow a first down catch with the Jets in prevent just before halftime. Otherwise, he didn't give anything up, although he overpursued and missed a diving tackle attempt on the long Austin Ekeler run that set up the second touchdown.
So far, Gardner has five pass breakups in seven games, which is down on last year's pace (he had 20). His coverage numbers are excellent again, although DJ Reed has given up even less than he has.
Gardner is impressive to watch in person and looks like a player the Jets can rely upon to play at a consistently high level for years to come.
Three-on-O will follow tomorrow.