Three on D: Langi, Davis, Hall
After each game, we've been highlighting three defensive and three offensive players and looking in detail at their performance. We'll wrap up today with the defense:
Nothing Harv-Hearted about this performance
Harvey Langi had an energetic performance on Monday night as he made the start at linebacker in the first game since Avery Williamson's departure. Langi racked up 10 tackles, only two of which weren't within five yards of the line of scrimmage.
To the surprise of some, Langi actually graded out poorly for this performance but we'll get into why that was later on. He certainly brought a lot of energy to the role, which was jarring considering how slow and not dynamic Williamson and Alec Ogletree had been.
One play basically went viral after he blitzed, missed the tackle on Cam Newton, fell to the ground and then hustled back to his feet to chase back for a tackle 15 yards downfield. That's a Tommy Point!
However, this may have been his best play of all: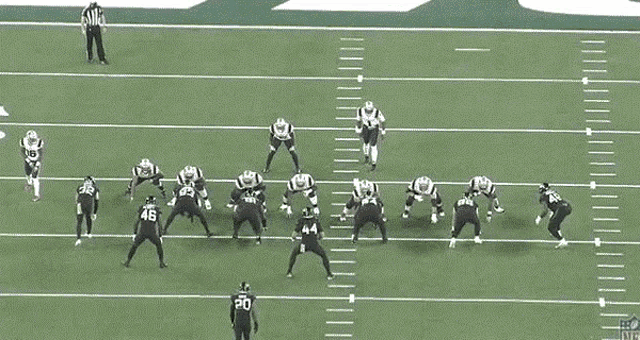 Langi generally did a good job of limiting yardage in coverage and didn't miss a tackle other than the one on the aforementioned play. He also generated some good pressure, albeit on blitzes where he was unblocked. Why did he grade out so poorly then?
The answer comes in the running game where, despite being in on a handful of stops, he was routinely blocked out of the play at the second level. This happened five times in the second half alone.
Langi clearly needs to do a better job of anticipating and avoiding blockers as well as shedding them once he is engaged because he's clearly at his best when he's flying around in space. By the same token, however, the defensive line could help him out by doing a better job of occupying blocks to keep him clean. Quinnen Williams' return should help in that regard and could see Langi becoming all the more effective.
The Jets still have Blake Cashman and Patrick Onwuasor due to return from injury this season so it will be interesting to see who the Jets view as Williamson's replacement in the starting lineup once everyone is healthy again. It's possible Langi has done enough to earn the role but he might be less-exposed in a part time role.
A Flashtyn the pan?
Ashytn Davis was given a completely different role this week in just his second game as a starter. Davis played strong safety, often up at the line of scrimmage, while Marcus Maye dropped back to free safety. He rushed the quarterback 13 times having done so just four times over the rest of the season.
It was a strong performance by Davis, who was credited with five tackles and a pass defensed, but he was involved in a few key plays that went against the Jets.
The main one that stands out is the play on which New England set up the game-winning field goal. From the wide view you can see Davis dropping back at the snap but he continues to drop and is far too deep, allowing the reception in front of him.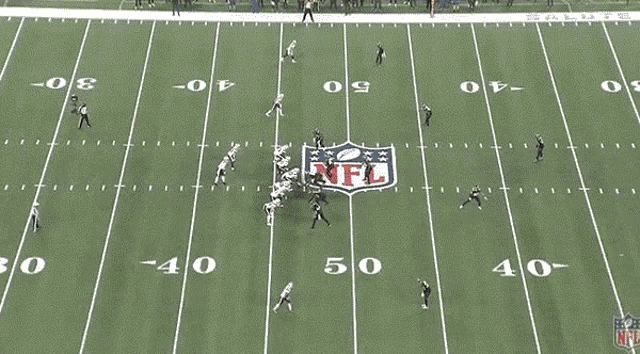 This was poor situational awareness. Davis has to have a better idea of the amount of time remaining and where the Patriots would be aiming to get to. There was no reason for him to drop all the way back inside the 25 and this ultimately cost the Jets the game.
The other major negative was his roughing the passer penalty, which robbed him of his first NFL sack. As we concluded here, that call was definitely correct by the letter of the law.
Davis did also make some good plays though. On a similar play earlier in the game, he didn't drop too far and was able to come up a break up the pass - although the on-field officials initially and erroneously called it a catch before the replay booth rectified the mistake.
He also had a touchdown saving tackle on an outside run, generated some pressure on blitzes and showed his ability to make plays in the box on this run stop: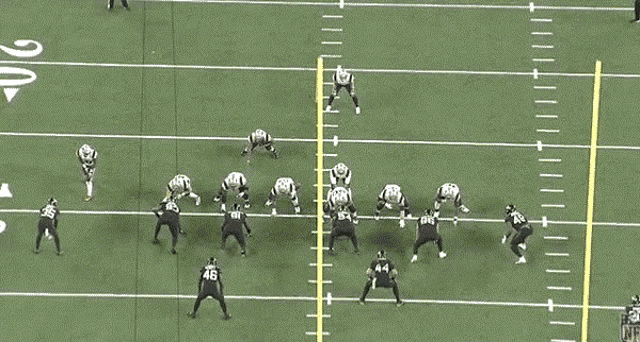 There are still a few things to clean up, though. He was blocked out of one run, had a blown coverage on a play where he was lucky the pass went underneath and overpursued on Newton's first touchdown. He also had a tackle in the flat where he weakly threw his shoulder at the ball carrier, which you don't usually get away with at this level.
The versatility and the fact he's started to make some plays are encouraging signs and hopefully Davis will continue to flash after the bye.
All the Hall things
Rookie Bryce Hall made his NFL debut having spent the first half of the year on the non-football injury list and the Jets threw him right into the mix as he rotated with Pierre Desir at left cornerback.
It may surprise you to learn that Hall played almost 40 snaps because he wasn't involved in many plays. For a cornerback, that's generally a good sign.
The one play he did give up was here, as he lost his balance, becoming far from the first player to do so on the night. Hall was also called for defensive holding for the grab on the nameplate: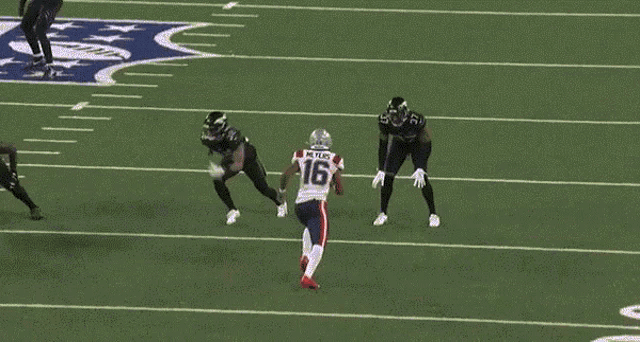 Aside from this, he wasn't tested much. He was initially covering on the play discussed earlier that saw Davis drop too deep, but passing the receiver to the inside help was probably the right move there with the tight end leaking out on the side of the field.
There was one other play where he gave up a catch just shy of the marker on first down, but this one didn't count because of an offensive penalty. He had two tackles, officially, one of which came downfield on a run.
Unfortunately, there's not much to analyze about Hall's performance but he's at least got that first performance out of the way and wasn't exploited while he was in there. It looks like the Jets are going to feed him reps so they can assess what they have in him.
Previously - Three on O: Mims, Flacco, Lewis