Three on D: McDonald, Amos, Echols
After each game, we'll be highlighting three defensive and three offensive players and looking in detail at their performance. We'll start today with the defense:
Concentrated Power of Will
Will McDonald only saw action on 12 defensive snaps on Sunday, but - on this evidence - they need to get him more work.
McDonald flashed a number of times against the Bills as he had two quarterback hits and exploded into the backfield to blow up a run for a six yard loss. One of his hits saw him execute a good rip move around the edge on Dion Dawkins. This one saw him use bend, strength and technique to leverage his way around Spencer Brown.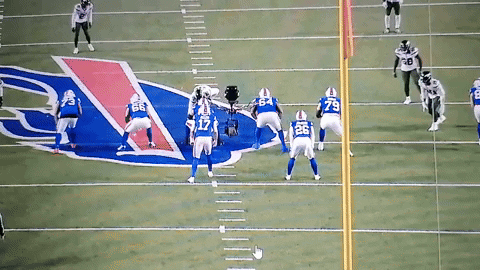 McDonald looks like a threat even when not getting home. He got close on an inside stunt where Josh Allen got rid of the ball early and it's clear linemen are going to struggle to stay in front of his spin move, he just needs to be more selective about when he uses it so he doesn't also have to fight through traffic having used it to gain separation.
Emerging pass rushers who are struggling will often look slow or be easily neutralized, seemingly without much of an effort. It feels like McDonald is moving past that phase as he now jumps out as one of the more athletic players on the field. This is hopefully a sign he's about to start flourishing.
It's interesting to make the comparison with Jermaine Johnson, who also made a slow start in his rookie season but has now blossomed into a solid starter by the middle of year two. After week 11, Johnson had six total pressures in 67 pass rush reps. McDonald has five in 53, including four in 12 over the past two games.
It's time to start ramping up McDonald's workload to see if he can continue to produce with a bigger sample size to work with.
'Mos Def
Adrian Amos was signed shortly after the Chuck Clark injury with the expectation that he'd be the starter alongside Jordan Whitehead. However, things didn't work out that way as Tony Adams locked down the starting role and Ashtyn Davis has also been ahead of Amos in the rotation.
In this game, Amos - who had only played 12 defensive snaps since the Chiefs game in week four - was called into more substantial action when Adams damaged his finger. Amos played 43 snaps and ended up with four tackles.
While he didn't make any obvious contributions because each of his tackles came over 10 yards down the field, Amos was in position well on a few incomplete passes, disrupting this one although he didn't get any credit for the pass breakup.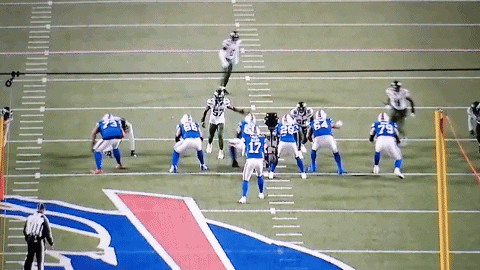 In coverage, Amos gave up two 11-yard catches but neither went for a first down. In fact, both came on third and long as saw the receiver stopped just short of the marker, with Amos combining with CJ Mosley for the stop on one of those plays.
There were a couple of negatives though. He had a missed tackle and was also involved in the coverage mix-up that led to James Cook being wide open for Buffalo's first touchdown.
The Jets' depth at safety is pretty good and Amos seems reliable enough that nobody would panic if a starter went down again and he had to step up. Errors like the one on that blown coverage can be the difference between the Jets still being in the game and basically being out of it because their offense is so weak, though.
Brand New Mindset
With Deuce Carter scratched late, this forced Brandin Echols into a full-time role in the slot. This is not a role that Echols has played much with the Jets, but the results were actually pretty good.
He ended up with five tackles and a pass breakup, giving up just 19 yards on five targets and not conceding a single first down.
As this replay shows, though, despite making a good recovery, Echols was lucky not to give up a big play here, because the receiver had a step and the throw was poor.
Echols also deflected a pass that was out of bounds on the sideline when Allen rolled out. He didn't get credit for that one officially, though, because the Jets accepted an offensive holding penalty on the play.
Aside from his work in coverage, Echols made some contributions in the running game, coming up into the box to get in on the tackle on a 3rd-and-short play that was stuffed for a loss and stopping Allen on a scramble for a short gain.
Also, let's not forget his special teams contributions. Echols' 18-yard catch on the fake punt could have been a 44-yarder if he didn't step out, but the Jets scored a touchdown on the drive anyway. He also seems to get closer and closer every week to blocking an extra point or field goal coming off the edge.
This week, though, they took him off gunner duties and let Hall and Jarrick Bernard-Converse share those duties (other than on the fake, which they've obviously had in their back pocket all season). This enabled Echols to focus on his slot role.
Last year, the Jets were very lucky that Carter, DJ Reed and Sauce Gardner basically didn't miss any time and expose the Jets' potentially weak depth in the secondary. However, when those players have gone down this year, players like Echols, Bryce Hall and even some of the guys on the practice squad have held up surprisingly well.
Three-on-O will follow tomorrow.