Three on D: Mosley, Rankins, Adams
After each game, we'll be highlighting three defensive and three offensive players and looking in detail at their performance. We'll start today with the defense:
Beast Mose
We checked into CJ Mosley's progress a few weeks ago, when he had a solid performance that saw him make 10 tackles, although only one was within four yards of the line of scrimmage.
On Sunday, Mosley had another excellent performance, but this time it was somewhat different as he made even more of an impact with most of his tackles.
Mosley was credited with nine tackles on the day and this time five of them were within four yards of the line of scrimmage. In addition, two of the other four were tackles on third down where he stopped his man a yard shy of the marker.
Mosley had a lot of impressive plays on the day, including three in the second quarter. On 3rd-and-7 he chased Dawson Knox across the field on a crossing route and dragged him down a yard short of the marker. On a Nyheim Hines jet sweep, he chased him outside and dragged him down with an open field tackle that knocked him backwards rather than allowing him to fall forward and get to the marker. Then he blew up a run for no gain in the hole, as he side-stepped Dion Dawkins' block at the second level.
What's interesting about each of these plays is that if Mosley was just a half step slower, the result is completely different. Knox would have been able to turn upfield for a first down, Hines would have fallen forward for a first down, if not avoided Mosley's tackle altogether and Dawkins would have sealed him off so the runner could hit the hole hard and potentially break into the clear. Whether Mosley has slimmed down and gained a half-yard of speed or is just processing quicker because everyone is that much more comfortable within the scheme now, you can see how fine these lines are between a positive and a negative for someone in his role.
On a later running play he made the stop for a three yard gain and again you could see him gaining that extra half-yard because he was already on the move to get to his spot before the ball was even snapped.
Here's another one where he reacts immediately to the fact that Allen has kept the ball and takes on the pulling lineman aggressively to blow the play up.
Mosley plays this one absolutely perfectly, as if he accelerated to try to get outside leverage, then the lineman kicks him out and Allen cuts back with momentum and a chance to power across the first down marker. If Mosley slows up to fill that cutback lane, the lineman seals him to the inside and Allen goes outside to get the first down. The only thing Mosley can do here is take on the lineman's block and drive him back so that Allen is forced to cut back, but with Mosley retaining inside leverage to fill the running lane. Perfectly done.
Obviously, based on the above, we know that Mosley (who didn't miss a tackle all day) did a good job in coverage of limiting yardage on short passes. However, he also did well when directly targeted. He had to recover when the Bills unexpectedly tried to pass to Knox with less than a minute left, but did well to do so and was credited with a pass break-up. However, this play - which saw him bail out a beaten Lamarcus Joyner to disrupt the catch - was even better.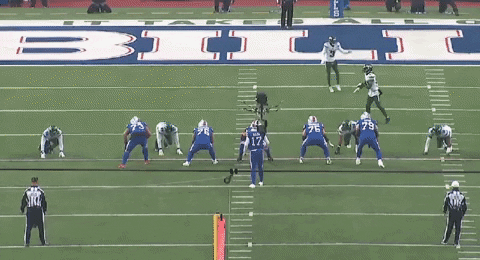 Mosley seems to be getting better as the season progresses and this is surely because he's growing in confidence in his teammates, allowing him to commit to making plays at speed.
Of course, we can't gloss over his one important error which saw him leap over the line to blow up a quarterback sneak play on fourth down, only for the ball to not be snapped. Mosley would probably like to have that one back, presumably gambling because he thought the play would gain the necessary yardage if the ball was snapped.
From that point on, you'd at least have to say that he did everything he could to try and atone for that error. Hopefully he continues his recent good play over the final month.
Explosive Shel
Sheldon Rankins had a big role on Sunday, especially after Quinnen Williams went down. Rankins saw his workload increased as a result and was in for a season-high 75 percent of the snaps, which is also higher than any Jets defensive tackle has played in a game this year.
He worked hard all day, as the Jets defense held up well following Williams' departure, but as noted the other day, they gave up 5.5 yards per play after Williams went out, having only given up 2.4 with him in the game.
Rankins was rewarded for his hard work when he got to Allen for this big sack: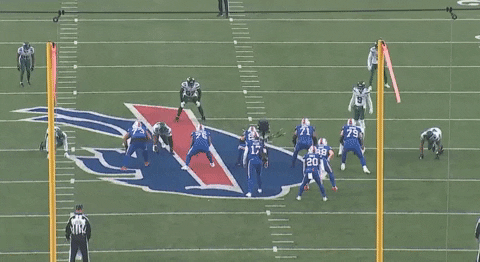 Aside from that play, Rankins had another three tackles, including a good play on this run stuff (which unfortunately isn't available on the all-22 end zone footage). Rankins shows great technique to get lower than his man, extend his arms, gain control and turn him so he can leverage off the block.
With four games to go, Rankins has already basically been as productive as he was last season. He has 30 tackles, three sacks, four tackles for loss and seven quarterback hits in 11 games. In 2021, he had 32 tackles, three sacks, five tackles for loss and seven quarterback hits in 16 games.
The veteran has been a full-time starter this season, but only started three games last year. However, his snap count percentage is actually slightly lower.
One interesting stat is that according to Pro Football Reference, he had five missed tackles last year and none this year, so his tackle efficiency percentage has gone up from 86.5 percent to 100 percent. Underlining how unreliable these numbers can be though, PFF has him down for seven missed tackles in 2021 and six in 2022.
Rankins continues to be a key player, although they coped reasonably well with Tanzel Smart filling in when he missed a couple of games following his elbow dislocation. If Williams missed a game or two, the drop-off to Smart will be that much greater and will put a greater onus on Rankins to step it up to another level.
Tony Award
We probably wouldn't usually review a player who only played three defensive snaps, but rookie defensive back Tony Adams is someone it's interesting to check on and he did have a couple of interesting plays in this game.
Adams had been a healthy scratch in six of the previous eight games and hadn't seen action on defense since week two. In fact, three snaps is the most he's had in a game all year. He does continue to play a role on special teams though - and did in fact record the tackle on the opening kickoff.
Early on in the season, it looked like the Jets were going to use Adams as their dime back, but he gave up a 20-yard catch in week two and those reps had gone to Brandin Echols or Will Parks since that time. On Sunday, however, the Jets had Adams back in that role.
He did give up a first down on 3rd-and-6 on this play, which was nicely designed by the Bills.
Adams had to avoid the rub route and then deal with the receiver breaking back to the inside. Even then, he only just got to the marker. If Adams could have played this a bit tighter and got there a half-step sooner, he could have had the stop here.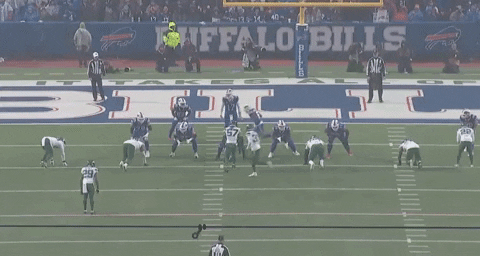 Adams did a lot better on his other target, staying stride for stride with the tight end and disrupting the pass at the catch point.
The Jets seem to have a versatile, athletic piece in Adams and he is hopefully someone who can grow into a bigger role by next season. This looks like another quality round eight find for the front office.
We'll be back with the 3-on-O tomorrow.