Three on D: Parks, Thomas, Franklin-Myers
After each game, we'll be highlighting three defensive and three offensive players and looking in detail at their performance. We'll start today with the defense:
Parks makes his mark
When Lamarcus Joyner showed up unexpectedly on the injury report during the weekend, Will Parks wasn't even on the team, having just been released.
A few days later, Parks not only started at safety but also played 100 percent of the snaps and even led the Jets in tackles.
It was always the plan to bring Parks back and for him to be active on Sunday. The team just needed to swap him and Hamsah Nasirildeen around because Nasirildeen had no practice squad elevations remaining and therefore needed to be on the 53 to be eligible to play. The fact they put Parks in as the starter ahead of Ashtyn Davis despite Parks not being able to practice on Friday speaks volumes about Davis, though.
Although Parks led the Jets in tackles with nine, six of these came on plays where the Lions gained at least 10 yards. He was only responsible for one of these though, as he gave up this fourth quarter first down in coverage.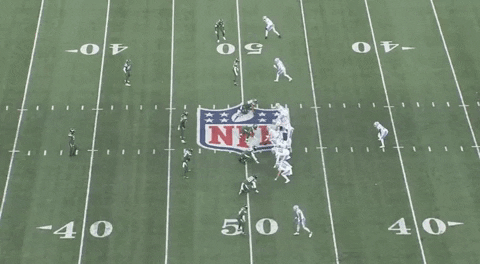 On the play, the Jets sent Deuce Carter on a blitz and Parks gave the receiver too much of a cushion, much to CJ Mosley's obvious frustration. Would Joyner have made this play? Who knows?
Parks also had a missed tackle and got blocked out of the play at the 10-yard line on the winning touchdown.
He did make some positive contributions too, though. That first down catch was the only one he gave up in coverage and in the running game he was in on two tackles that went for a loss and another one that went for a short gain.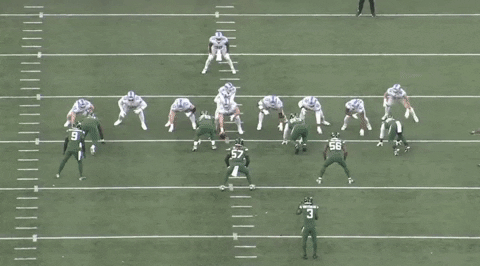 Parks is a reliable veteran leader and a solid option on special teams and as emergency depth. While perhaps not an ideal long-term starter, it's useful to have players like this that you can feel safe about plugging in without losing too much.
Solly you can't be serious
Solomon Thomas was one of the players it would have been good to see stepping up in the absence of Quinnen Williams and he got off to a good start on Sunday. He chased Jared Goff from the pocket to force a throw-away and had this run stuff on perhaps the best play he's made all season.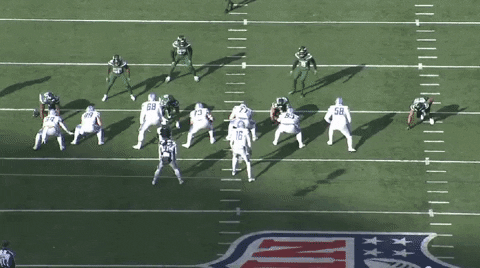 Thereafter, though, he didn't have much of an impact. Thomas played 23 total snaps and didn't have another tackle or pressure. For the season, his production is way down on last year. He has 17 tackles, one tackle for loss and no quarterback hits compared with 34 tackles, three tackles for loss and 12 hits (including 3.5 sacks) in a backup role with the Raiders last year.
While he's been dependable within his role, Thomas' lack of production has been disappointing and he has often had a negative impact against the run. On this play, he gets dominated by a double-team and ends up on the ground.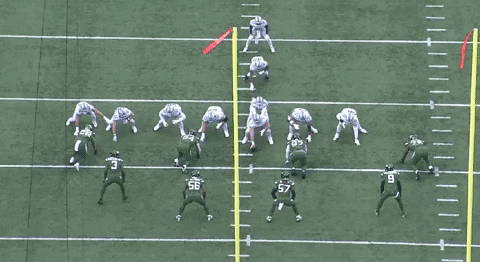 While that touchdown didn't count due to a holding penalty on CJ Mosley, it's still a sign that Thomas - who hasn't played significant reps on the edge since 2019 - struggles to hold up inside.
Thomas is another player whose character and leadership the Jets value. However, they'd like for him to contribute more and make some impact plays in these last three games if they're going to consider bringing him back.
John the Party
John Franklin-Myers seemed to have a quiet game and, sure enough, ended up being credited with just one tackle. He did add two quarterback hits, though.
A closer review of the film, however, shows that Franklin-Myers had another consistent performance, which is typical from him this season.
His most impressive pass rush saw him bull rush Penei Sewell off his spot impressively to knock down Goff and force an incompletion.
You'll note Franklin-Myers was lined up out wide on that play. His other quarterback hit saw him lined up "inside" although, as is usually the case, he was aligned across from the tackle on this play, as the Jets will nearly always isolate Carl Lawson on one side of the line in these packages with Franklin-Myers being the middle one of three pass rushers aligned on the opposite side. (They did also mix in a few packages where Bryce Huff was standing up across from the center this time, though).
His best play against the run saw him moving laterally down the line of scrimmage to stuff this run impressively.
With Williams out, some analysts may have expected Franklin-Myers to pick up the slack by taking more reps inside but this has never been a consideration. He has only lined up inside in pass rush personnel packages and, as noted, will often actually be a five-technique in these packages rather than actually a defensive tackle.
As if to prove this, the Jets lined up with that personnel when the Lions got the ball late in the first half, designed to prevent a two-minute drill. Franklin-Myers was inside on the first play and easily controlled at the line as the Lions picked up 16 on a run up the middle; their longest of the day.
They reverted to passing on the next series and went three and out. The Jets got the ball back just in time to drive for a game-tying field goal of their own.
To look at Franklin-Myers' stats this year and see only four sacks and 30 tackles, you might think that's a disappointing outlay for a player whose cap number is over $12 million. He needs five tackles and two sacks in the last three games to emulate last year's numbers (which were career-highs).
He's not a pro bowl level player at this stage of his career, but Franklin-Myers remains a valuable contributor for this team. Hopefully he has a strong finish to the year.
We'll be back with the 3-on-O tomorrow.