Three on D: Pinnock, Akinmoladun, Parks
After each game, we've been highlighting three defensive and three offensive players and looking in detail at their performance. We'll begin today with the defense:
Mama said Pinnock you out
Rookie Jason Pinnock hasn't cracked the rotation at cornerback but finally got his chance to start at safety instead and basically tripled his snap count for the year by playing 70 snaps.
Pinnock's day went well as he had four tackles, a forced fumble and a pass breakup. Although he primarily played deep safety, Pinnock made a good impact against the run, as he blew up two read option keepers, although on one of these the Jaguars got lucky as Trevor Lawrence's fumble was recovered in the end zone for a touchdown.
When ranging deep, Pinnock got over just in time to break up a deep completion with a well-timed and clean hit. He then also was in coverage on this long incompletion: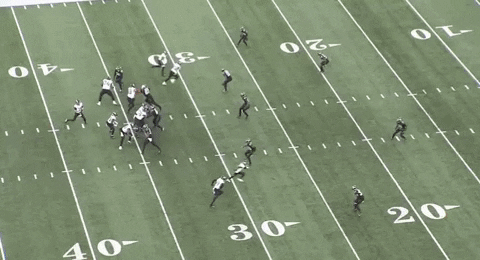 Although it might seem a little over-critical, Pinnock obviously got turned around here and the receiver had plenty of separation so a better throw would have led to a touchdown.
He recovered quite well there and even better on the one he broke up. However, to nitpick even further, he was also turned around on that play as Bryce Hall tried to pass his man off to Pinnock and again this almost led to a big play. He was also a step late getting over on Brandin Echols' first half pass interference penalty.
So, while Pinnock was really impressive and had a great game, there are still some clear signs there of places where he might need further work.
Ashtyn Davis and Elijah Riley are expected back this week so whether Pinnock will get a chance for more exposure to this role or just revert back to cornerback is unclear. Hopefully there are enough positives to build on here, either way.
BONUS: The all-22 footage for the rest of Pinnock's key plays are within this tweet:
Rookie Jason Pinnock started his first game and took 96% of the defense's snaps at safety. Made some nice plays both against the run and pass. Favorite play is the last clip on the end-zone angle when he thumped Marvin Jones. pic.twitter.com/LqAbQ6h2wy

— Ethan Greenberg (@EGreenbergJets) December 27, 2021
Freedom Fighter
The Jets were super-shorthanded on the defensive line with Nathan Shepherd and Sheldon Rankins forced to play 120 snaps between them.
Freedom Akinmoladun was a last minute replacement off the practice squad, where he's only been for about a week. However, he came in and played 21 snaps, acquitting himself quite well.
This was his best highlight, as he came off the block to stuff a run for a short gain.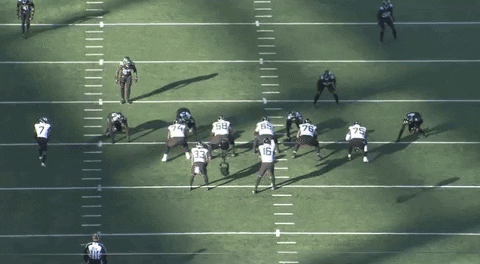 Akinmoladun only had one other tackle, on a play where the runner picked up the first down on a short yardage conversion anyway, but did add a pressure in the pass rush and helped bottle up two short yardage runs, including the Jaguars' first two point conversion.
He did have some negatives against the run too, notably on Dare Ogunbowale's touchdown run where he was driven off the line to create a big lane. However, he showed enough in his limited work that he's probably worth keeping around on the practice squad and bringing back via a futures deal.
Central Parks
Will Parks only arrived a week ago and immediately found himself forced into the starting lineup alongside Pinnock. He did a solid job, certainly playing his part in the Jets' win.
Parks set the tone immediately with a good play on the very first snap of the game: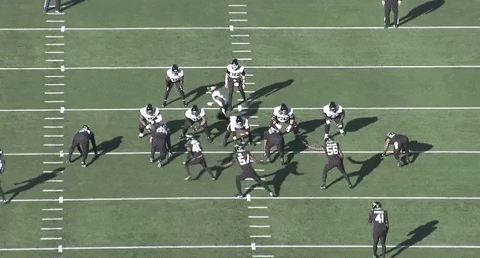 Parks ended up with four tackles and a pass defensed and also added one pressure. He showed good timing down the field on that pass breakup and was also in coverage on one other incompletion.
He played more snaps in the box than Pinnock, which was to be expected having seen his effectiveness against the run based on his film. On one play, the 200-pounder tried to take on the 330-pound Malcom Brown who was leading the way from the fullback position. While he couldn't stop the play, that's a sign of his physical nature.
The other new safety, Kai Nacua, was involved in a few plays which seemed to indicate he was rotating with Parks. However, he actually only ended up playing 11 snaps (although he was in the game for Parks on the final series where they made a goal line stand).
Parks' experience was valuable in this game but he'll probably be relegated back to the bench when Davis and Riley return this week. However, his film indicates a useful player who perhaps the Jets should give a chance to compete for time to in 2022.
We should have an in-depth scouting report for Parks for you within the next few days.
We'll be back with the 3-on-O tomorrow...