Three on D: Poole, Davis, Jenkins
After each game, we've been highlighting three defensive and three offensive players and looking in detail at their performance. We'll start today with the defense:
Deep talent Poole
Sunday's defensive performance was disappointing but Brian Poole stood out with an excellent performance.
While he didn't have much of a statistical influence with just three tackles and one pass defensed, Poole made a couple of plays where he stuck his nose in to redirect a runner. One of these saw him blow up a receiver screen, although Nuk Hopkins was able to reverse his field for positive yardage and the other saw him take out two lead blockers to set up a run stuff.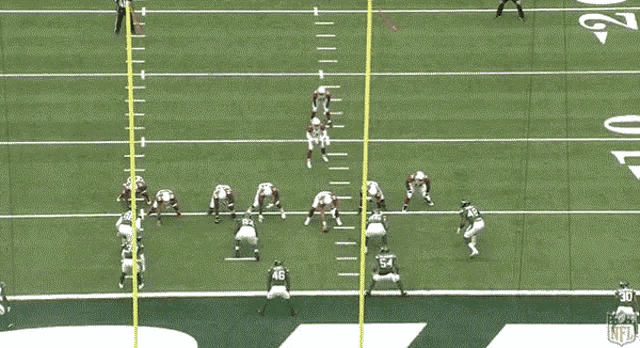 Even more impressively, Poole didn't give up a first down catch all day as he was in on two tackles short of the marker and disrupted two throws down the field.
Poole has quietly been having a very consistent season for the Jets, during which he hasn't given up a single pass of longer than 15 yards, nor has he missed a tackle.
The Jets signed Poole to a one-year contract extension for less than expected during the offseason. If they can, they'd be wise to extend his deal and bump his pay because he seems like a solid leader who has been unaffected by the chaos around him.
Bring the Ashtyn
This was an important game for rookie Ashtyn Davis, who had only seen action on defense in one game before Sunday. In that game, Davis had basically just seen action as a third safety in dime packages but on Sunday, he was also used in a rotation that saw him replace Bradley McDougald as the deep safety in some standard nickel packages.
The main positive from Davis' performance is that he didn't really have any negative plays, although his late arrival and helmet-to-helmet hit in the end zone on Hopkins could easily have drawn a flag if Hopkins didn't catch the ball.
As for his positive contributions, he didn't really make any impact plays other than his interception of a wayward pass which didn't count anyway due to a Pierre Desir penalty. Otherwise, he was almost always lined up as a deep safety and kept the action in front of him.
The only plays where Davis wasn't lined up deep at the snap were one where he was in the box initially but dropped deep when the ball was snapped and one close to the goal line where he did a good job of staying with the tight end over the middle while Murray overthrew another receiver.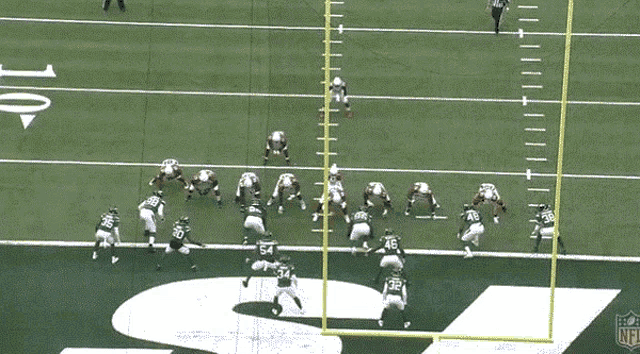 His only two tackles saw him assist on two first down runs down the field and he wasn't targeted in coverage.
The fact he's started to take reps away from McDougald is interesting and makes you wonder how long it will be before they try him in a starter's role.
Janky Jenkins
Jordan Jenkins was very vocal about his frustration with losing all the time during the offseason but performances like the one he had on Sunday suggest that he's part of the problem.
Jenkins had just three tackles, while also getting fooled a few times on quarterback keepers and missing a couple of tackles. He also got beaten for a first down in zone coverage and was blocked out of a couple of plays.
He didn't contribute much as a pass rusher either. This was his only pressure and as you can see, it came late in the play and he failed to finish with the tackle.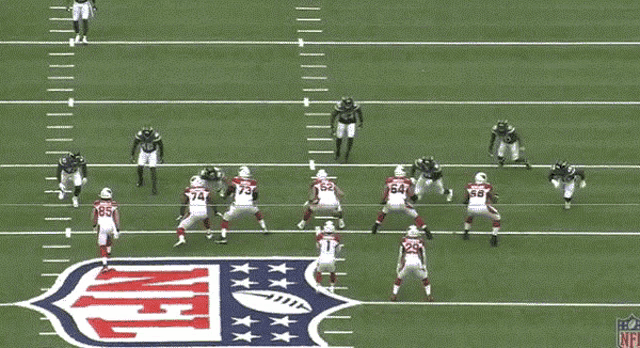 Jenkins hesitated briefly on the edge when Murray scored on a two-yard keeper in the second quarter. At the end of the play, he was remonstrated with a teammate - possibly Avery Williamson, who also hesitated, allowing DJ Humphries to seal him on the inside.
Murray proved a challenge for Jenkins, who dropped off the line to key him rather than trying to rush him on a few occasions.
He also had a neutral zone infraction on an extra point attempt, although this prompted the Cardinals to go for two and they failed to convert.
Jenkins did have some positive moments, including on the first play where he came off his block to stop a run for a short gain and on another play where he got upfield on the edge so the runner had nowhere to go and was bottled up for a loss. However, he'll need to be more consistent and make more impact plays if he wants to be back next year. Perhaps he doesn't.
We'll be back with the 3-on-O tomorrow...