Three on O: Berrios, Perine, Montgomery
After each game, we'll be highlighting three defensive and three offensive players and looking in detail at their performance. We'll wrap up today with the offense:
Booster Brax
With their top two receivers out, Braxton Berrios stepped up to lead the Jets in receiving on Sunday. On 10 targets, Berrios ended up with six catches for 52 yards with one other catch for nine yards negated due to a penalty (on a bad call).
While most of these were pop passes and swing passes, Berrios did have two first downs, each of which set up a field goal. One of these came on a pass down the middle for 18 and the other came as he made a clutch fourth down grab on a play where Zach Wilson recognized the blitz from the slot and found his hot read nicely.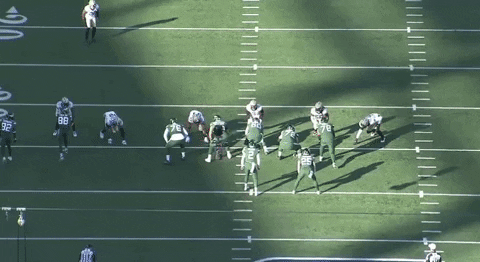 Although we're focusing on the offense here, Berrios obviously also made contributions on special teams, with a career-long 28-yard punt return and a 42-yard kickoff return.
All-in-all, Berrios - who is now 2nd in kickoff return average and 2nd in punt return average - racked up 235 all-purpose yards which was easily a career-high. By way of a comparison, former pro bowler Andre Roberts has only achieved more than that once and only had more total return yards in a game twice.
We recently discussed whether Berrios should get an extension. Sunday, with other key players missing, was more evidence that the Jets could miss him if they let Berrios go.
Perine does fine
2020 fourth round pick La'Mical Perine, who only had one carry in three games so far this season, was finally going to get an opportunity with the 2021 Jets because the top two running backs were out. Then Austin Walter, who Robert Saleh said was going to be the starter, was ruled out with a pre-game illness and Ty Johnson dropped three passes on the first three drives.
The circumstances couldn't have been set up better for Perine to get an extended workload and finally make his mark. However, he lacked burst on his first half touches, ending up with just five yards on four carries.
He was better in the second half, gaining 23 yards on three carries and breaking this first down run.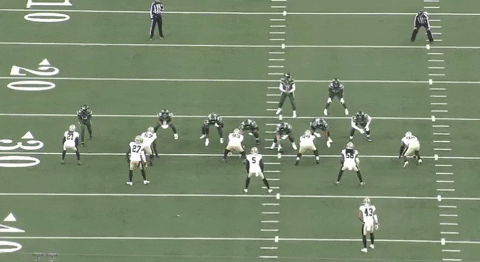 However, he clearly didn't go enough to convince the team he was a better option than Johnson to get the majority of the workload. In the end, he played just 17 snaps and ended up with 28 yards on seven carries.
As rotational running back performances go, four yards per carry is a decent enough contribution, but Perine didn't inspire much confidence or look a threat to make any big plays. He wasn't targeted in the passing game either and only stayed in to pass protect once.
Tevin Coleman and Ace Carter should be back on Sunday so Perine might not get another chance this season. It seems increasingly likely he won't be back with the Jets next year though, as he hasn't shown to be a better option that the other backs on the roster. In fact, is it even worth keeping him on the 53-man roster once Carter is back?
Hang the DJ
Youngster DJ Montgomery got his NFL debut on Sunday and took advantage of Denzel Mims' benching to get some live reps down the stretch.
He didn't play much in the first half, although he was targeted unsuccessfully once. However, he ended up playing almost 40 offensive snaps and the Jets gave him an opportunity by forcing it to him five times in the last three minutes.
This didn't start too well as he got his hands to the first two targets but couldn't complete the catch in tight coverage. Then he finally made his first NFL catch but was tackled short of the marker on fourth down. Wilson was half a beat slow on all three of these passes.
The next drive saw him make two first down catches on a couple of underneath routes to at least put some positive things on tape.
However, the best thing he put on film was his blocking. As you can see on the Perine gif above, Montgomery made an excellent block on that play. He also set the edge well on this jet sweep pop pass.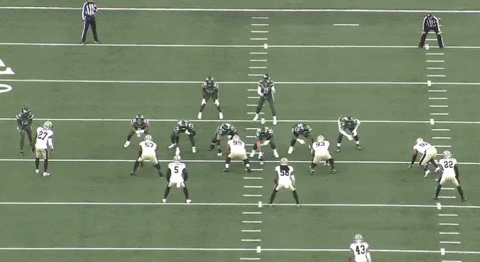 Whether Montgomery will get another look might depend on how quickly Jeff Smith can return from Covid-19 reserve but at least he did make a few positive contributions to help his chances of re-signing for the Jets next year or finding another team.
Previously - Three on D: Lawson, Ward, Fatukasi