Three on O: Cole, Wilson, Crowder
After each game, we've been highlighting three defensive and three offensive players and looking in detail at their performance. We'll begin today with the offense:
Cole of the Season
It's been a slow start to the year for Keelan Cole, who also found himself relegated to the third unit in preseason, but he made some key contributions with Elijah Moore and Jeff Smith out on Sunday.
Even so, he didn't catch a pass in the first half. His only target came on the Jets' first series as Zach Wilson threw behind him and they went three-and-out.
He made a couple of good blocks in the second quarter, though, finding a way to contribute despite not being involved in the passing game.
In fact, he only caught one pass in regulation too and that came on a broken play where he wasn't the primary target. It was a big play though as Cole ran an out-and-up to get behind the defense as Wilson extended the play on the roll and threw deep with Cole making a diving grab. This set up a field goal to give the Jets' their first lead of the season late in the third.
Looking at this play, one question would be whether Cole could have tracked the ball better and stayed upright to run it into the end zone, but he clearly had to slow up slightly and securing the catch was an obvious priority with the offense struggling.
It was in overtime where Cole stepped up with two key plays on the drive that led to the winning field goal. He made a catch underneath on second down and rolled over the defender to get to the marker and, although the replay booth changed the spot so it was just short of a first down, this set up Tevin Coleman for a short yardage conversion.
Then, a few plays later, he made an over-the-shoulder catch for 29 yards on 3rd-and-2, dragging his back foot effortlessly to ensure he stayed inbounds.
It ends up being a productive 92 yards on three catches for Cole, although he wasn't a featured target for much of the game. However, this can be something for him to build on, even as Moore looks set to make his return.
Zach back on track
There were a lot of obvious narratives from Zach Wilson's best game so far. It was another slow start that saw him get rolling later on. There were some highlight throws but his accuracy on shorter passes was spotty and he failed to see an open receiver on a few occasions. However, there were a lot of positives to take from this performance.
The most important thing was that he was throwing on time. Ironically, the first example of this ended in disaster as Corey Davis slipped coming out of his break and the pass was easily intercepted.
He released that pass so decisively and confidently that it was alarming to see it end up as a turnover, but the replay showed he was trusting his receiver and making an anticipatory throw just as we've been begging him to do.
Fortunately, he continued to play like this rather than reverting back to throwing everything late because he needed to see the receiver open as so many young passers do.
What was special about Wilson's performance though, wasn't how he executed the basics of the gameplan. Rather it was those throws he made instinctively when forced to extend a play. His touchdown to Davis was the ultimate example of this as he eschewed easier options to fire the touchdown pass.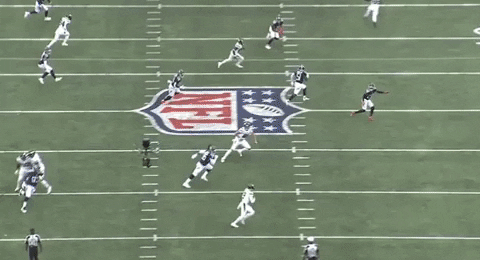 (This angle also gives a great sense of how Davis has the step on the defender and then uses his big frame to keep him boxed out on his hip as he makes the play on the ball).
Of course, throwing a lower percentage pass when an easier pass was available is the opposite of what we've been calling for Wilson to do, but this team desperately needs to score points so this is one of those things where he'll need to learn to pick his spots and rely on his receivers to come up big for him.
Wilson also got a lot of help from his pass protection with only one quarterback hit registered by the Titans. He played his own part in this by eluding a potential sack a couple of times though.
One other play that was interesting was the rollout on 3rd down from the goal line in overtime. A touchdown wins the game for the Jets there and then, but Wilson almost collided with the running back before rolling out and the only option to throw to - Tyler Kroft - was double-covered as the defense read it all the way.
Wilson could perhaps have thrown the ball away so the Jets had 4th-and-goal at the one, but they might still have opted to kick rather than risk coming up empty.
That was one of three chances the Jets had to effectively end the game with Wilson also throwing wide on 3rd down late in regulation when a first down would have allowed them to run out the clock and also a few plays earlier in overtime as he underthrew an open Ryan Griffin who easily would have scored as he also had Davis open over the middle.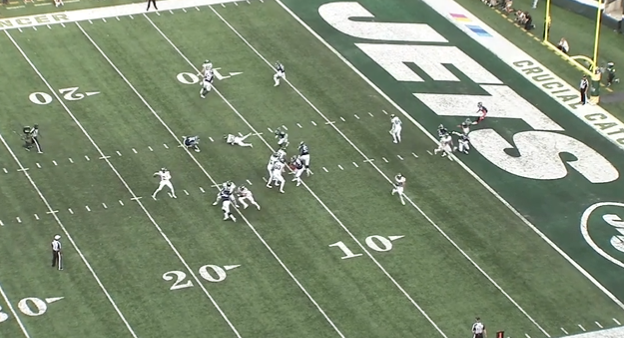 All in all this was a huge step in the right direction by Wilson, but with still some room for improvement on basic things.
J-Mo Better Blues
Jamison Crowder was another player who had a productive game after a slow start. He ended up with seven catches for 61 yards and a touchdown but only had three catches for 14 yards entering the fourth quarter in his first game of the season.
However, he came up big with a 29-yard catch down to the five-yard line and then a short touchdown a few plays later as the Jets tied the score in the fourth quarter.
The 29-yarder was an amazing play by Wilson who fumbled the snap from under center but then calmly picked it up and found Crowder downfield.
Wilson told the media he knew before the ball was snapped that this had a good chance to be a big play because of how the defense was set up. You can sort of see that here, although the safety was arguably drawn out of position because he reacted to the fumble.
Interestingly, Crowder doesn't head full speed across the field but first has to adjust to clear the safety before breaking across the field at speed. You can see how this design would occupy the safety if he didn't overreact to the fumble. In that case, it wouldn't be Crowder that was open but instead Davis could be hit in stride on the crossing route. A less experienced receiver than Crowder might have adjusted his route in front of the safety which probably wouldn't have opened things up as cleanly.
Crowder's touchdown saw him get some separation at the goal line with Wilson delivering a tight window throw. He also had a key third down conversion in overtime, which might even had been the winning touchdown if he'd managed to tightrope the sideline and stay inbounds.
After the game, Davis said that Crowder was crucial to his performance and he seems to have helped Wilson too. Hopefully the Jets can find a way to better integrate their younger receivers into the mix too.
We'll be back with the 3-on-D tomorrow...