Three on O: Davis, Coleman, Bawden
After each game, we've been highlighting three defensive and three offensive players and looking in detail at their performance. We'll begin today with the offense:
Davis can't Corey this team on his shoulders
Corey Davis made his return to the offense this week and immediately the production levels dipped. Some might therefore attribute this to the fact that the offense is better off without him but this makes a lot less sense than the more obvious reasoning: The Bills have a better defense than the Bengals and Colts.
Nevertheless, Davis did draw some frustration from fans when he was almost shut out for the entire first half and then when he finally caught one right before half time, he had the ball stripped away for a turnover.
This had fans saying he's clearly not a number one receiver and can't be relied upon, although to be fair it was the first fumble he's lost all year and even if the Jets retained possession, all they'd have got out of it would have been a long field goal attempt. Would 17-6 instead of 17-3 at the half have made any difference to the outcome? Probably not.
In any case, Davis made up for his error to some extent in the second half. He caught four of five targets after half time, all of them for first downs. Davis ended up with 93 yards on five catches and has surpassed 90 yards in three of his seven games this year.
Davis caught three passes over the middle, one on a slant and one on a out pattern. He got some good yards after the catch on this play.
While Davis hasn't lived up to his status completely yet, his production has been good and could increase if the offense plays more efficiently in the second half. Hopefully he can display more consistently to elevate the unit, but clearly there's more pressure on the established veterans this team has not to make mistakes and so it's perhaps understandable if some are pressing.
Tevin Deadly Sins
Tevin Coleman made his return this week, eating into Ty Johnson's workload a little. Johnson still played more snaps and caught five passes, but he only carried the ball twice. Coleman played 17 snaps and ran four times for 29 yards. He also caught two passes - one for an 11-yard gain and one that was blown up for a big loss.
Coleman showed good burst and vision on this 13-yard run and also had another for 15 yards.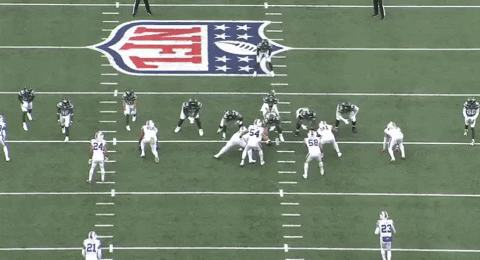 In five games, Coleman is averaging just over four yards per carry, more than both Johnson and Ace Carter. He only has four catches for 21 yards though.
Coleman also continued to get work as the kickoff returner and continues to look decent in that role even though he doesn't have much experience at it. Three of his four returns went out past the 30, only for two to be called back for holding. He got blown up at the 17 by an unblocked defender on the fourth.
Adding a veteran like Coleman to the group this year was important but Carter has been so consistently good that Coleman hasn't proved that essential after all. Nevertheless, he's shown he can make a play here and there, so the Jets don't need to toss him aside quite yet.
If Coleman continues to be a solid locker room presence and makes that return job his own, he could even be back next year.
Alleviating the Bawden
The Jets added a pure fullback to their roster this week for the first time and although Nick Bawden was only on the field for two offensive snaps officially, we can still infer some things about how they used him.
The first thing to note is the change to Trevon Wesco's role. With Tyler Kroft now on injured reserve, Wesco is now back in a full time tight end role, but only got eight offensive snaps as the backup to Ryan Griffin.
Both Bawden's snaps came at the goal line. The second of these saw Carter plunge in for the Jets' first touchdown with Bawden doing a decent job of contacting a linebacker on the right side as Carter went in up the middle.
The play before that set up identically but then Bawden leaked out for what would have been a walk-in touchdown had the officials not completely ignored a blatant defensive hold on him.
Bawden was also on the field for one other play, although the Jets didn't snap the ball. That was when they had a delay of game on fourth and one. We looked at this play in our nuggets article this week. Bawden lined up as one of three tight ends and ran down the seam as White rolled out off a play-action fake.
Bawden will also contribute on special teams, where he played 17 snaps this week, although he didn't make any significant moments.
While this is an extremely small sample size and there's no guarantee that Bawden will be elevated again or end up on the roster, you get the sense they were waiting to have a player like him in the lineup to use some of these plays on third down or in the red zone, especially since they haven't tended to look for Wesco in these situations.
It's too soon to say that Bawden will be the next Kyle Juszczyk, but it's clear that's an element to this offense the Jets perhaps feel has been missing and perhaps they can work in some of these plays with Bawden, even if it's just as a placeholder for whoever they bring in to take over this role in 2022.
We'll be back with the 3-on-D tomorrow...