Three on O: Hall, Conklin, McDermott
After each game, we'll be highlighting three defensive and three offensive players and looking in detail at their performance. We'll wrap up today with the offense:
Breece's Pieces
Ace Carter has played well so far this season, but it only took until game three for rookie Breece Hall to surpass him in terms of snap count. Part of this is obviously that they view Hall as a better option in the passing game and that this was a game where they once again fell behind and were forced to look to throw the ball. In addition, they limited Ty Johnson, who played 13 snaps in a third down back role last week, to one offensive snap.
Carter has shown that he can be productive in the passing game - he caught 12 passes for 67 yards on 14 targets in the first two games and racked up nine catches for 95 yards in his best game of 2021; the win against these same Bengals. However, he was barely used in the passing game down the stretch last year and that may happen again going forwards.
It's possible pass blocking is their main concern here. Carter gave up a sack and two pressures so far this season, whereas Hall hasn't yet surrendered any pressure so they might look to give him more of those passing down reps.
Sunday represented a change in gameplan as Hall - whose touchdown catch last week came on his only target - was targeted nine times in the first half alone. He ended up with six catches for 53 yards, but also had three plays where he got his hands to the ball but couldn't hang on - including one that he tipped into the air for an interception.
In terms of the running game, there was also a slight departure as all eight of Hall's carries came on zone blocking plays, whereas about half of his carries in the first two games came on man/gap schemes. He ended up with a solid 39 yards on eight carries, although - tellingly - he was 5-for-11 with DJ Reader in the game and 3-for-28 after he got injured.
Hall came to the Jets with a reputation as someone who could do it all, including running routes and pass blocking, but a close review of the film revealed that while he had good potential in these areas, he had only shown this in limited flashes and wasn't necessarily the finished article. The Jets are expanding his repertoire already and he's responding really impressively (which suggests they've scouted and developed him well), but they'll hope he can cut out the drop/fumble issues he has had so far.
Here's his best play from Sunday: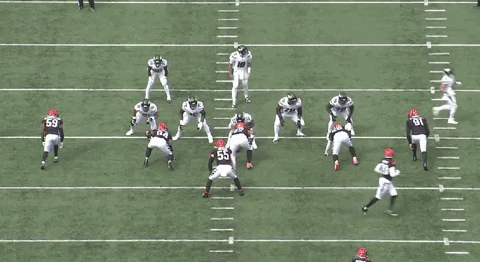 Tyler, the Creator
Tyler Conklin was off to a slow start with the Jets after having been impressive in camp and preseason. Although he had a touchdown in garbage time in week one, Conklin had just 64 receiving yards for the season as the Jets got the ball back with 4:13 to go in the third quarter of Sunday's game, down by 18.
On that drive, and throughout the fourth quarter, the Jets went to Conklin regularly and he caught seven passes for 76 yards on seven targets over the rest of the game.
While this garbage time production is not what they're paying Conklin for, it does give a glimpse into his potential and you'd hope it can carry over into the next game (although any chemistry he developed with Joe Flacco on these plays is obviously irrelevant if Flacco is to be replaced).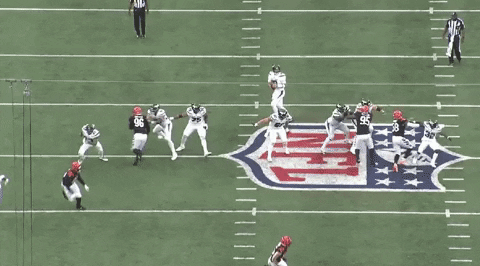 Conklin's blocking has been hit and miss so far, but at least he didn't fumble this week having done so in each of the first two games.
Another concern is that CJ Uzomah, who is being paid even more than Conklin, has been a complete non-factor so far due to being banged-up for most of the offseason and since the season began.
Hopefully Uzomah progresses as the season goes along, but it doesn't it seem strange that they've seemingly given up on Lawrence Cager already after apparently feeling he was worthy of being a big part of the gameplan in the opener? Cager has been inactive ever since despite Uzomah seemingly not being in game shape and the only mistake he made in the opener (with most of the plays with him in the game being some of the better ones the Jets ran all day) was to slip on the turf on Flacco's interception. It's a concern if they're throwing Cager under the bus as a way of justifying their own decision making.
Con Artist
The Jets have had tremendous misfortune at the tackle positions this year - other than Max Mitchell's surprisingly comfortable ascension to premature starter status - and George Fant landing on injured reserve was the last thing they needed.
Fant has been dealing with a knee issue all offseason, having hurt his knee right at the end of the 2021 season and it was abundantly clear he wasn't close to 100 percent as Trey Hendrickson blew past him for two strips sacks, a couple of pressures and a holding penalty. Fant simply hasn't been the same player he was last season with three sacks surrendered already compared with one all of last year.
The Jets wisely pulled Fant out and replaced him with a healthy Conor McDermott - although McDermott himself may be dealing with some rust because he was injured during camp and this was his first game action since January.
McDermott struggled even worst than Fant, though. He got beaten five times in his first eight pass block snaps, including once for another strip sack. This comes after he gave up four sacks in 80 pass block snaps last season.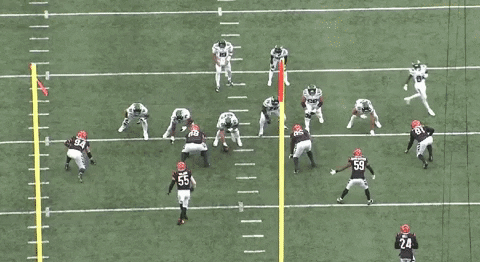 On the final drive of the game, the Jets ran seven passing plays and McDermott actually settled in quite well. He didn't give up any pressure and looked pretty comfortable. One major factor though: Hendrickson was taken out of the game, so he was facing Joseph Ossai. The hope here is that an initially shell-shocked McDermott found his feet once he settled in, but it might just be that Ossai was enough of a downgrade that he was no longer completely out of his depth.
Fans and media have questioned why McDermott was retained rather than Chuma Edoga, but it probably comes down to the fact that McDermott has played guard (and actually held up pretty well) whereas Edoga has not, along with the fact that he's a popular guy in the locker room with a great attitude. While these are both desirable traits for a guy you expected to be your fifth tackle, the fact they've already brought in a couple of alternatives suggests the Jets might be regretting this choice now that he's been forced into a key role.
It seems unlikely any of the new players will be ready to start at left tackle on Sunday, so the Jets might be forced to gameplan around what figures to be an obvious weakness. They'll probably have to pin their hopes on the fact McDermott was shaking off that first game in nine months rust and that he'll actually be somewhat serviceable with a week to prepare. It's a major concern, though, especially heading into a game which otherwise looked to be winnable.
Previously: Three on D: Whitehead, Johnson, Harris