Three on O: Mims, Robinson, McGovern
After each game, we'll be highlighting three defensive and three offensive players and looking in detail at their performance. We'll wrap up today with the offense:
Above the Mims
The main beneficiary of the Elijah Moore "situation" has been Denzel Mims, who has been getting plenty of opportunities over the past few weeks while Moore has not.
On Sunday, Mims played 50 snaps and - on the face of it - had a rough game as three of the four targets thrown his way were off his hands and he also had yet another pre-snap penalty.
Nevertheless, the Jets are probably happy with his contributions after he made a clutch third down catch and contributed well as a blocker.
Here's his big catch, as the Jets showed faith in him by making him a primary option on this big third down which ended up forcing the Bills to use up all their timeouts. It's good route running by Mims to release outside and then cross the defensive player's face and he also does well to use his body to box out the defender so he can make a clean contested catch.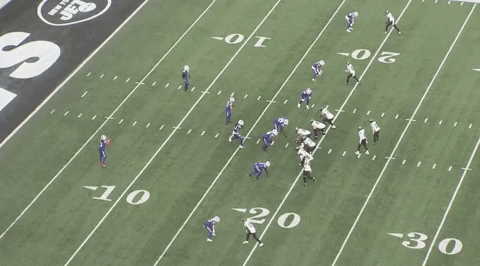 Mims probably wasn't the primary option here - it looks like Zach Wilson looks for Braxton Berrios on the slot first but then smartly goes to Mims instead as he sees Tremaine Edmunds dropping into the passing lane over the middle.
As noted, Mims made good contributions as a blocker, notably coming up with a few big blocks on the last drive. However, earlier in the game, he had a good downfield block on a James Robinson first down run and he had one of the key blocks on the longest running play of the day by Ace Carter.
As noted, Mims had three incompletions go off his hands, but in each case he was close to making a play. A deep ball on the second snap of the game saw Mims almost come up with a diving catch, another play saw him open at the marker but the high pass was off his fingertips and his final incompletion was officially called a pass breakup as he tried to come up with a contested catch over the middle.
Corey Davis is expected back after the bye and it's his role that Mims has been playing these past few weeks. The Jets have expressed a desire to keep him involved, but at the same time his production hasn't been that great. He had that long catch in garbage time against the Patriots, but otherwise has generated just 26 yards on his other eight targets this year. And, yes, he's doing good work as a blocker, but so does Davis.
His best chance of being in the rotation once Davis returns, other than another injury, is for the Jets to bench Moore completely which nobody wants to see. Otherwise, the Jets would have to make Jeff Smith inactive or have (and use) six active receivers.
While Smith is no longer part of the punt coverage unit, his special teams snaps are actually higher than last year already because he's been playing more kickoff coverage and also started playing on the punt return unit, which he didn't do last season. Mims, despite playing special teams in preseason, has played just one special teams snap in the regular season, so that's still a factor.
Robin' Season
In his second game as a Jet, James Robinson made some big contributions to help the Jets win. With the Jets backed up inside their own five-yard line, the Jets ran basically the same play three times in a row, with CJ Uzomah trapping and Laken Tomlinson pulling to the right. Robinson followed these blocks for gains of 9, 7 and 16 yards to put the Bills on the back foot.
It's impressive that the Jets went to this and it worked so well, especially since Robinson only had 13 yards on seven carries and had looked pretty pedestrian to that point. Word is that they saw something in the Bills-Packers film they were confident they could exploit late in the game.
Robinson's only real positive contribution as a runner earlier in the game saw him showcase his excellent vision to bounce this run outside for a first down. Ultimately the Jets got 20 yards from this play due to a facemask penalty at the end of the run.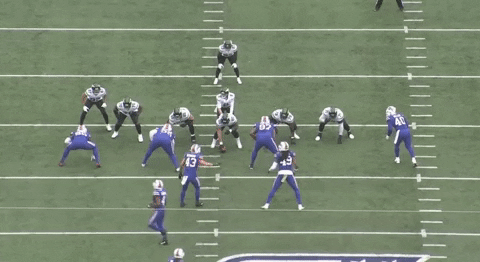 Of course, Robinson had one other major contribution when he scored the go-ahead touchdown on this well designed and well-executed play.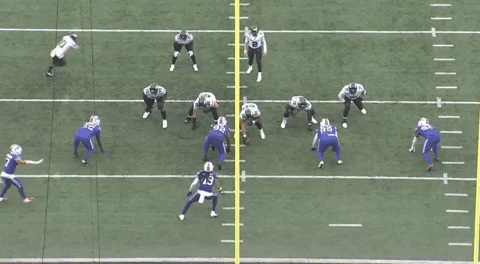 Once again, Robinson's patience and vision is an asset here as he scores despite Tomlinson's missed block.
Robinson ended up with 58 yards on 15 touches while Carter had 86 on 13 touches. It looks like the pair will continue to split the workload going forwards and if the fourth quarter is any indication, hopefully Robinson has more to offer.
You've got that McGovern Feeling
Connor McGovern was one player who did an outstanding job on that last drive, controlling his block at the point of attack on those trap plays and also driving his man off the line and blocking at the second level as the drive continued.
McGovern does a lot of things that many interior lineman can't manage. A four-yard run like this isn't going to make anyone's highlight reel, but McGovern's reach block is the difference between that and the run being blown up in the backfield.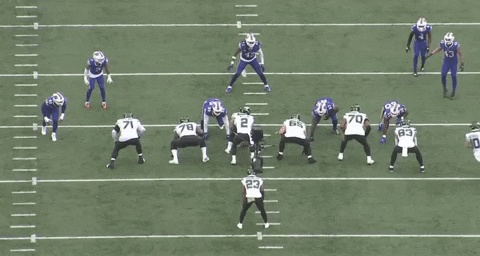 Here's another key block from McGovern, that helped to set up the Jets' first touchdown. Once again, he shows good athleticism and hustle to make the key block.
McGovern's performance wasn't perfect as he had some negatives in the running game and failed to make a block on a screen pass to CJ Uzomah, but he didn't give up a single pressure in pass protection and did a good job of limiting any major errors.
During the offseason, some were predicting (or even recommending) that the Jets should get rid of McGovern and sign Bradley Bozeman to play center instead. Bozeman, who signed a one-year deal for less than $3 million has been starting in Carolina where he ranks in the bottom five for pass blocking per PFF. McGovern ranks fifth.
It's clear that McGovern has been somewhat disrespected by the fanbase and the media and probably deserves more credit for helping to hold the line together over the past few years. The Jets probably need to start thinking ahead to ensuring they can retain him when his contract is up at the end of the season.
Previously: Three on D: Johnson, Sherwood, Whitehead