Three on O: Moore, Feeney, Z. Wilson
After each game, we'll be highlighting three defensive and three offensive players and looking in detail at their performance. We'll wrap up today with the offense:
That's Moore like it
Elijah Moore only had two catches for 17 yards in Sunday's game, but when you consider that he only had one catch since week four, this was hopefully a significant step in the right direction. It also came on a day when the Jets' passing game displayed almost-unprecedented futility. In fact, had Denzel Mims' 34-yard catch been ruled a push-off as some felt it could have been, Moore's 17 yards would have led the team.
Here's the play where he broke his long catch-less streak. Excellent route to set up what was clearly one of Zach Wilson's best throws of the day on 3rd-and-long: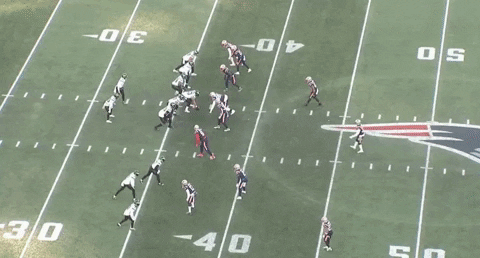 You'll note that, despite the talk over the bye week that Moore moving into the slot would be one way they'd be looking to get him involved, this play came with Moore lined up outside.
He did, however, play 18 of his 27 snaps in the slot. This wasn't a departure from the previous game though, because he played 19 of 27 in the slot in that one.
The main reason it was only 27 snaps was because the Jets used a lot of two-tight end packages. Even Jeff Smith only played two snaps and Braxton Berrios was only on the field for six.
Anyway, his other catch did come from the slot, although he wasn't initially targeted on the play and Wilson escaped the pocket and found him late as he leaked over by the sideline. That should have been an easy 7-8 yards at least but Wilson threw it late so it only went for four.
That was it for Moore on the day, as one of his other two targets fell well short of him (probably tipped) and the other was thrown too late and disrupted by the defender.
The hope will be that Moore will now build on this but with Corey Davis potentially back for Sunday's game and the uncertainty about how to handle the quarterback situation, we perhaps shouldn't expect too much.
The Jets need more from Moore though, and it's not just Moore himself that's to blame for his lack of usage.
One Feen Day
The Jets' offensive line struggled on Sunday and the prevailing assumption was that one reason was that they were without Nate Herbig, who had been doing a good job at right guard. Herbig was active, but the Jets went with Dan Feeney, who had been working with the first unit in practice all week.
Feeney wasn't actually a major reason for the line struggles though. In fact, Pro Football Focus gave him the best offensive grade on the team. That's not saying much though, on a performance where they only had three plays that went more than eight yards.
Feeney did do a great job on this play though, driving Deatrich Wise downhill, off the line and to the ground to set up Ace Carter's best run of the day: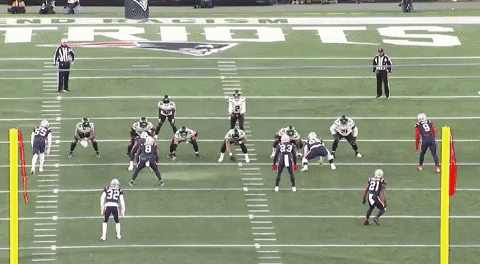 Otherwise, the Jets of course struggled to get anything going in the running game all day so there weren't many positives you could point to.
Feeney also had a holding penalty on one run as he didn't get across fast enough on a reach block and took his man down to the ground. This was declined because the run was stuffed for a loss anyway.
In pass protection, the Jets had issues all day with the Patriots either stunting lineman to the inside or spying Wilson on third down. On this occasion they did both and Feeney failed to pick up the stunt.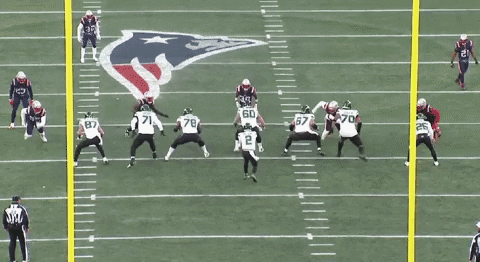 Looking at this play, it's hard to say where Wilson could or should have gone to pick up the seven yards they needed. He could have immediately escaped by rolling left but we've been saying we want him to trust the protection so it's harsh to criticize him for relying on the interior line to pick up that stunt. He can't take off up the middle because he's being spied and flipping it to CJ Uzomah underneath is tricky because he stumbled after making the chip block.
As for Feeney, he only gave up one pressure other than that but the overall struggles may have been attributable to a lack of chemistry rather than anything he did wrong individually. It's useful that the Jets have him to fill in at center or guard if needed, but Herbig should probably recapture that role once he's healthy.
Zach's against the wall
There's been all kinds of analysis about Wilson's rough performance and we've been discussing the main themes all week, including his tendency to hesitate and throw late, failure to see open receivers, poor footwork and reluctance not to risk a throw into traffic or give his receivers a chance to make a play one-on-one. The latter could be a coaching edict though.
Let's look at a couple more plays to underline how frustrating it was to watch back some of these plays and identify what he could have done better instead.
Here's a quick side-arm throw over the middle for seven to Tyler Conklin. This was inarguably one of his better throws of the day but didn't do the Jets much good because it was 3rd-and-10. A play or two like this on 1st-and-10 would have been good.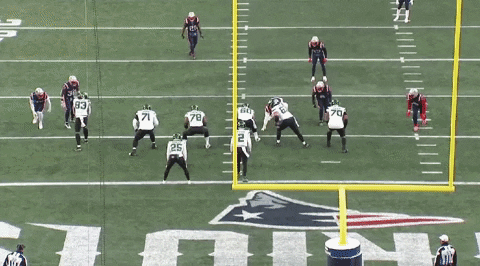 Although he did well to get this throw off and hit Conklin between the numbers, you can still nitpick what he did and didn't do here.
His feet are active, but his footwork isn't great. He looks left first and seeks to set his feet to hit Denzel Mims on the slant. However, he sees the dropping defender and bottles it, instead reverting to his second option which is Conklin over the middle.
The first issue as he sets his feet is that he slides to the left, which gives him less room to work with. A slight shuffle to the right and he has more room and a better angle to potentially make that throw to Mims, which looks potentially dangerous, but you should still be able to hit that if you release the pass as Mims is clearing the dropping defender into that open window out of the defender's reach.
Having not pulled the trigger here, he reverts to option two, but really has to rush to squeeze this throw in there. He doesn't reset his feet as his eyes move to his secondary option, so it's all arm as he's fading backwards.
It's tough but Wilson still needs to be able to process faster than this. And he can't just look at one route at a time, he's got to feel where the rush is coming from and set and re-set his feet accordingly as he navigates the pocket and moves through his progressions.
Let's look at one more play where, on this occasion, Wilson had a perfectly clean pocket. The endzone view show his eyes darting around and looking at multiple options before eventually throwing it too late to Moore on the outside.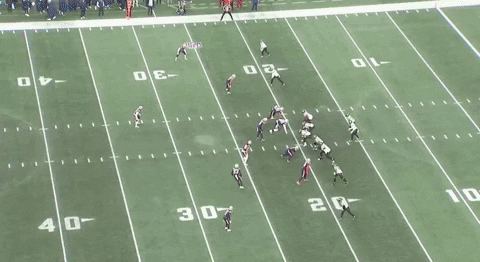 On some of the other plays we've looked at today, it's difficult to say what else he could have done but he has multiple options here.
Make the same throw he ultimately did, but much earlier so Moore has just made his break, still has separation and remains beyond the marker.

Dump it to the running back late. Looks like at least an easy five yards here - maybe more if the back breaks a tackle or two.

Take off and run between left guard and left tackle. There's a huge running lane. The linebacker is sitting in the middle of the field but he's deeper here so Wilson is clearly going to be able to get positive yards even if it's not a first down.

The crossing route over the middle is open and Wilson again should anticipate this and release the ball as soon as he clears the linebacker but he's already looked it off by then.
It looks like Wilson will get some time on the bench, at least temporarily and there is much to think about and work on. There are technical tweaks he can make and film he can watch to make better reads and decisions in future, but the fact is that (right now - and it's not necessarily permanent), the game is simply moving too fast for him. That's going to be tricky to fix overnight.
Previously: Three on D: Clemons, Alexander, Smart