Three on O: Moses, Griffin, Carter
After each game, we've been highlighting three defensive and three offensive players and looking in detail at their performance. We'll begin today with the offense:
Moses really smell like...
Ever since the Jets signed Morgan Moses, the assumption was that he'd take over from George Fant as the right tackle. However, he started the season on the bench and may return there when Mekhi Becton is back. As a group, though, the offensive line has been improving. So how is Moses doing?
The running game wasn't statistically great on Sunday, as Jets' running backs averaged just 3.6 yards per carry and didn't break a 10-yard run all day. However, they generally did a good job of getting enough chunks of yardage to keep the chains moving as they combined for six first downs, scored two short touchdowns and helped the Jets put together a 16-play field goal drive in the first half and a 29-yard touchdown drive in the third quarter where the only "pass" was a jet sweep pop-pass to Braxton Berrios.
Moses played his part in these drives, burying a linebacker at the second level on an Ace Carter short yardage conversion and caving in the right side of the line to set up Ty Johnson's short touchdown.
However, it was on the Berrios pass where he made perhaps his most impressive athletic play of the season so far: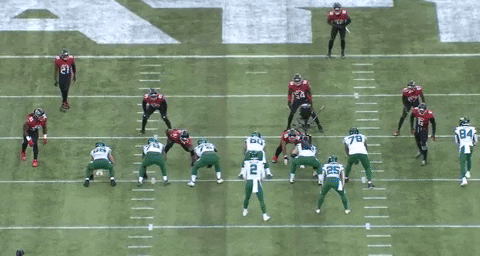 Of course people won't talk about these positives as much as they'll talk about him getting hit in the back of the head by Wilson's screen pass before the Jets settled for a field goal late in the first half. The all-22 footage reveals this (and the play before it where Wilson dumped it too low to Crowder in the flat) would probably have gone for a touchdown if completed.
Moses still had mixed results overall in the running game, but his strength at the point of attack is a good asset and also helps Greg Van Roten in combo-block situations.
As a pass blocker, Moses did give up several pressures, although most of these were after initially slowing his man up and likely wouldn't have gotten home if Zach Wilson got the ball out sooner. He was beaten a couple of times in the fourth quarter though, once as Dante Fowler set him up and then made a spin move to the inside and another where Ade Ogundeji jabbed to the inside and then went around him on the outside. Wilson got rid of the ball on the first but on the second, he eluded the sack initially, only to keep looking to extend the play and eventually being brought down for a big sack.
On balance, Moses has been good so far this year, but Fant - who hasn't given up a sack yet and less than half as many pressures - has been better. You can forget any notions of this starting five staying together though because Robert Saleh said on Friday that Becton is a difference-maker who will be back in the line-up as soon as he is ready.
Whether the line will continue to play well or suffer an initial drop-off because Becton and Alijah Vera-Tucker haven't practiced together much remains to be seen. Moses and Fant will also await their fate.
Applyin' Ryan
With no Tyler Kroft available this week, the Jets gave Ryan Griffin a ton of work, as he was in the game for all but five of the snaps. Reserves Dan Brown and Kenny Yeboah played just two offensive snaps between them, although fullback Trevon Wesco did play 14 of his 24 snaps as an inline tight end.
Griffin didn't contribute much in the passing game as Wilson threw to him just three times. The first was a low incompletion on the play before his interception. The second saw him leak out of the backfield on 3rd-and-9 to catch a short pass but he was stopped well short of the marker and actually fumbled on the hit, although he was able to recover. The last one was a short gain that was negated because of a penalty.
Clearly he was mainly in there to block, especially with Kroft unavailable, and he played his part here, although he didn't do anything too spectacular. Here was a good block to set up Johnson's short yardage conversion in the red zone.
Although he didn't directly give up any pressure in pass protection, Griffin could perhaps have shown better awareness on Wilson's rollout and deep throw to Elijah Moore in the fourth quarter. If he could have moved across to prevent Grady Jarrett from hitting Wilson as he threw, perhaps this wouldn't have been underthrown and the Jets would have had a touchdown, although they got the flag and scored on the next play anyway.
Griffin did also contributed on special teams. He made a good block on Tevin Coleman's long return and helped blow up a punt return on a play where he felt he was blocked in the back.
While he's a dependable enough player, Griffin really doesn't do much to justify his place on the team, especially when you consider his cap number is basically the same as Kroft's and Wesco's combined.
Ace for the Prize
It was another solid performance from Ace Carter on Sunday, as he contributed 58 yards on 13 touches. Moreover, his three broken tackles were the only broken tackles by an offensive player all day (not including Zach Wilson eluding sacks in the pocket).
What was impressive about this play - his longest of the day - was the confidence with which he blew past the defensive player. He didn't take a wide angle and was already looking downfield at the next level, thinking about making more men miss.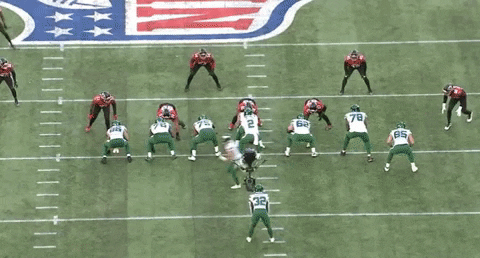 Carter's best run was a 9-yard gain where he got to the outside and dragged a couple of defenders just shy of the marker. He also got the Jets' first touchdown drive going with consecutive carries for seven and eight yards and scored a short yardage touchdown in the fourth quarter.
Carter's only negative was a penalty for illegal hands to the face in pass protection, but he otherwise handled his pass protection assignments well.
Through five games, Carter has established himself as an exciting playmaker reminiscent of former Jet (and current Jets' assistant coach) Leon Washington. Through five games, Carter has rushed for 165 yards and added 64 receiving yards while Washington had 159 rushing yards and 68 receiving yards. In his fifth game, Washington had actually rushed for over 100 yards, albeit in a 41-0 loss. Perhaps Carter will have a similar break-out game soon.
We'll be back with the 3-on-D tomorrow...