Three on O: Newman, Cook, Taylor
After each game, we'll be highlighting three defensive and three offensive players and looking in detail at their performance. We'll wrap up today with the offense:
A New Man on the starting unit
It was uncertain how the Jets would align themselves on offense with Billy Turner unavailable but the answer came in pre-game. Xavier Newman, once again elevated from the practice squad, got his second career start and first as a Jet at right guard with Max Mitchell kicking back out to right tackle.
Newman was pretty overmatched at center in the Giants game but didn't make any obvious mental errors and battled as best he could to keep his man in front of him. The Jets were presumably confident he could build on this performance in the Raiders game, especially since he would be lining up at guard, where he has more experience and a better comfort level.
That's basically how it went, although the Jets didn't show a lot of confidence in their ability to run behind him and this may have tipped their hand on a few key plays where they went left instead and got stuffed. When they did run over the right side, they didn't have much success and would ultimately pretty much abandon the run altogether in the fourth quarter (as opposed to the Raiders who stuck with it and got results).
To Newman's credit the Jets didn't give up much in the way of direct interior pressure. He was driven back in the pocket several times but the only interior lineman to register a quarterback hit all day was Jerry Tillery. Unfortunately, this came as he beat Newman and caused Zach Wilson to rush his throw for the biggest mistake of the game.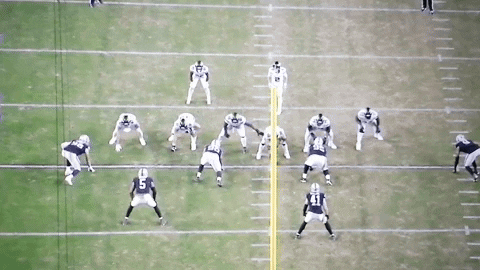 After the Giants win, let's not forget that CJ Mosley praised Newman and said he had made an impression on the practice squad, so the Jets might feel like he has a future with them, perhaps as a rotational reserve next season.
For now, he's all out of practice squad elevations, so the Jets would have to sign him to the active roster to be able to use him this season. Based on his struggles in his two appearances so far, they are likely hoping they don't end up in that situation again though.
Let Dalvin Cook
For the first time since opening day, Dalvin Cook showed some real juice as a runner. He ran off tackle for seven on his first carry, got to the edge for 10 on his next one and then cut back nicely for nine more here.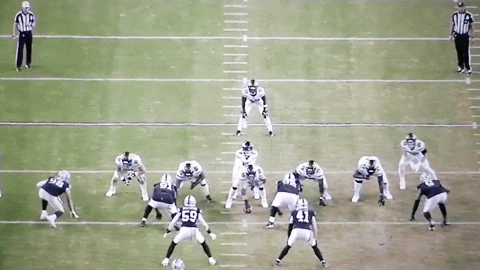 Prior to that second carry, Cook had carried the ball 39 times in a row without having a 10-yard gain with the last one coming in the first half of the opener on his fifth carry of the season and the 26 yards on three carries was easily his most productive stretch of the year.
The nine-yard gain set up one of the most frustrating sequences of the game for the Jets as Cook was stuffed for no gain on 2nd-and-1 and then Breece Hall was stuffed on 3rd-and-1. The Jets didn't give Cook any more carries thereafter, which had to have been frustrating for a player who has been begging for more work to try and get going.
This game also marks the second in a row where Zach Wilson has missed Cook on an easy dump-off pass and Cook has glared back at him angrily. Cook's sole motivation for joining the Jets was to play with Aaron Rodgers and his frustration at the fact he isn't getting to do that shows in his play and his demeanor.
Nevertheless, if he's going to show these flashes of his old self, it makes sense for the Jets to take advantage of this. Perhaps the Ace Carter release is a sign that this is in their plans.
Taylor Swift
Like Newman, wide receiver Malik Taylor was elevated for the third time so the Jets will have to make a decision on whether they can find a roster spot for him if they intend to use him again this year.
Taylor was only in for 10 snaps and he ran a route on all of them. It was interesting to see him active over a healthy Randall Cobb and also that the Jets still haven't made Jason Brownlee active at all yet this season.
The Jets tried to involve Taylor twice, including once on a deep ball late in the third quarter that fell incomplete. You'll recall Wilson has some chemistry with Taylor and connected deep with him in preseason. The other target was this play that just went for a short gain on 3rd-and-long.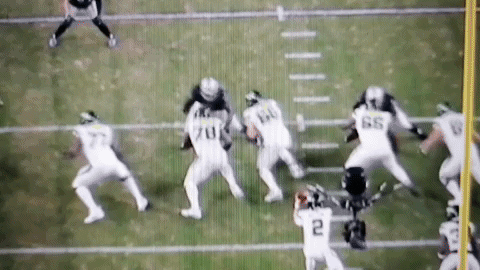 In his three games, Taylor has done little to elevate the receiver group and it's somewhat surprising that a group which looked potentially too deep to keep everyone happy in the offseason is now having to resort to giving reps to a fringe player like him.
As noted, the Jets have a decision to make now. Having hinted at some personnel changes, we'll see if that extends to Taylor getting signed to the 53 for a longer look, Cobb's return to the lineup or Brownlee finally getting a shot.
Previously: Three on D: Sherwood, Thomas, Quinnen Williams